Democratic nominee Hillary Clinton accused Republican nominee Donald Trump of using "scare rhetoric" in his answer about late-term abortion during the third presidential debate.
When debate moderator Chris Wallace asked Clinton what restrictions she would support on abortion, the Democratic nominee replied that Roe v. Wade stipulates there can be regulations on abortion as long as the life and health of the mother are taken into account.
Clinton added that the "heartbreaking, painful decisions" women make about their pregnancies shouldn't be made more difficult by further restricting access to abortions.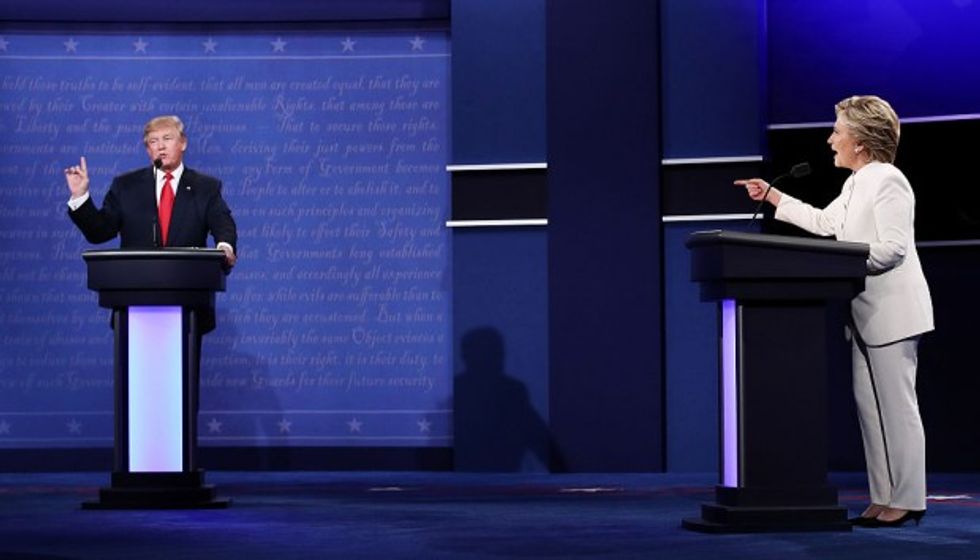 Democratic presidential nominee former Secretary of State Hillary Clinton (R) debates with Republican presidential nominee Donald Trump during the third U.S. presidential debate at the Thomas & Mack Center on October 19, 2016 in Las Vegas, Nevada. Tonight is the final debate ahead of Election Day on November 8. (Win McNamee/Getty Images)
But Trump fired back that Clinton's position is "not acceptable," using stark and provocative language to describe the specifics of late-term abortions.
"Well, I think it's terrible if you go with what Hillary is saying in the ninth month you can take the baby and rip the baby out of the womb of the mother just prior to the birth of the baby," Trump said. "Now, you can say that that's okay and Hillary can say that that's okay, but it's not okay with me."
He continued:
"Because based on what she's saying and based on where she's going and where she's been, you can take the baby and rip the baby out of the womb in the ninth month on the final day. And that's not acceptable."
Clinton responded that Trump's description of abortion "is not what happens in these cases."
"Using that kind of scare rhetoric is just terribly unfortunate," she added.
Governments that force women to have abortions, like China, or force women to bear children, like Romania, are far behind the U.S. when it comes to giving women options to make their own decisions about healthcare, Clinton added.
"I can tell you the government has no business in the decisions that women make with their families in accordance with their faith [and] with medical advice — and I will stand up for that right," she said.
Trump shot back: "Honestly, nobody has business doing what I just said, doing that as late as one or two or three or four days prior to birth. Nobody has that."
Clinton reiterated her support for the Roe vs. Wade decision and federal funding for Planned Parenthood. Alternatively, Trump vowed to appoint pro-life justices to the Supreme Court.
Watch the entire exchange below: