After Republican nominee Donald Trump wouldn't affirm during Wednesday's presidential debate against Democratic nominee Hillary Clinton that he'll accept the outcome of the election, Clinton pounced.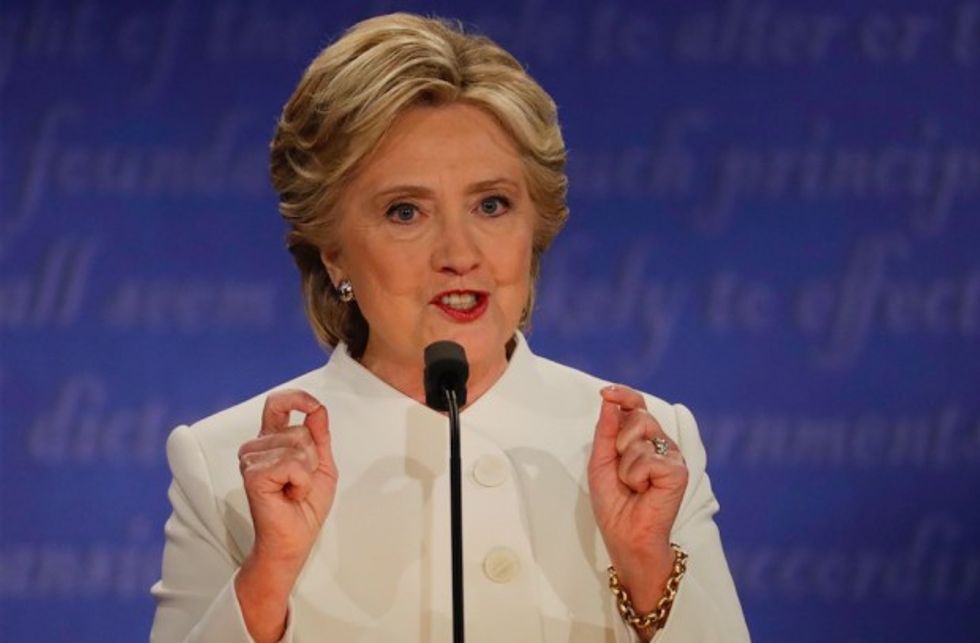 Democratic presidential nominee Hillary Clinton responds to Republican presidential nominee Donald Trump during the third presidential debate at UNLV in Las Vegas on Wednesday. (AP Photo/Patrick Semansky)
"That's horrifying," Clinton said in reaction to Trump's "I'll keep you in suspense" response.
"That is not the way our democracy works," Clinton continued. "We've been around for 240 years. We've had free and fair elections. We've accepted the outcomes when we may not have liked them, and that is what must be expected of anyone standing on a debate stage during a general election."
But Clinton's sentiments seemed a bit different two years after George W. Bush's victory over Al Gore in the 2000 presidential election, which Gore challenged over Florida vote counts.
During a 2002 Los Angeles fundraiser for Democratic Sen. Jean Carnahan of Missouri, Clinton — then a New York senator — told the crowd that Bush had been "selected" president as opposed to elected, according to Newsweek. Writer Howard Fineman said Clinton's voice was "dripping with a blend of scorn, indignation and alarm." She also called the Bush camp "ruthless" and "relentless," he wrote.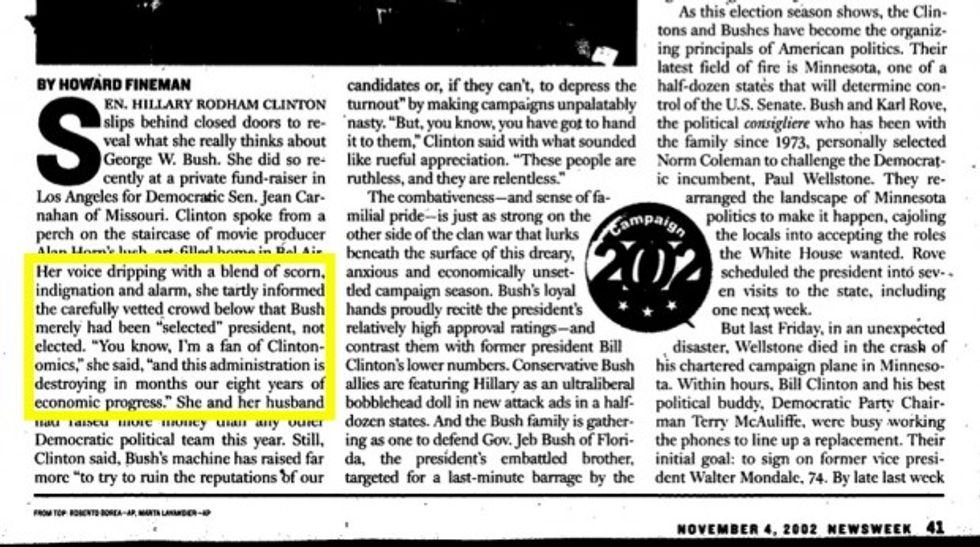 Image source: Newsweek microform
And in 2009, when then-Secretary of State Clinton spoke at a town hall in Nigeria, she referred to the 2000 election in not-so-flattering terms:
Now, our democracy is still evolving. We had all kinds of problems in some of our past elections, as you might remember. In 2000, our presidential election came down to one state where the brother of the man running for president was the governor of the state, so I mean, we have our problems too. But we have been moving to try to remedy those problems as we see them.