Following the anticipated "Saturday Night Live" parody of the final presidential debate, the show's host for the night, Tom Hanks, stepped on stage to deliver the show's opening monologue.
Taking a cue from Esquire Magazine's September story declaring Hanks to be "America's Dad," the Oscar-winning actor sat down for a heart-to-heart talk with the troubled teenager that is America.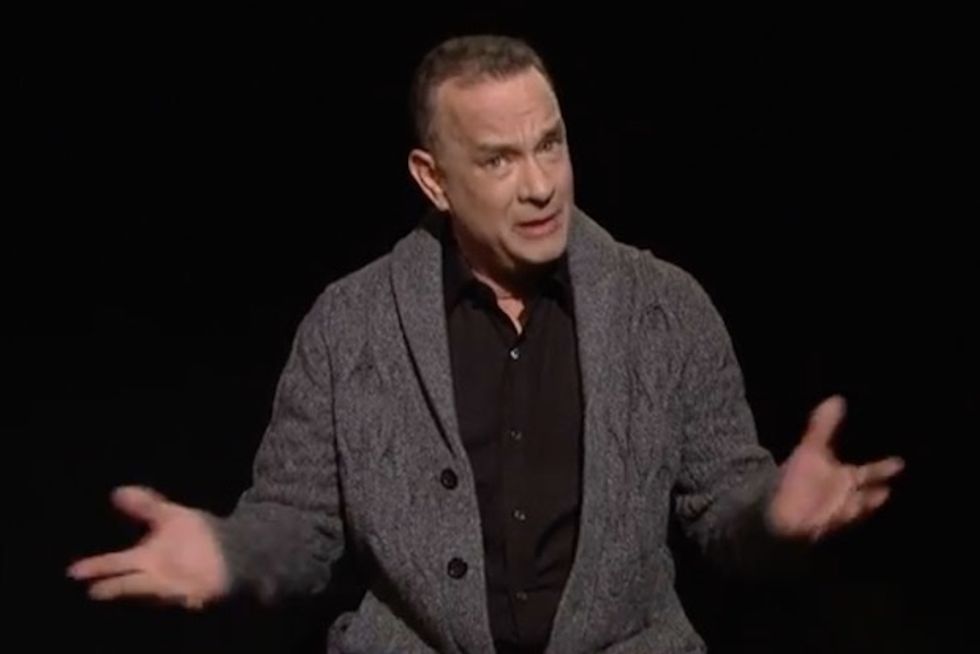 Image source: YouTube
Sporting a "Mister Rogers" sweater and speaking in the soft, comforting tones most of us envision coming from a perfect parent, Hanks deftly touched on many of the problems and issues confounding the country.
"How you doing champ? Rough year...you've got a lot going on inside you," is how Hanks opened the piece before touching on the problems of a teenager, which closely resembled the issues America is currently wrestling with.
"Remember when you lived through that depression...this is nothing. You're growing up. This is just an awkward phase," said a reassuring Hanks.
"America's dad" touched on the nation's debt asking, "So, you okay with money? Because I heard you were in some debt." Hanks paused briefly before adding, "I'd like to help you out...But, if I do, you're never gonna learn."
The monologue also mentioned topics like immigration, guns and marijuana, "Hey we can smell it...the weed," chided Hanks.
The "SNL" veteran — this was his 9th time hosting — wrapped up his monologue by reminding America of just how "dang creative" we are, "Think of everything you've done...You went to the moon...You invented the internet...You created a cannon that shoots t-shirts," he said.
Expressing confidence in America's ability to deal with the "big decision" we face in a couple of weeks, Hanks closed with a little parental cheerleading, "I want you to pick yourself up, dust yourself off and go show the world what else you can stuff into a pizza crust!"
The hashtag #AmericasDad was trending on Twitter last night and support for the monologue was strong.
"People don't understand how hard it is to be you. You're got a summer birthday; that's always tough." ~"America's dad" @TomHanks #SNL

— Hope Dellon (@hopedellon) October 23, 2016
That "Tom Hanks, America's Dad" pep talk/fist bump was everything. #HanksOnSNL

— Marcus Womack (@MarcusGWomack) October 23, 2016
.@tomhanks's America's dad monologue was so heartwarming, I want to like, go for a run and then have a cup of tea. #SNL

— Traci Mazurek (@heytrace) October 23, 2016
Watch the monologue below: