Retired four-star U.S. Army Gen. and former Chairman of the Joint Chiefs of Staff Colin Powell made a last-minute endorsement Tuesday afternoon of Democrat Hillary Clinton for president.
Gen. Colin Powell has announced to @LongIslandAssoc that he will be supporting @HillaryClinton for POTUS

— Paule Pachter (@PaulePachter) October 25, 2016
Powell, who served under George H.W. Bush and Bill Clinton in his Pentagon roles and also was secretary of state under George W. Bush, made the announcement at a Long Island Association luncheon.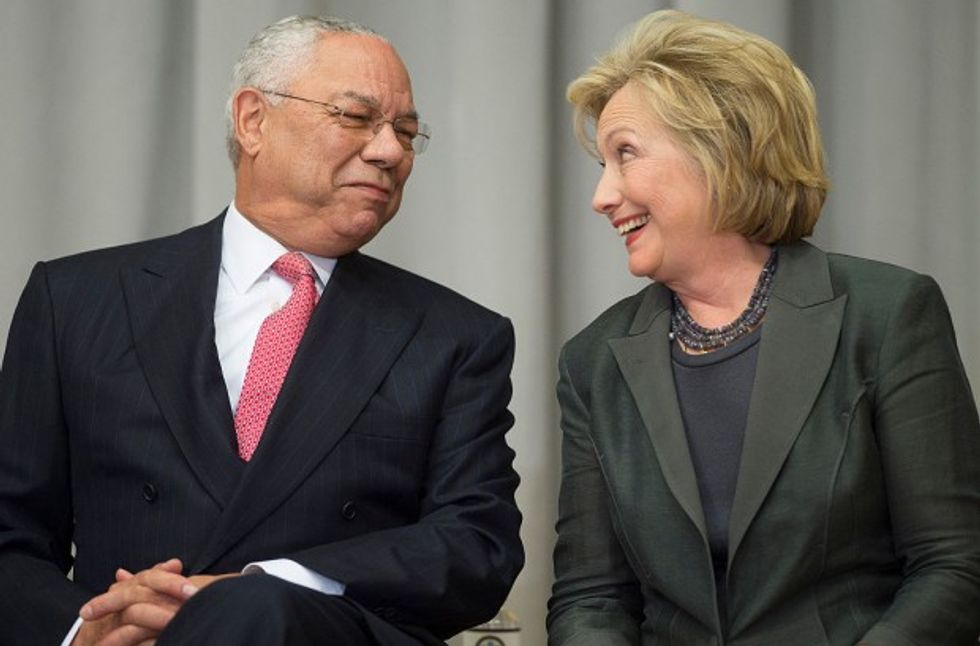 Former Secretaries of State Colin Powell and Hillary Clinton speak during a ceremony to break ground on the U.S. Diplomacy Center in 2014. (Jim Watson/AFP/Getty Images)
He had previously been critical of Clinton's response to controversy over her use of a private email server while at the State Department, saying that her staff had tried to "pin it" on him by comparing her email use to his while in office.
"Sad thing, HRC could have killed this two years ago by merely telling everyone honestly what she had done and not tie me to it," Powell said in a personal email that was leaked last month. "I told her staff three times not to try that gambit. I had to throw a mini tantrum at a Hampton's party to get their attention. She keeps tripping into these 'character' minefields."
But Powell also had called Republican nominee Donald Trump a "national disgrace" and an "international pariah" in other leaked emails.
His endorsement of Clinton comes just two weeks before Election Day.