Former Massachusetts Gov. Mitt Romney admitted Wednesday that he sometimes wonders why he stayed out of the 2016 presidential race.
"I get asked on a regular basis, 'Boy, why aren't you running this year?' I ask myself that a lot too. But I did that once," Romney the Republican Party's 2012 presidential nominee, said during remarks in Washington, D.C.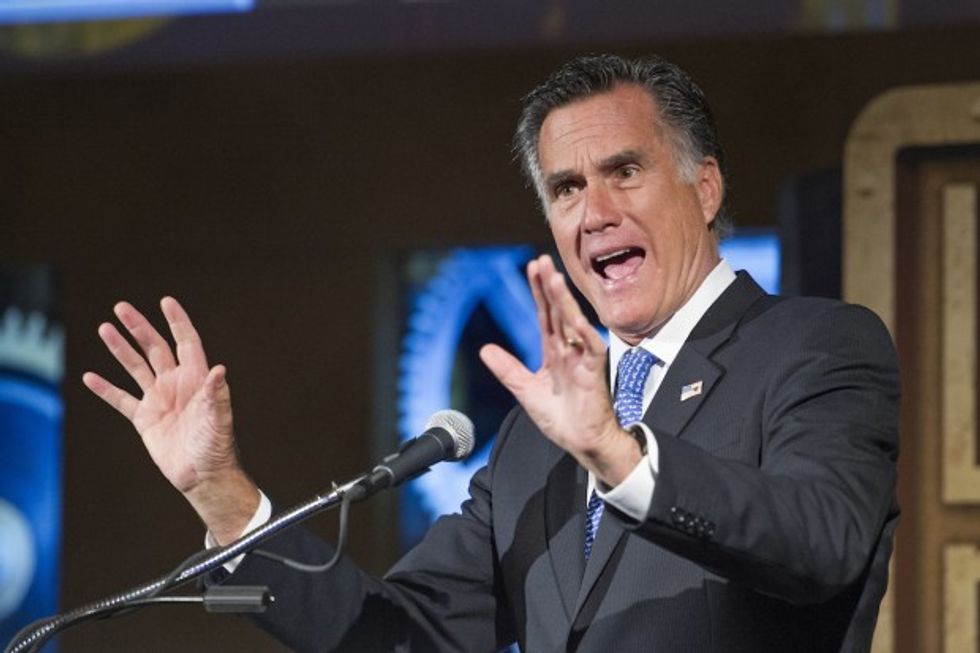 2012 Republican Presidential candidate, and former Massachusetts Gov., Mitt Romney, speaks the U.S. Chamber of Commerce's Institute for Legal Reform Summit in Washington, Wednesday, Oct. 26, 2016. (AP Photo/Cliff Owen)
Romney poked fun at himself, and referenced his own loss to President Barack Obama in 2012. He borrowed a joke from Walter Mondale, the Democratic presidential nominee who failed to defeat President Ronald Reagan in 1984.
"All my life I wanted to run for president in the worst way and that's what I did," he said.
Romney said he is disappointed in the state of the presidential race, and argued that neither candidate would implement conservative public policy proposals such as entitlement reform.
He also expressed regret that he didn't articulate why he believes pro-business policies help the middle class thrive while he was the Republican nominee.
"It's something which, gosh, I kick myself as a Republican nominee for president for having not done a better job communicating this," he said, adding:
"What my primary audience hears is something which they can connect with, but the audience at large, they think the reason I'm talking about business is because all I care about is rich people and business leaders. Look, rich people are going to do well whether Republicans or Democrats are in charge. Real people who suffer when business is leaving or not successful are the people in the middle class."
According to ABC News, after Romney's remarks, he declined to comment on the state of the presidential race in Utah — where independent candidate Evan McMullin leads Trump in several polls — and declined to name the candidate for whom he plans to vote.
.@MittRomney says he regularly gets asked why he's not running in 2016: "I ask myself that now and then, too." https://t.co/73ztNu8kLE

— ABC News Politics (@ABCPolitics) October 26, 2016