Republican presidential candidate Donald Trump has a narrow lead over Democratic rival Hillary Clinton in the important swing-state of Florida, according to a new poll from Bloomberg Politics.
The survey, released Wednesday, found that the businessman is leading Clinton by two points, 45 percent to 43 percent, among likely Florida voters when third-party candidates were considered. In a head-to-head race, the poll found that Trump is leading Clinton by a single point, 46 percent to 45 percent.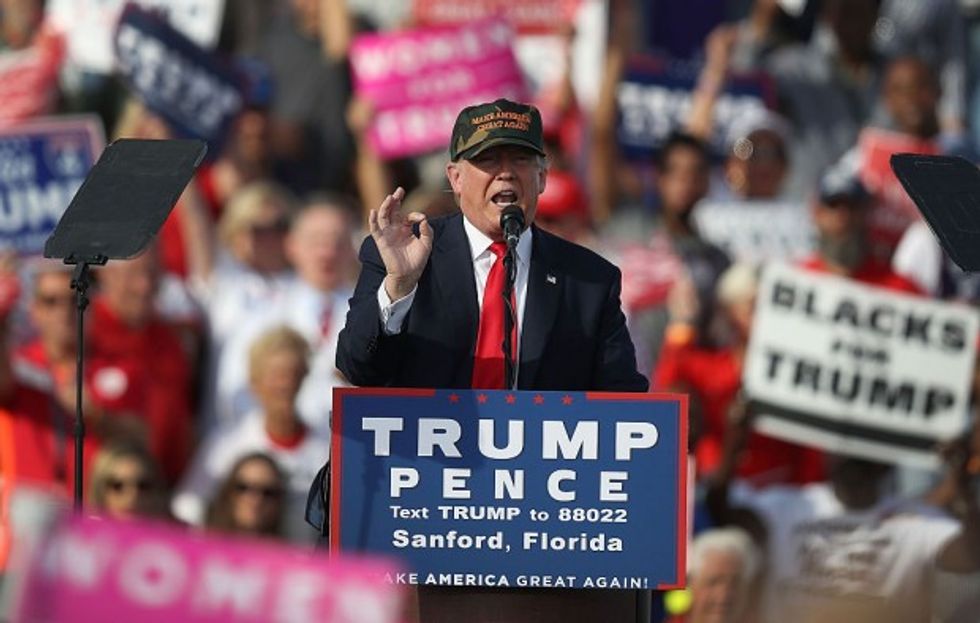 Getty Images/Joe Raedle
Given how close Trump and Clinton are, independent voters will likely decide which side of the aisle Florida lands on. But even among independents, Trump leads Clinton: In a heads-up comparison, the Manhattan billionaire leads the former first lady by two points, 43 percent to 41 percent. When other third party candidates were considered, Trump's lead grew by one while Clinton dropped to 37 percent. This suggests Libertarian Gary Johnson and the Green Party's Jill Stein are taking votes from Clinton instead of Trump.
Early voting numbers from Florida indicate the election might come down to just a few thousand votes in the Sunshine State. According to data released Wednesday, Republicans are leading Democrats in combined early and absentee voting — 832,106 to 826,376.
Still, if Trump wants to win on Election Day, he will undoubtedly need to win Florida and the state's important 29 electoral votes. Florida has in recent years become arguably the most important state to win after the "hanging chad" fiasco in 2000.
But in the last 25 presidential elections, going back to 1912, Florida has chosen the candidate who didn't become president only four times — in 1920, 1924, 1960 and 1992.
The Bloomberg Politics poll was conducted between Oct. 21-24. It surveyed 953 registered voters and has a margin of error of +/- 3.2 percentage points.