Independent presidential candidate Evan McMullin said during an interview on MSNBC Thursday that he thinks he can win Idaho and Wyoming in addition to Utah.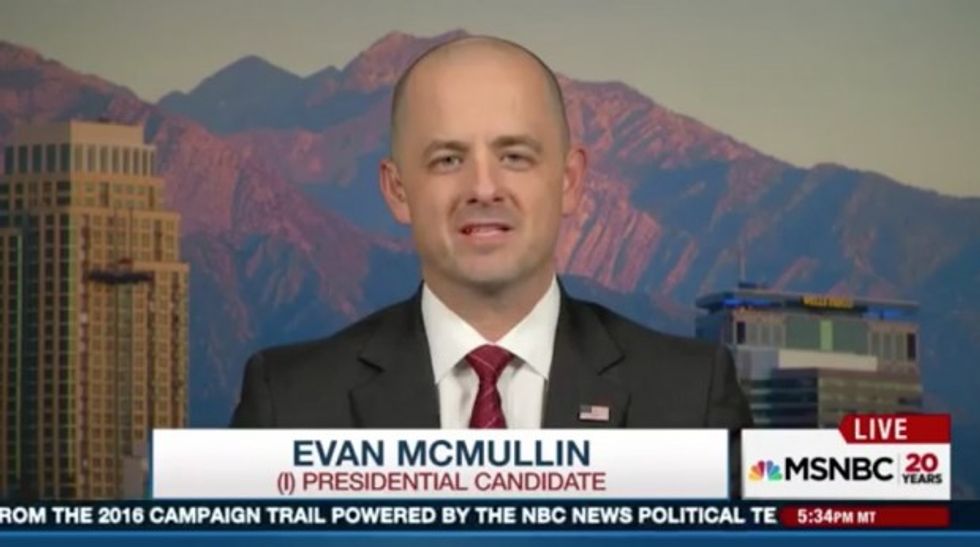 Image source: YouTube
Host Chris Matthews pressed McMullin to name states where he could score a victory, aside from Utah, where he currently leads Republican presidential nominee Donald Trump in several statewide polls.
McMullin said he hopes to expand his success across the Mountain West: "Idaho and Wyoming are our best chances."
The candidate acknowledged that it will be difficult for an independent candidate to carry multiple states, especially because he doesn't have the support and resources of a major political party:
We've been transparent about this whole thing the whole way through. I am an independent candidate, I don't have the support of a party, we have a strong message and we are running on that. We have limited resources so we have to choose very wisely about where we spend them and our time. And the reality is that we knew we would need to do that and we focused on the Mountain West because that's where Hillary Clinton and Donald Trump were rejected, and we've gotten a lot of traction here in Utah.
Pushing back against GOP vice presidential nominee Gov. Mike Pence's statement that Republicans should "come home" to Trump, McMullin pointed that Trump has "invited" Russian President Vladimir Putin to influence the election and made disparaging remarks about the race and religion of Americans. "This is not what real conservatives stand for," McMullin said, adding, "There's no 'going home' to Donald Trump for true conservatives."
McMullin said he thinks his campaign is gaining traction because Americans of all faiths — including many of his fellow Mormons who have rejected Trump — expect their leaders to be "decent" people.