A 50-year-old man was seen on cellphone video brutally beaten by younger attackers at a Chicago intersection as onlookers laughed and yelled, "Beat his ass! Don't vote Trump!"
Police were called to the scene just after noon Wednesday, The Chicagoist reported, the day after Republican Donald Trump was elected president.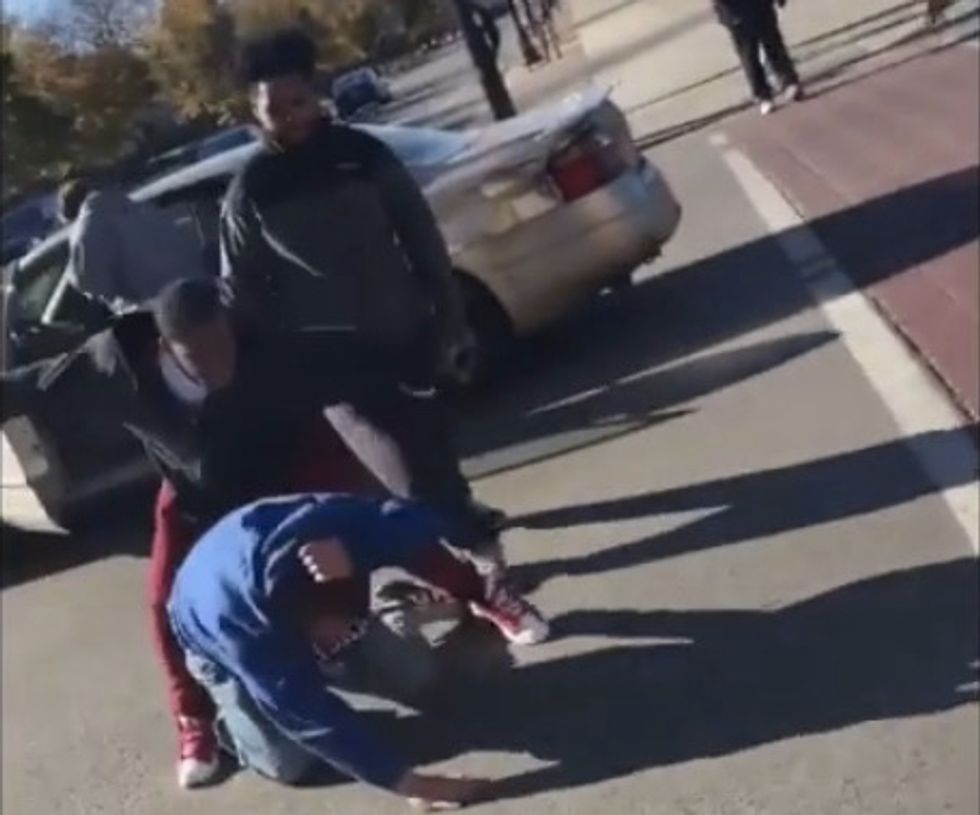 Image source: YouTube
A pair of black males are seen kicking and punching the white man as he rolls on the ground and covers his head while his car sits at a light on the corner of South Kedzie Avenue and West Roosevelt Road on city's west side. It isn't clear why he was outside his vehicle.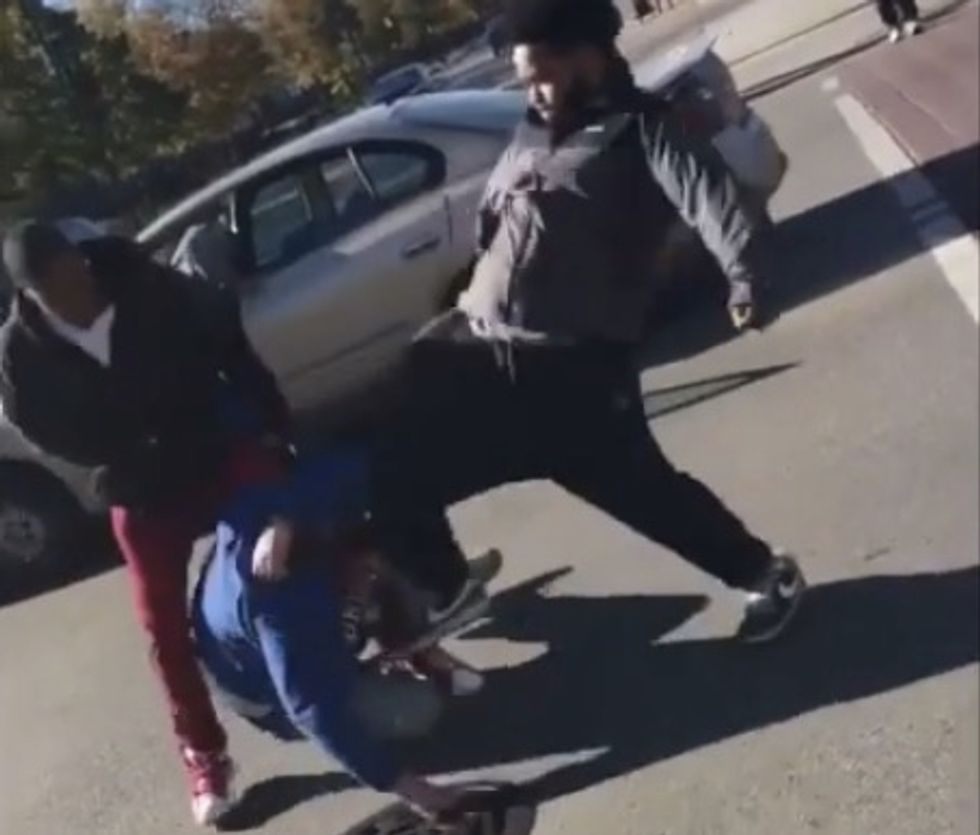 Image source: YouTube
"You voted Trump? You voted Trump? Damn!" a woman watching the attack yelled. "Yeah, he voted Trump! Damn!"
The victim managed to get up, approach his open driver-side door and yell at a person inside it who apparently was rifling through his belongings: "You better get out of my car!"
But the person in the car, who also is black, simply shouted back, "You gonna pay for my s**t!"
As the attack continued at the side of the man's car, punches flying down on the back of his head, the onlookers started to laugh and yell, "Don't vote Trump!" and "Beat his ass!"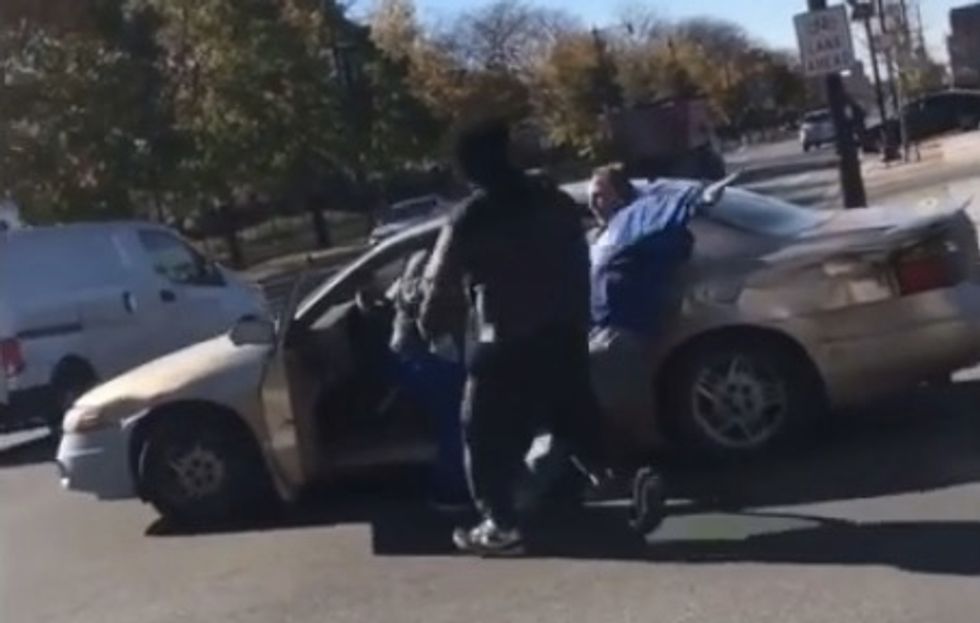 Image source: YouTube
The clip finishes up with one of the man's attackers getting behind the wheel of the victim's car and driving down the street with the beaten man being dragged as he held on to a rear side window.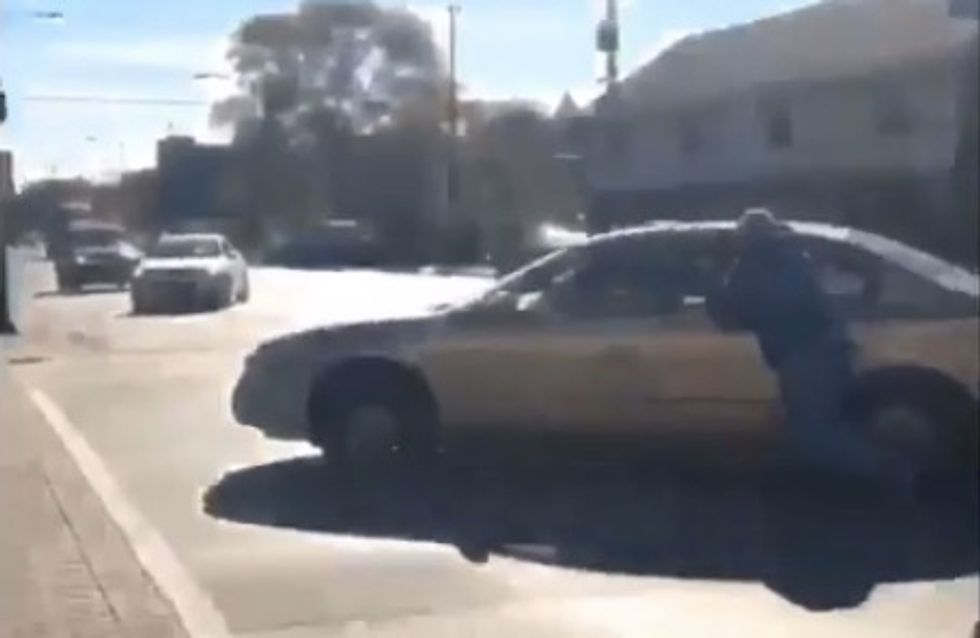 Image source: YouTube
The Rev. Michael Pfleger — an outspoken white priest who leads a black Roman Catholic church on the south side — condemned the attack in a statement.
"This is unacceptable and must be condemned by everybody," Pfleger said, according to DnaInfo reported. "Violence is NEVER an acceptable response. Emotions are raw coming out of this election, but frustration, anger and despair do not give permission to be violent.  Let us not surrender to evil, rather rise above it!!!!!"
All the attackers were unknown to the victim, police told the Chicagoist, and he was listed in good condition at a hospital. Police are investigating.
Here's the clip. (Content warning: Disturbing images and profanity):
(H/T: Daily Wire)