'Tis the season for atheists to attack Christianity — and around a holiday you might not expect them to care much about.
But apparently the group American Atheists does care about Christmas — a whole lot. Just as long as folks don't do something dumb to mark the day, like go to church.
That's the message the group is marketing with a pair of rotating billboards seen along highways around Shreveport, Louisiana, KSLA-TV reported.
One features what appears to be a worried-looking mother standing behind her daughter, along with a text chat the girl is having:
"U going to church this Xmas?"

"Lol. No way. I don't believe that stuff anymore."

"What'll your parents say??"

"They'll get over it :-P"
The billboard is adorned with the following headline: "Atheist Christmas. The more the merrier!"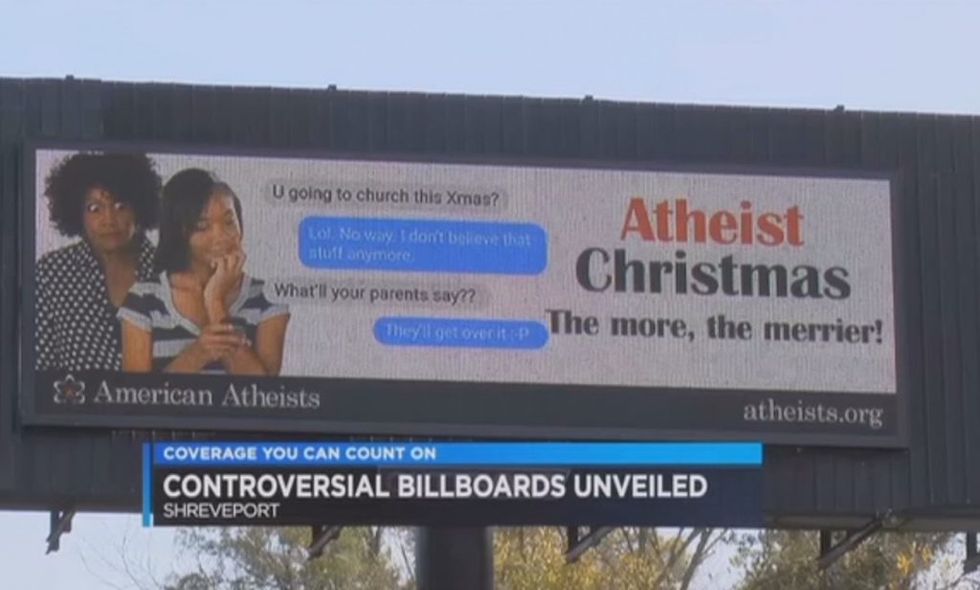 Image source: KSLA-TV
The other sign borrows Republican President-elect Donald Trump's campaign slogan, "Make America Great Again," to urge folks to skip church on Christmas:
LOOK: Atheist Billboards Urge Americans to Skip Church This Christmas @FoxFriendsFirst https://t.co/crZEd0Xcfk https://t.co/lHA7Qf7mkR

— FoxNewsInsider (@FoxNewsInsider)1480945194.0
Nick Fish, American Atheists' national program director, told KSLA that the billboards are indeed meant to provoke.
"We do want to stir the pot," he told the station. "And part of stirring the pot is getting that conversation going." He added, "And we want to use humor, we want to use a little bit of people driving by these billboards and saying, 'Wait, what did that just say?'"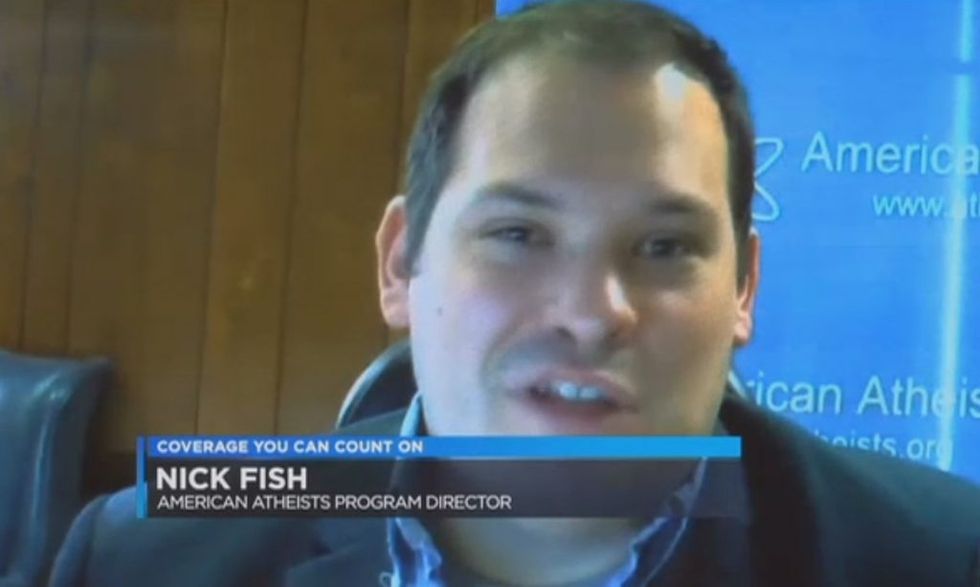 Image source: KSLA-TV
Some apparently didn't find humor in the atheists' message and refused to talk on camera to KSLA about the billboards. But one woman noted that respecting others' right to not believe the religious aspect of Christmas is an important principle to live by — not that it will deter her from exercising her faith.
"I wouldn't tell anyone that you have to go to church to celebrate Christmas," she told the station. "But you should have a desire in your heart to know who you're serving. And we just have to pray for those who have that belief that there is no God."
Another motorist told KSLA: "I don't think it should matter what religion you are. People get so offended by saying 'Merry Christmas' or 'Happy holidays.' And the proper response should be 'thank you.' It's not anything offensive to say those things."
Fish seemed to find meaning in an atheist Christmas.
"We celebrate Christmas in pretty much the same way everyone else does," he told KSLA. "We have a tree. We give gifts. We have a big meal. We hang out with the people that we love. Those things have nothing to do with religion. Christianity and religion do not have a monopoly on having a great meal and spending time with people you love."
American Atheists are displaying the billboards from Louisiana to Colorado, as well as in Georgia, through the end of the month, KSLA said.
(H/T:
Mad World News
)