Former major league baseball star Curt Schilling declared that his controversial, no-holds-barred conservative views — specifically his early support of Republican President-elect Donald Trump — is what's keeping him out of the Hall of Fame these days.
"I promise you if I had said, 'Lynch Trump,' I would be getting in with about 90 percent of the vote this year," Schilling told TMZ Sports, a reference to baseball writers' politics as well as their all-powerful votes that grant entrance into Cooperstown.
Schilling's played for three championship teams, won 216 games, posted over 3,000 strikeouts and became a Red Sox legend when he toughed out a 2004 World Series game against the Yankees with a crudely reattached ankle tendon, thrusting the phrase "bloody sock" into the national conversation.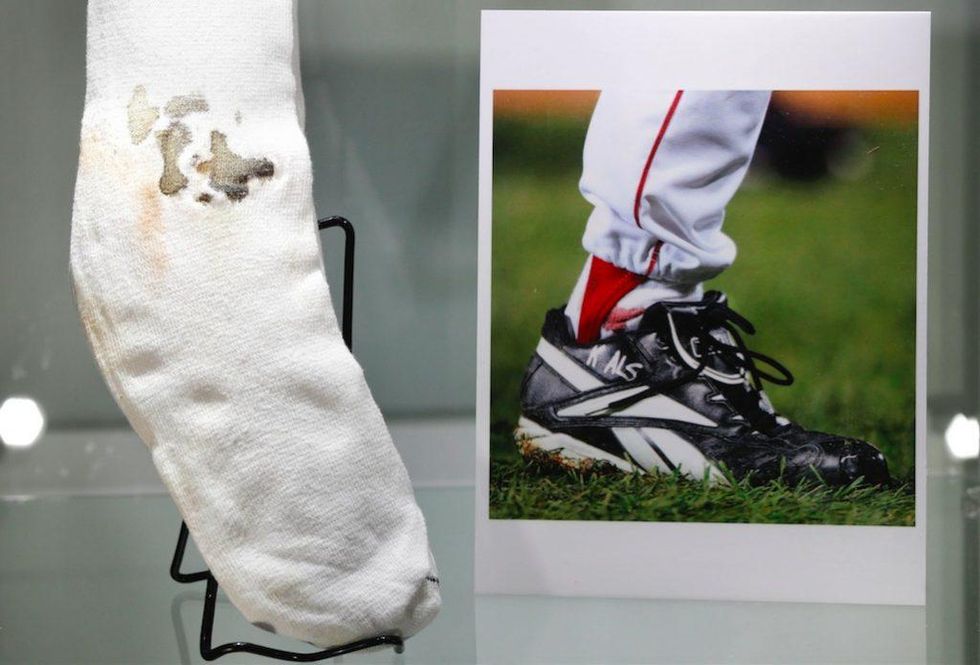 The bloody sock worn by former Boston Red Sox pitcher Curt Schilling in Game 6 of the 2004 World Series is displayed at Heritage Auctions in New York, Thursday, Feb. 21, 2013. (AP Photo/Seth Wenig)
But Schilling insists that matters little to the Baseball Writers of America.
"They're not hiding the fact that they've stopped voting for me because of the things I've said on social media," Schilling told TMZ Sports. "That's their prerogative as voters."
He added to the outlet that the writers are employing the "character clause" — a voting guideline that says players also should be judged according to their "integrity, sportsmanship, character" — in his case when it doesn't seem to matter for other players.
"It's not used in all cases," he told TMZ Sports. "They pick and choose when they use the character clause."
Of course Schilling's standing among writers could be especially hampered at the moment given his infamous tweet of a photo of a Trump rally attendee wearing a T-shirt that read, "Rope. Tree. Journalist. Some Assembly Required."
"OK, so much awesome here," Schilling noted in the now-deleted tweet he posted the day before the November election.
Indeed some writers were not thrilled:
schilling favors lynching apparently. not really sure i can stomach voting for him for the hall anymore. https://t.co/yXBVv52MXo

— Jon Heyman (@Jon Heyman) 1478566588.0
Well, you can consider my BBWAA Hall of Fame vote rescinded for at least a year. You probably didn't want it anyway. https://t.co/hcoWjERICZ

— Mike Vaccaro (@Mike Vaccaro) 1478564112.0
Schilling's online presence has been controversial in other instances: His June 2016 blog post in the wake of the terror attack at an Orlando gay nightclub lit into gun control advocates and Muslims; ESPN fired him last April for a meme he posted that mocked transgender bathroom laws; and the sports network pulled him off the air in September 2015 for the rest of the baseball season over a tweet against radical Islam.