At its inaugural "Playbook Live" interview, Speaker of the House Paul Ryan (R-Wis.) told Politico that he sees the repeal and immediate replacement of Obamacare as a moral obligation he and his other Republican legislators must address.
Ryan said that replacing the health care law "has to get done in 2017" and that legislators have a "tremendous responsibility."
"We have to move quickly, but not at the expense of getting it right," he said.
The interview, held in downtown Washington, D.C., was the first of its kind for Politico and covered everything from Ryan's relationship with President Donald Trump ("The guy never stops working. I find that endearing, and I find that encouraging."), to his opinion on Hawaii Democratic Rep. Tulsi Gabbard's recent trip to Syria ("Bashar Al-Assad is a butcher. He should go. Period.").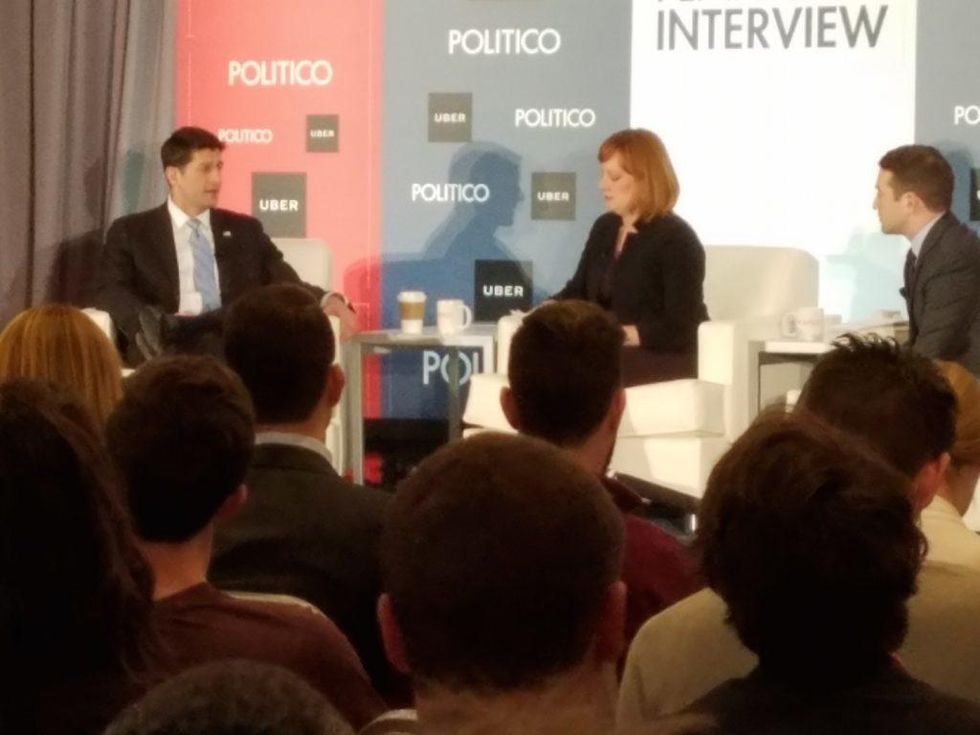 Speaker of the House Paul Ryan (R-Wis) is interviewed Friday in Washington, D.C., by Politico. (Sarah Lee/TheBlaze)
Ryan touched on the general belief in conservative circles that the media has had a bias against conservatism for a while; but he spent most of the discussion talking about the 200-day agenda he, Trump, Vice President Mike Pence, Senate Majority Leader Mitch McConnell (R-Ky) and others have created to try to fix what he calls "big but solvable" problems.
Ryan acknowledged that the Trump presidency will be unconventional but said that the new president is sincere and capable. He added that has an abiding belief that Trump can be transformative and that Pence would be a "hugely impactful" vice president.
"We had a broken government. We now have an opportunity to fix it, and I'm excited about that," he said.
Ryan said as part of the their 200-day agenda, the Republican leadership would be going through two budget reconciliation processes over the next fiscal year. The immediate issues they hope to address are the fiscal economic issues including healthcare, tax reform, rebuilding the military and border security.
On the issue of health care, he said the first two challenges will be addressing replacement options for the 4 percent of people currently on the Obamacare exchange, and shoring up the individual health insurance market.
"People are being led to believe ... that we're going to have a vote on Tuesday then on Wednesday no one's going to have health insurance. ... That's just not going to happen," Ryan said. "We see this as a rescue operation."
Ryan added that if they get the replacement of Obamacare right, prices will naturally drop, and that will organically fix a lot of the problems. But he added that a health care mandate is off the table: "We're not going to have the government make you do something."
The other issue Ryan spent much of his time Friday discussing was the issue of tax reform and border security, which he sees as intertwined. Regarding the recent policy suggestions coming from the White House related to taxing imports, Ryan says he supports the option.
"This isn't trade policy, it's tax policy. [And] it's an elegant solution if you want to get money coming in from Mexico to pay for anything ... after we do this, by the way, that means there's no reason to ... outsource your manufacturing," Ryan said.
Ryan also noted that criminal justice reform and an examination of the Chevron deference — a ruling that dictates how courts defer to federal agencies — are also on the table for discussion in 2017.