Michelle Fischer's seventh-grade son Jack has been a supporter of Republican President Donald Trump for quite some time. He was very interested in and followed the primary elections last year in the news cycle with his parents, she explained on her Facebook page.
After the current year began at Chinook Middle School in Kennewick, Washington, Jack wore different shirts that promoted Trump, Fischer wrote — which became an issue because one of his teachers "is an avid supporter of Hillary Clinton and was very anti-Trump since the beginning of the year."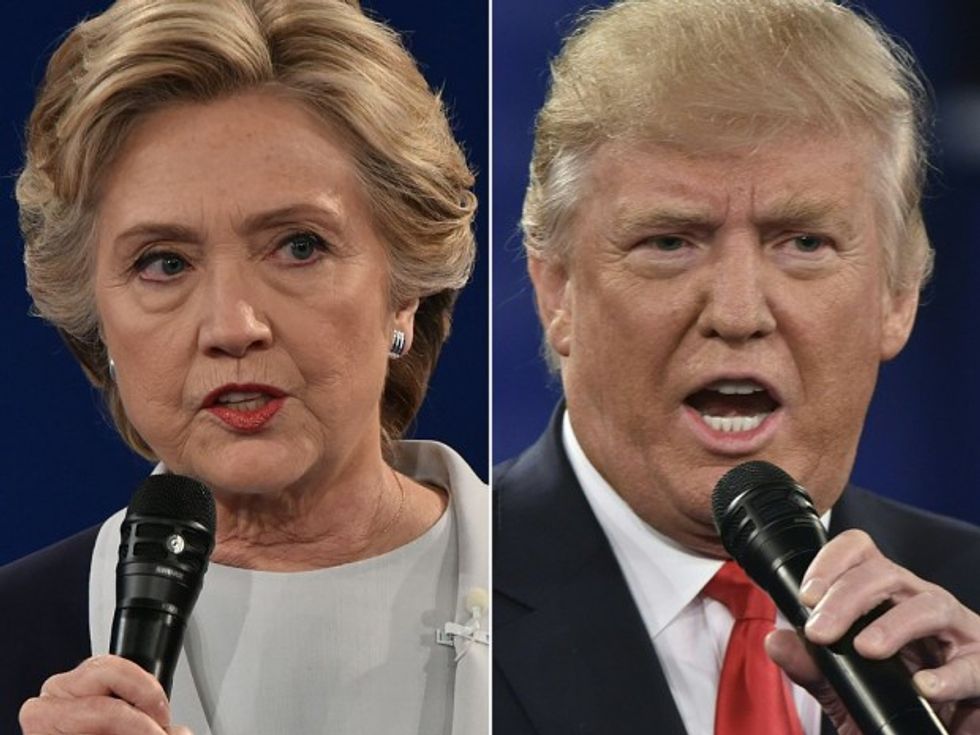 Getty Images/Paul J. Richards/AFP
Fischer added that when Jack and his friend who also supported Trump "gave their opinion, they were ridiculed and called names. The name calling continued outside the classroom and at some times, he even felt threatened by some of the other students. I am convinced that this attitude was perpetuated by what the kids were being taught in class."
More from Fischer:
Part of the curriculum was to watch CNN News for kids. When Jack asked why they couldn't watch Fox news, he was told that it was too biased. On another occasion, class was working on "Character traits." A stick figure was drawn on a poster board. The way my son tells it, the teacher told the class that the figure represented her, and asked for descriptive words to describe her. The kids used words like optimistic, smart, and outgoing. She then drew some orange hair on the figure's head and told them to describe Donald Trump. Some of the words used were: Cowardly, selfish, depressed, intolerant, irresponsible, untrustworthy, and more. When one of the kids said "racist" a softer word was written in its place. That poster was left hanging in front of the class even after the election ... When Jack and his buddy asked why she did not do one for Hillary, they were told that she was not as interesting as Trump.
It turned out, Fischer wrote, that wearing his pro-Trump T-shirts became a way for Jack to express his opinion since he "can't really argue with the teacher or other kids."
The day before the election, Fischer wrote that Jack's teacher told the class there was no way Trump would win. She said Jack was "very upset and thought he was going to be made fun of the next day" because Trump was going to lose. In fact, Jack didn't go to school on Election Day — Fischer said he was "physically sick from worrying about it and thought he was going to get bullied even more by the other kids."
"This was the point where I really started to get mad," she wrote. "If my son is afraid to go to a publicly funded school because of his political belief, then something is not right."
After Trump won, Fischer wrote that "we thought all of this would subside. It didn't."
On Inauguration Day, Jack wore his "Build the Wall" T-shirt to school, and the teacher in question pulled him aside, the Tri-City Herald reported.
"She asked, 'How would you feel if someone wore a T-shirt with a swastika on it?'" Fischer told the paper. "He said, 'You can't compare my shirt to wearing a swastika. They aren't the same thing.'"
Fischer told the Herald that Jack's teacher asked him to stay in her class during lunch to talk about his shirt. Kennewick School District officials told the paper Jack wasn't forced to do so, in contrast to some claims on social media.
During their chat, the teacher reportedly told Jack wearing clothes with political messages was inappropriate, the Herald said — but Jack added that he saw a math teacher wearing a Barack Obama shirt.
"The swastika analogy was pretty much the last straw for me," Fischer wrote, and she proceeded to post on Facebook a photo of Jack wearing his T-shirt along with what he said happened to him.
Well, after that post went viral, school principal Kevin Pierce called Fischer and, in the end, was told there wasn't anything wrong with Jack's T-shirt, the Herald said.
"My goal is not to get this teacher into trouble," Fischer told the paper. "I made it clear to him. She's a nice person. I just haven't agreed with the way she's taught the class."
Fischer added on Facebook that "a great learning opportunity for the kids was lost. Instead of teaching about the American election process and debating some of the issues, the kids with the minority viewpoint were put down and made fun of." She also said that Jack has been portrayed as the bully in some media reports, which Fischer said couldn't be further from the truth.
Last Friday school district officials said in a statement that Pierce investigated the incident and took appropriate action, the Herald reported, adding that details weren't released since it's a personnel issue.
District policy allows students to express their opinions as long as they don't disrupt others' education, the paper added.
"I think most parents would agree with me," Fischer told the Herald. "If this was the other way around, I guarantee there would be some parents that were pretty upset."
(H/T: EagNews)