A Missouri sixth-grader was ganged up on, bullied and hit in the face on a school bus because he was wearing a Donald Trump "Make America Great Again" campaign cap — and the incident was caught on video.
"I'm getting an anxiety attack, take that off!" one student is heard yelling at the 12-year-old middle schooler after a hand is seen attempting to dislodge the red cap from his head.
"You wanna build a wall? You wanna build a ... freaking wall?" the same voice, seemingly from a female, yells at him.
"What's wrong with building a wall if it keeps illegal immigrants out of our country?" the boy, now standing up, responds.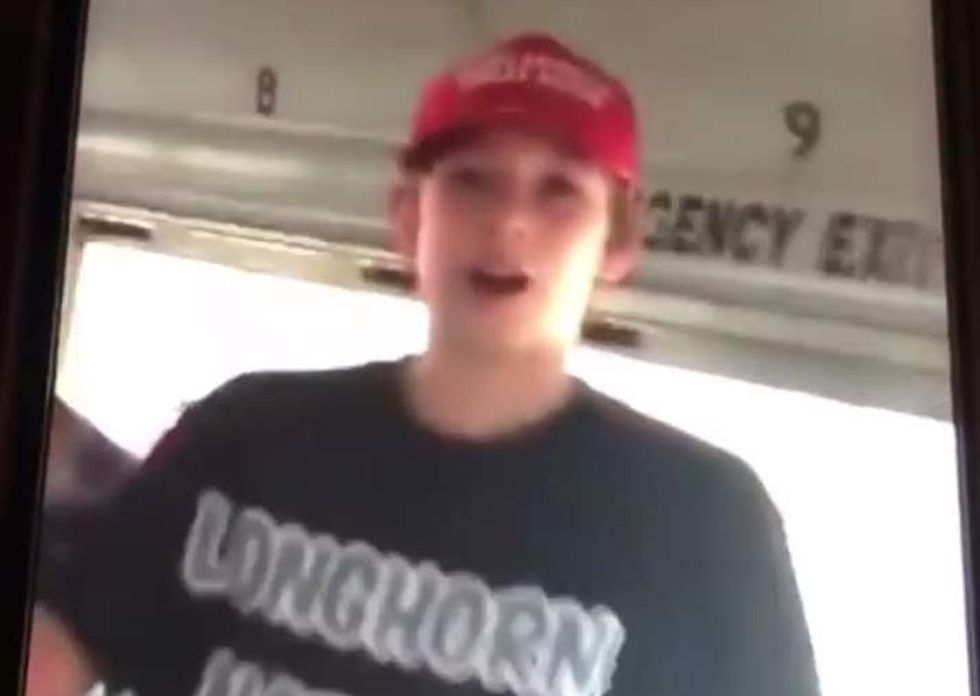 Image source: YouTube screen cap
After it appears someone hits the boy on top of his cap from behind, the raw video cuts to a male student standing near the boy's seat and apparently exchanging blows with him.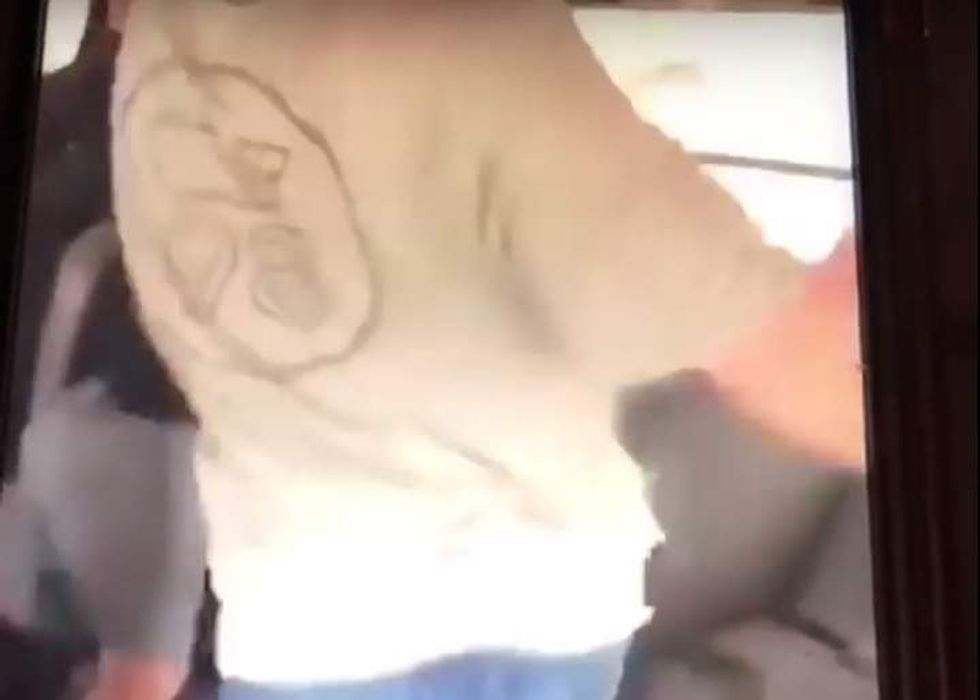 Image source: YouTube screen cap
Following the scuffle, the same voice from the beginning of the incident is heard laughing and saying, "I wanted you guys to fight ..." The boy wearing the Trump cap responds that he was pushed first.
While the Parkway School District spokesperson said all students involved in last Wednesday's incident have faced "consequences," KMOV-TV reported that the boy who wore the Trump cap was suspended.
"As a parent it's so upsetting because my son doesn't need to be made the example for this," Christina Cortina told the station as she sat next to her son.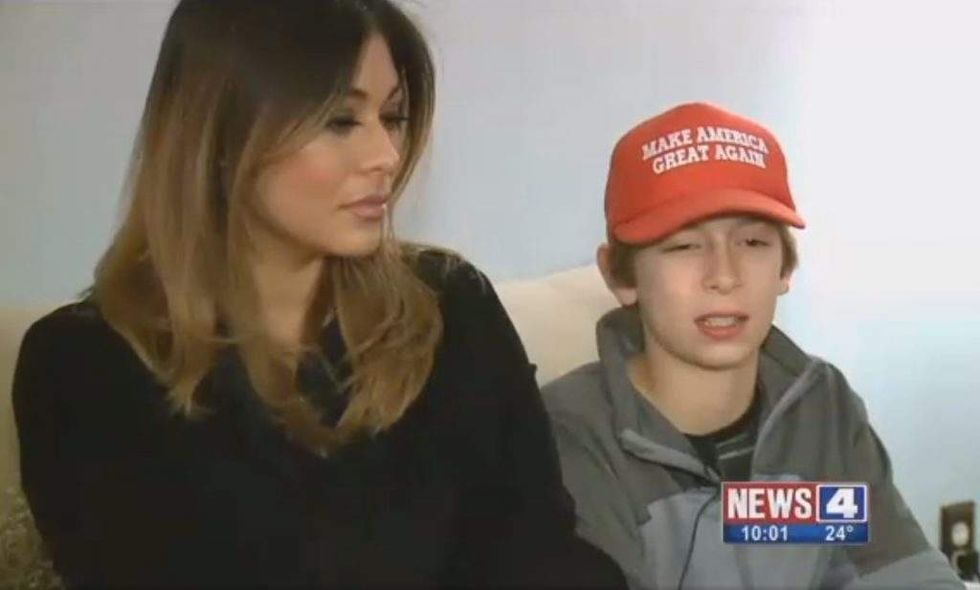 Image source: KMOV-TV video screen cap
"I saw him being persecuted for having an opinion of his own," she added to KMOV. "I saw him being berated and bullied and beat — literally beat — because he feels strongly about the world today."
Cortina told the station she's unlikely to allow her son to wear the Trump cap to school anymore in order to avoid further trouble.
The school district issued a statement Monday morning regarding the incident, KMOV said:
On Wednesday, Feb. 1, three students got into an argument on an after-school activity bus at Parkway West Middle School over a hat worn by one of the students. Two of the students got into a physical altercation with both students striking each other in the face. The third student videotaped a portion of the incident, verbally escalated the confrontation and posted it online. The entire incident was captured on internal video cameras on the school bus, which was used by the school to conduct a full investigation and gather all the facts.

As a result, all three students have received suspensions in accordance with Parkway's student discipline policy. Upon completion of suspensions, the three students will participate in a restorative mediation process to help learn to resolve their differences in a peaceful and respectful manner.

We regret that this incident occurred as it does not reflect the positive character we expect from our students. We will continue to work together with students, staff and families to ensure all students learn to treat each other with dignity and respect.
(H/T: Allen B. West)