Editor's note: TheBlaze reporter Kaitlyn Schallhorn recently spent 16 days in Kenya reporting on issues affecting the lives of people in this African nation. Here is the fourth part of her series.
BUTERE, Kenya — Walking into a small Kenyan market off a dirt road, heads turned as a small woman in a brightly colored dress with brightly colored hair glided through the  aisles, smiling and greeting children along her leisurely way.
While some children stared and reached out to touch her pale skin — many had never seen a "mzungu" before — the petite red-haired woman was often greeted by adults wherever she went.  And even if they couldn't remember her name, they often greeted her by the affectionate moniker assigned to her — "mum."
I spent a week with Ruth Dietz in western Kenya — learning about the work of her organization, Rainbow Christian Missions, issues with access to education in the area, and that there is no such thing as too much sunblock or mosquito repellent for people with fair skin. But the more time I spent with her, the more I learned about true compassion.
Along with her husband Chub, Dietz founded RCM, a Christian-based humanitarian aid organization, in 2005 after her first trip to western Kenya. Dietz tagged along on one of her daughters' church-organized mission trips — and like many who meet the generous and smiling Kenyan people — fell in love.
"As soon as I got home, I knew that there were things I could do," Dietz said. "As soon as I got home, I started talking to people I knew about children I met who were in dire need."
After gathering a few friends who agreed to help cover school fees, Dietz then began the process of figuring out how she could manage this new endeavor — and thus RCM was created.
While it's not a large operation, RCM focuses on five major issues in the Kakamega County area with the help of its staff in Butere.
RCM facilitates child sponsorship to help with school fees and ensure children in the most impoverished homes have access to education, partners with medical professionals to provide free medical clinics, unites with a local HIV support group called Tuschaurine (Swahili for "let's talk"), finances the digging of wells in communities without access to clean water, and supports a family needs program for needy families.
RCM also leads yearly mission trips to Butere.
Calagan Oketch, a RCM staff worker, told me that he would not be able to attend Jomo Kenyatta University — where he is a second-year student studying medical training — without the help of Dietz's ministry.
"She has helped a great extent. We have so many students who have graduated school through RCM," said Oketch, 23.
He was also sponsored through RCM and was able to complete high school thanks to help with his school fees.
Oketch spoke to me as we sat aboard his first flight from Kisumu in western Kenya  to Nairobi. Like many other colleges, Oketch's university went on strike from January to the end of March, so he took the long journey out to Butere to work full time for RCM during his downtime, mostly helping with RCM's medical outreach.
In return, Dietz gave Oketch the opportunity to fly back to Nairobi instead of taking a bus — a journey would have taken all day opposed to the 40-minute flight.
"She's so kind," Oketch said of Dietz. "She understands Kenya, and she has a vision of raising African children to get an education and proper sanitation through the well program."

Ruth Dietz speaks to children at Springs of Grace school in Butere. Her organization, Rainbow Christian Missions, sponsors many children at the primary school. (Kaitlyn Schallhorn/TheBlaze)
But aside from the monetary help that RCM — and Dietz herself — gives to the people of Kenya, Dietz's compassion for Kenyans is glaringly evident.
I told Dietz about my  story regarding child trafficking in the area and shared with her some of the shocking anecdotes an area teacher had relayed to me about girls as young as 8-years-old dropping out of school as they were sent to Nairobi or the Middle East for labor in hopes for cash to help their impoverished families. Two days later, we found ourselves in the middle of a government office tasked with protecting children without an appointment, the fiery woman peppering the young government official about just how they keep young girls safe.
A busy woman, Dietz, 57, received multiple unscheduled visitors daily at the Butere office and her house as word spread in the community that she was in town. Some visitors sought help; others updated her on projects she had already undertaken. But all brought gratitude, and all were graciously and patiently received.
Even still, amid the unscheduled visitors, scheduled house calls and meetings with RCM staff that Dietz needed to squeeze into her two-week trip, she still made the time to drop by a family's compound grieving the loss of a mother who left behind seven children.
The mother, Joyce, died of heart failure following a hernia repair surgery. RCM covered the cost of Joyce's surgery as part of its medical outreach. And when she died a few weeks later, RCM paid the hospital fees and bill to retrieve her body from the morgue.
Upon entering the family's compound, Dietz and her team were immediately greeted by Joyce's loved ones. They prayed over the body of the woman they so generously tried to save. Dietz took down the names and ages of the now-orphaned children, promising to do what she can to get them sponsored so they could receive an education. And she hugged Joyce's sisters and mother, whispering words of comfort and encouragement in a language they might not fully understand.
Dietz's generosity is also seen through the first Kenyan she ever sponsored — Wycliffe Timbwa.
When the pair met in 2001, Timbwa was 16 and in the first year of high school.
Timbwa was in a dark place as he lacked the money to pay for school fees. At the time, he was out of options; he was going to have to return home, sans an education.
"But then Mama Ruth came," Timbwa said during an interview in his Nairobi apartment over a traditional dinner of ugali, liver in gravy and sukuma wiki, a kale, tomato, onion and oil dish.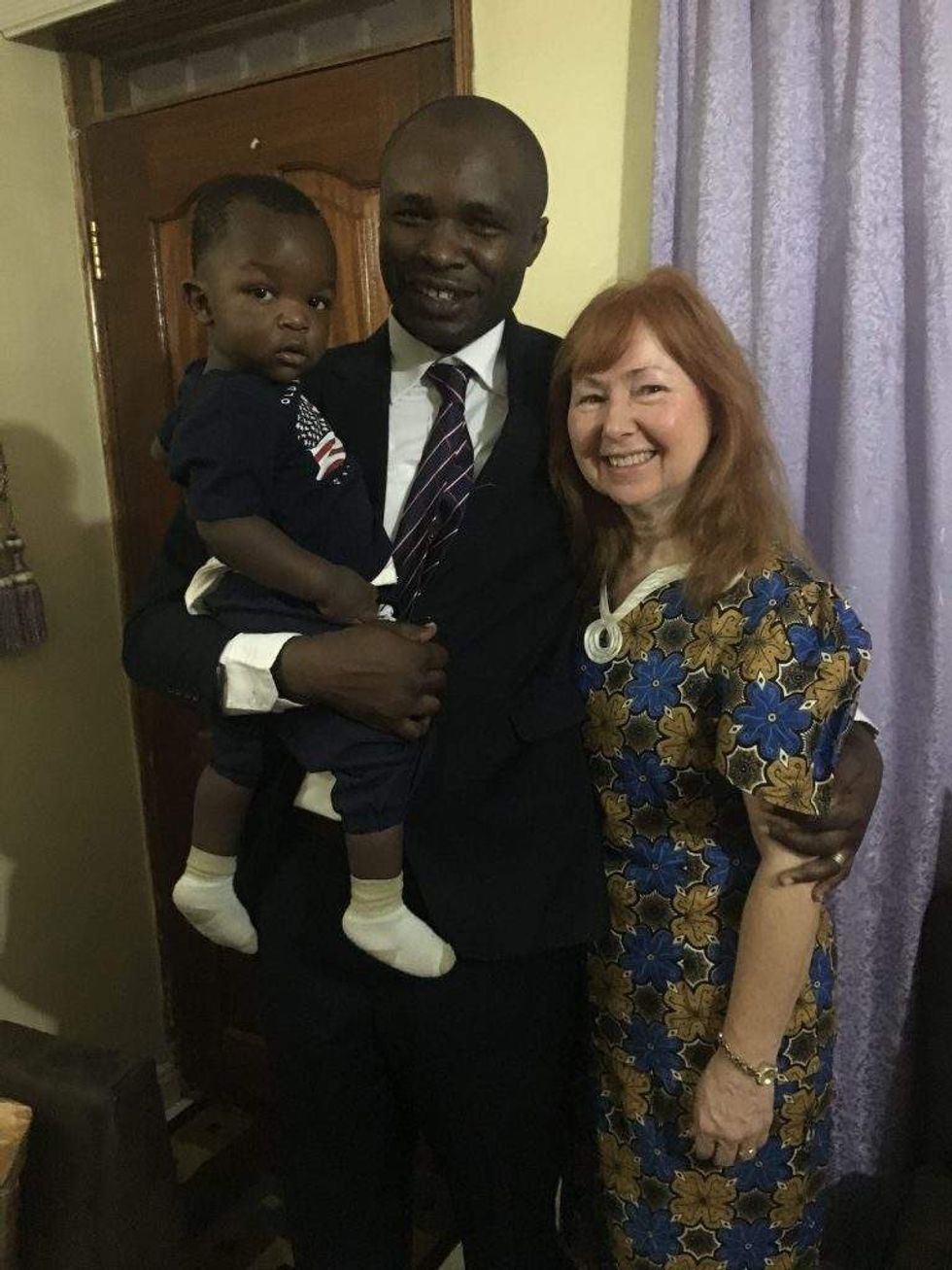 Ruth Dietz poses with Wycliffe Timbwa, the first Kenyan student she sponsored, and his young son, Israel Joseph Kayo. (Kaitlyn Schallhorn/TheBlaze)
Timbwa said he met Dietz and her daughter while they were visiting on a mission trip and asked them to pray for him as he lacked the money to continue to go to Emusire, a public boarding school in western Kenya. At school, Timbwa said, not only was he learning, but he was also receiving a lunch — something he wouldn't necessarily receive at home.
A few days after their meeting, Timbwa said he was ominously told he and a family member needed to meet with his teacher, Lawrence Wanga. Then, Wanga gave the young man the news — "Count yourself so lucky because [Dietz] has offered to pay for your school fees all the way to [the end of high school]."
Dietz isn't sure of the exchange rate in 2001, but the school fees totaled about $338 per year.
We met with Wanga, now Emusire's deputy principal, later in the week at his home on the school grounds. He said he remembered how humble Timbwa was as a student and was grateful that he shared his testimony with Dietz.
"I'm very proud of him," Wanga said, adding that the two still talk fairly regularly. "He is among many others who go through this program. Thanks to [Dietz], they are able to see that God has a good plan for them."
In his Nairobi apartment some 236 miles away from his old high school, Timbwa thanked his "mum" for giving him "the opportunity to start again."
"She has been a source of strength, she has always encouraged me to grow in my life," he said.
Ironically, when Dietz speaks of Timbwa, she said the same thing — praising the young man for always being a source of encouragement to her.
Now 31, Timbwa is weeks away from earning a duel degree in finance and accounting; he already has a CPA certificate. But what Timbwa is proud of, he said, is his marriage to Sheala, a beautiful woman he met in church, and their one young son, Israel Joseph Kayo.
"[Dietz] can tell you, I'm a living testimony. She has seen me going through a lot of stuff. Reaching this place, it hasn't been very easy," Timbwa said, adding his gratitude to God and Dietz for the modest life he's achieved.
Upon leaving Timbwa's apartment the next morning to begin the long journey to Butere, where we would spend the next week, Dietz and I sat in the back of an Uber with the windows down. Looking out the window, Dietz smiled and waved at curious onlookers, spreading just a little more warmth to the Kenyan people.