The University of Tampa professor who said the widespread devastation caused by Hurricane Harvey in Texas was "instant karma" because of the conservative leaning of Lone Star State voters is now out of a job, according to a university spokesman.
The University of Tampa said in a statement Tuesday that Kenneth Storey, visiting assistant professor of sociology, was "relieved of his duties at UT." The statement quoted an email sent out to students and faculty Tuesday morning, which pointed out that the comments were made on Storey's private Twitter account and that they "do not reflect UT's community views or values."
"We condemn the comments and the sentiment behind them, and understand the pain this irresponsible act has caused," the statement read.
The message went on to say that "Storey has been relieved of his duties at UT, and his classes will be covered by other sociology faculty."
"As Floridians, we are well aware of the destruction and suffering associated with tropical weather. Our thoughts and prayers are with all impacted by Hurricane Harvey," the university's email said.
Storey posted the tweet in question on Sunday, just two days after Hurricane Harvey devastated the Texas Gulf Coast.
"I don't believe in instant Karma but this kinda feels like it for Texas," Storey tweeted, according to a screenshot published by Campus Reform.
Another Twitter user replied to Storey's tweet, pointing out that there are "lots of good people in Texas." Storey then clarified that he was "only blaming those who support the GOP" in Texas. Asked whether Republicans in Storey's home state of Florida "deserve some karma too," he tweeted, "yep, those who voted for him here deserve it as well."
Storey has since deleted the tweet and expressed "regret" in a separate tweet.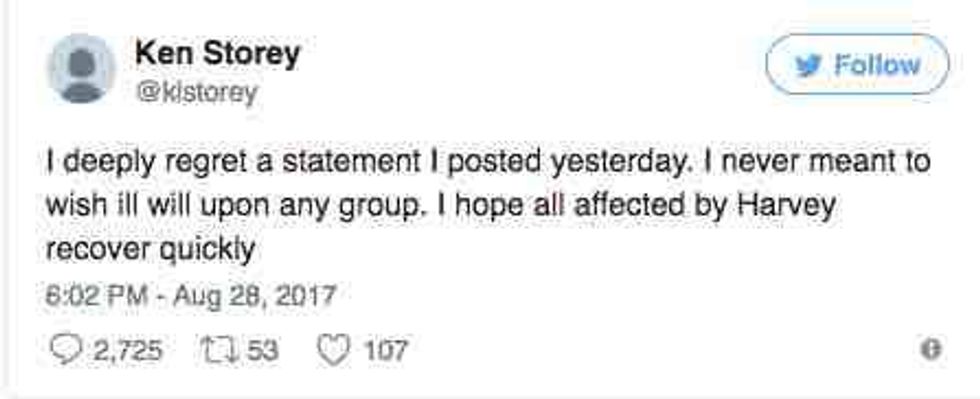 Image source: Twitter/@klstorey
Storey's Twitter account is now deleted. The now-ex professor's name and contact information has been removed from the university's website.
Hurricane Harvey is responsible for at least eight deaths in Texas, including an entire family of six. Millions were forced out of their homes and thousands had to be rescued from flood waters.
President Trump and first lady Melania Trump will visit Corpus Christi on Tuesday to survey some the historic damage.