Officials in East Lansing, Michigan, banned a family farm from the city's farmer's market this spring because the owner doesn't allow same-sex weddings on his property.
Country Mill Farms owner Steve Tennes expressed his views in a Facebook post last year.

In response, East Lansing officials banned Tennes and his family from this year's farmer's market, citing the city's anti-discrimination ordinance that covers sexual orientation.

Tennes sued East Lansing for religious discrimination.

His 120-acre orchard in Charlotte — a popular wedding spot — is over 20 miles from East Lansing.
But a federal judge reversed East Lansing's ban on Friday.
U.S. District Judge Paul Maloney granted an injunction to Tennes, saying the city likely violated his religious and free speech rights, the Associated Press reported.
Maloney said East Lansing changed its rules to require vendors to comply with the city's civil rights ordinance after learning of Tennes' views, the AP added.

"The context in which the vendor guidelines were amended and then applied to Country Mill supports plaintiffs' claim that their religious beliefs or their religiously motivated conduct was the target of the city's actions," Maloney said, the AP reported.

The judge ordered East Lansing to open the market to Tennes through October, the end of the season, while his lawsuit proceeds, the AP added.
The Tennes Family was back at the market this weekend — along with a protester.
The man's sign read "Boycott Country Mill…they practice hate and bigotry."

But WLNS-TV reported that "didn't stop a sea of people from pouring in and buying products from Country Mill."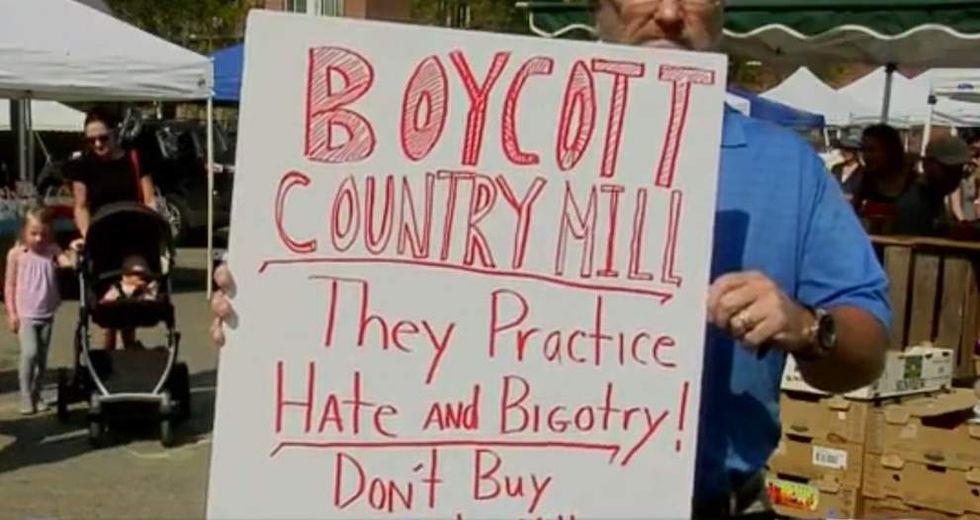 Image source: WLNS-TV screenshot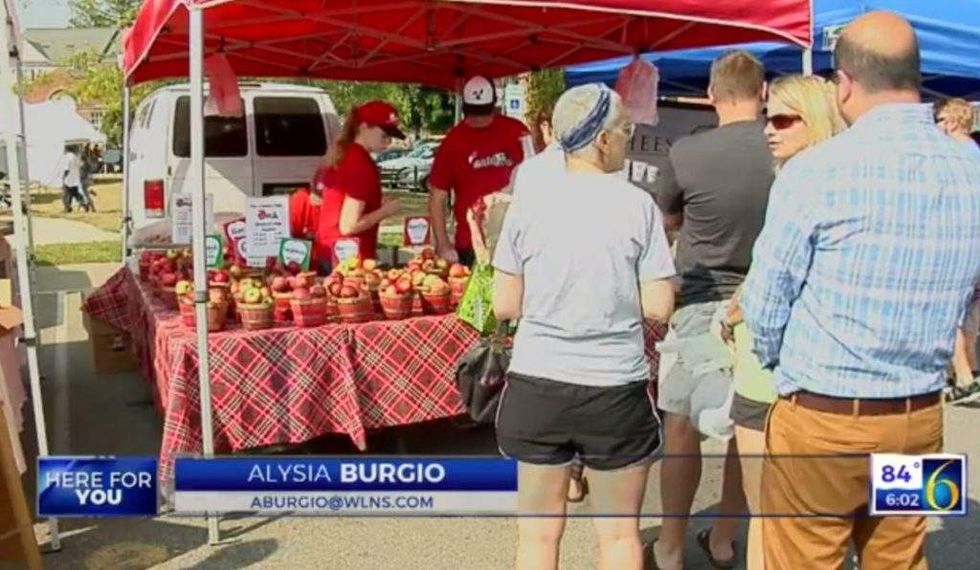 Image source: WLNS-TV screenshot
"What he has done to this community has harmed people, people of faith or of no faith," protester Kennan Dewitt told WLNS. "... he's harmed them by telling them that they are less than human, that they are not worthy of respect, that they are not worthy of being allowed to have services with his business."
But farmer's market vendor Drew Kuhlman didn't see it that way.
"We're kinda just buying food here, and if you know what they're doing and you agree with them or don't agree with them, don't buy their products," he told the station, "but they're not promoting marriage or not marriage or whatever here, so it just kind of seems a little extraneous."
The city of East Lansing said in a statement that it's "disappointed" in the ruling and is considering a stay and an appeal, WLNS reported.