Director Spike Lee angrily declared that the plight of unsigned quarterback Colin Kaepernick is akin to the struggle of legendary baseball star Jackie Robinson to become the first black Major League Baseball player.
"There's 32 teams in the league," Lee told the panel during CNN's "Patriotism, the Players and the President" discussion Wednesday. "Are there any teams where he can be the starting quarterback right now?"
A fellow panelist said there are, but that the former San Francisco 49er — who made big headlines last season with his national anthem protests — likely would be a big distraction who could cost a team a lot of money in lost ticket sales and viewership.
Then Lee had an idea.
"I got an answer for you — Branch Rickey!" he said in reference to the Brooklyn Dodgers general manager who signed Robinson in 1947, which broke the game's color barrier.
"Branch Rickey made the decision, 'We're gonna hire Jackie Robinson,'" Lee exclaimed, his voice getting louder. "Nobody else wanted him!"
Former New York Jets player Rev. Michel Faulkner, also on the panel, was dumbfounded.
"Jackie Robinson was a Hall of Fame baseball player!" Faulker shot back, his voice pitched to an I-can't-believe-what-I'm-hearing level. "What are you talking about?!"
Retired Steelers wide receiver Hines Ward agreed, smiling uncomfortably, telling Lee you "can't compare" Kaepernick to Robinson.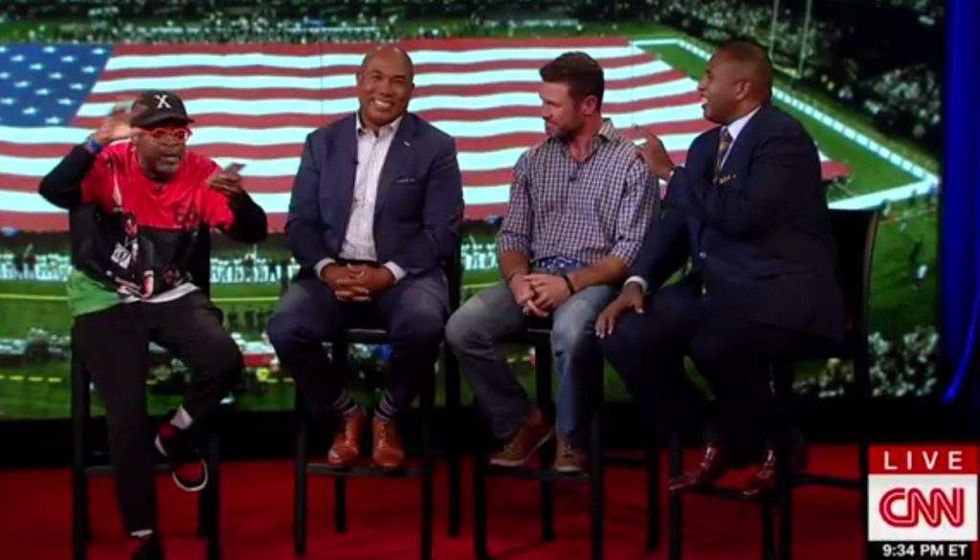 Image source: Twitter video screenshot
Lee — apparently believing he could bolster his argument by raising his voice a few decibels more — said he meant Rickey made an unpopular decision and that an NFL owner today should do the same thing with regard to Kaepernick.
"Branch Rickey made the decision!" Lee declared. "He said 'I'm hiring — no matter what everybody else says — I'm hiring Jackie Robinson.' That was a business decision!"
This writer's perspective
Rickey signed Robinson not just because it was the right thing to do, but also because Robinson would bring a ton to the table as a player. And he did. He was voted Rookie of the Year and then National League MVP in 1949. He helped the Dodgers win a World Series in 1955.
While Kaepernick made it to the Super Bowl, his was a losing effort. And he was faltering as a player before his anthem protests brought him international attention. Kaepernick lost his starting job in 2015, and then struggled to regain it before exiting the 49ers roster after the 2016 season.
For the time being, Kaepernick doesn't appear to bring enough to table as a player to outweigh what he might cost a team in terms of negative coverage. And for Lee to place in the same sentence the trend Kaepernick indeed began alongside Robinson's monumental struggle and achievement is just a bit of a stretch.
.@SpikeLee: "Which #NFL owner is going to be the Branch Rickey and give Colin Kaepernick a job?" #CNNTownHallhttps://t.co/xxKvSvEVRR

— CNN (@CNN) September 28, 2017