A Black Lives Matter leader — banned from a University of Kansas building after his expletive-laden tirade toward a dean left students and faculty feeling unsafe — is teaching at the college, the Lawrence Journal-World reported.
What's the background?
University officials said Caleb Stephens — an organizer with the Black Lives Matter chapter of Lawrence, Kansas, the paper said — confronted Paul Smokowski, then-dean of the School of Social Welfare, in December 2015.
What did Stephens allegedly say?
Stephens "demanded that the Dean send an email to members of the School" and told "him you would not leave until the message was sent" and tried to "dictate the precise terms of the message," Vice Provost for Administration and Finance Diane Goddard wrote in a letter to Stephens, the Journal-World reported.
"You then began shouting at the Dean, from the doorway, and your voice could be heard up and down the halls," she added, the paper said. "Your shouting — captured on video that I reviewed — disrupted classrooms, and caused instructors and other students to fear for their personal safety."
Stephens later submitted a statement to the college newspaper saying he was upset about racial issues at the school and used profanity but didn't threaten the dean, the Journal-World reported.
"I used [the F-word] a lot throughout the four-minute conversation, but did not attack him, advance towards him, threaten him in any way, and was at least three to four feet away from him the entire time," Stephens wrote about the incident, adding that Smokowski "didn't [expletive] care about" people of color.
Stephens is banned from Twente Hall, where the incident took place, the Journal-World added.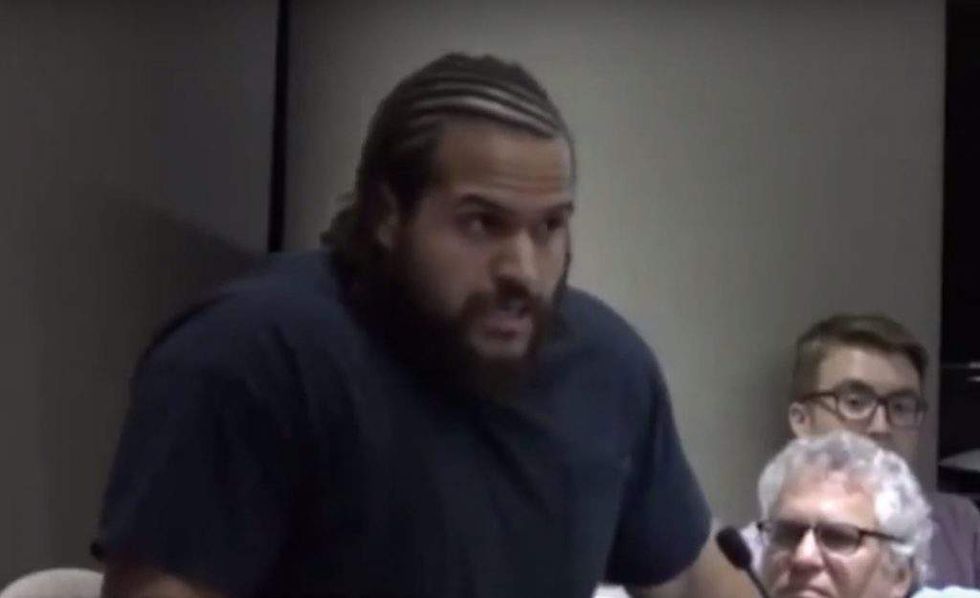 Image source: YouTube screenshot
In what capacity is Stephens employed by the college?
He's a graduate teaching assistant in the department of theater where he's also a doctoral student, university officials confirmed to the paper.
Joe Monaco, the school's director of strategic communications, told the Journal-World that Stephens' ban remains in place until the end of 2018.
But Monaco wouldn't comment to paper if the ban and stated safety issues surrounding it were considered prior to Stephens' employment.
Stephens could not be reached for comment Monday or Tuesday, the Journal-World reported.
It's also unclear when Stephens was hired, the paper added.
What else did the vice provost's letter to Stephens say?
"Please note that if you engage in a similar disruptive and threatening conduct in other University buildings, you may be subject to arrest for disorderly conduct, and this ban may be expanded to include the entire campus," Goddard wrote, the Journal-World reported.
Here's a clip about Stephens. (Content warning: Rough language):
(H/T: The College Fix)