"Buy land, 'cause God ain't making any more of it."  – Tony Soprano
It was quiet in the newsroom because the news hadn't happened yet. Three hours before President Donald Trump's Dec. 4 conference in Salt Lake City, each of the studio's TVs was turned to a different network. On every station, the news anchors chatted small talk, half-interested and bored. It was hard to believe something big was about to happen.
A few hours later, the newsroom turned quiet for a different reason, as all the TVs cut to the same scene in unison and everybody stopped to watch as the president took the podium.
In his speech, Trump addressed the people of Utah directly: "Your timeless bond with the outdoors should not be replaced with the whims of regulators thousands and thousands of miles away. They don't know your land and truly, they don't care for your land like you do."
He announced that two proclamations would reverse former President Barack Obama's designation of two national monuments, reducing the size of the monuments by about 2 million acres.
The blowback was immediate. Environmental groups, Native American coalitions and outdoor apparel companies filed lawsuits against Trump, accusing him of violating the Constitution.
Land in Utah became one more object strained by the political fissures of a complicated time.
So, in an effort to get to the truth, TheBlaze spoke with politicians, journalists, land usage experts, professors, conservationists and Utahans, as well as representatives from coalitions, special interest groups, grassroots campaigns, corporations, not-for-profit organizations and Native American foundations.
Like the issue of land usage itself, the truth is complicated and divisive, an ideological Chinese finger trap. It goes beyond politics, then returns into a political muck so complicated you can't tell the Democrats from the Republicans, the protesters from the lobbyists, the locals from the corporations.
*
In 1996, Bill Clinton designated nearly 2 million acres of land in Utah as the Grand Staircase-Escalante Monument. Similarly, on Dec. 28, 2016, President Barack Obama designated 1.35 million acres of Utah land as the Bears Ears National Monument. Both presidents used the Antiquities Act of 1906.
During his Dec. 4 speech, Trump criticized "past administrations" who thought "the natural resources of Utah should be controlled by a small handful of very distant bureaucrats located in Washington. And guess what? They are wrong."
Trump signed two proclamations that reduced the size of the national monuments, as defined by Clinton's and Obama's designations, by roughly 2 million acres.
In general, there are two sides to the issue: Those who support Trump's proclamations and those who oppose it.
Those in favor of Trump's proclamation see it as a win for states' rights, land usage and economic autonomy. They believe that the land should be public, or that it was fine as it was. Also, they like that Trump made good on another campaign promise.
San Juan County Commissioner Bruce Adams was on stage with President Trump for the Dec. 4 announcement, in a neatened suit-and-tie and a cowboy hat inscribed with "MAKE SAN JUAN COUNTY UTAH GREAT AGAIN." After signing the proclamations, Trump autographed the cowboy hat, smiling as Adams hoisted his fist into the air.
Adams has fought against Obama's monument expansion from the start.
"The legislation was a result of listening, of the president and Secretary [of the Interior Ryan] Zinke listening to local voices," Adams said.
Those who oppose Trump's proclamation consider it unconstitutional and dangerous. They believe, for the most part, that rescinding Obama's proclamation will result in catastrophic effects on the land.
Russell Begaye, president of Navajo Nation, has been a leading advocate for the monument. Navajo Nation is one of five tribes that comprise the Bears Ears Inter-Tribal Coalition (BEI-TC). While mapping the original designation, the BEI-TC fought for the monument to be 1.9 million acres, but settled on 1.6 million. Begaye was dismayed by Trump's decision.
In an email, he described the land as under threat. He mentioned a recent Washington Post article about lobbying efforts by uranium mining companies eager to reopen the areas around Bears Ears.
"There are large deposits of uranium in the Bears Ears area that contain high-grade uranium," Begaye said. "Uranium mining will devastate the region, water table and wild life. It will desecrate sacred sites. We, as Indian Nations, have suffered the repercussions of uranium mining and we call to the people from across the nation to help us fight against this."
There are as many points of agreement between the two groups as there are points of divergence, which is part of what makes the whole situation so convoluted, delicate and unreal. There are also some nasty undercurrents, and grudges that run deep.
It should be fairly obvious which side Democrats take and which side Republicans take. What's not so obvious is whether or not political affiliation should even make a difference.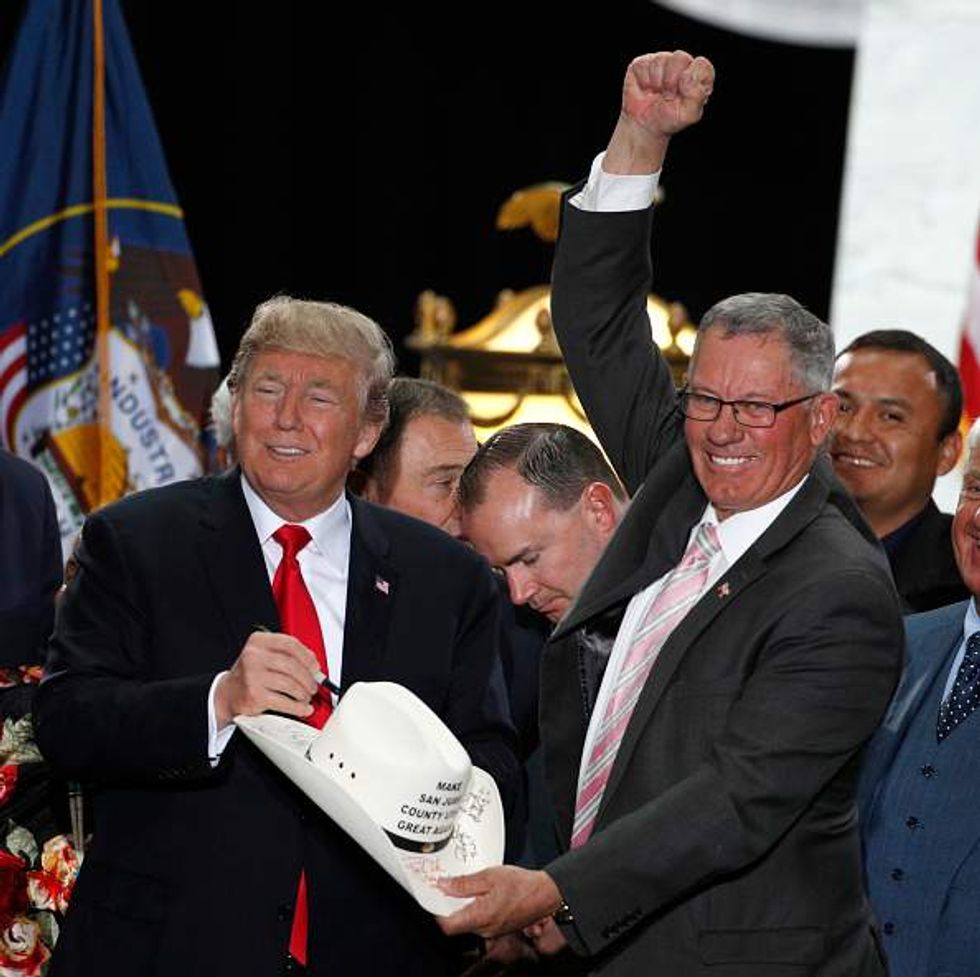 U.S. President Donald Trump, signs the cowboy hat of Bruce Adams, chairman of the San Juan County Commission, at the Rotunda of the Utah State Capitol on Dec. 4 in Salt Lake City. Trump announced the reduction in size of the Bears Ears and Grand Staircase-Escalante National Monuments, which were created by Presidents Obama and Clinton. (George Frey/Getty Images)
Ryan McMaken, a senior editor at the Mises Institute, used to work at the Colorado Division of Housing, and is familiar with land use.
"There seems to be an overreaction, from both sides, in looking at this as a major change," he said.
From the start, McMaken was irked by the misconception that the issue was being framed as a situation in which public lands were being privatized. Mainstream media organizations "acted as if this was a situation in which public lands were going to be sold off into private hands, and that's not the case," McMaken said.
McMaken has a specific interest in land use in Western states.
"There's an assumption among many Americans people in Eastern states that it's either federal land or it's private land," McMaken said. "But when you look at a lot of these Western states, they have lots of state parks and if you poll the local population, what you're gonna find out is that people love their public land."
McMaken added: "It's not a situation where land is being de-federalized. It was federal land, and it's going to continue being federal land.
"There is a common misconception that federal lands are the only type of public lands," McMaken said. "This, of course, is not the case. Even if the Trump administration were to turn some federal lands into state lands, the state legislatures in those states would then face enormous pressure from voters to keep those lands as public lands for the use of residents. It is by no means a safe assumption that any lands that cease to be federal lands will become privatized."
*
Thirteen busloads of people marched out into the July heat of Bluff, Utah, wearing identical blue T-shirts. Each T-shirt had the silhouette of a bear shrined by the words "I STAND WITH #ProtectBearsEarsNow." Identical blue protest signs with the same slogan and hashtag and logo. Stickers, badges, pins.
The blue-smocked protesters waited in line, somewhat argumentative. They had come to see Secretary of the Interior Sally Jewell, who was hosting "a public meeting to hear about community visions for the management of southeastern Utah's public lands."
The 320 residents of Bluff had plenty of entertainment that day: nearly 1,500 protesters and advocates, all passionate and dead-certain, took over the Bluff Community Center.
Matt Anderson, a policy analyst for Sutherland Institute in Salt Lake City, was in the audience, and said he found the protesters suspicious.
"The locals didn't know who they were or where they came from," he told TheBlaze, noting that they were from all over the country — Texas, Oregon, New Mexico, Arizona. "They came in to drown out local voices. And that's exactly what happened."
He added that bussed-in protesters are fairly common. He said it like they're loitering in his backyard, and suggested that maybe they're getting paid.
"The further you get from Bears Ears National Monument, the louder the support you have for it," he said. "The locals who live in the area know it and love it most, overwhelmingly support President Trump's decision to reduce its size."
Jami Bayles, president of Stewards of San Juan, blames the media.
"Unbiased journalism is rarely seen these days," Bayles said. "It seems as though the media is no longer interested in fully covering the real issue, and covering both sides fairly."
San Juan County, wedged into the southeast corner of Utah, edged by Arizona, New Mexico and Colorado, has not supported a Democrat since Franklin D. Roosevelt.
Anderson maintains that local tribes overwhelmingly opposed the monument.
"They know that if you invite the world to their doorstep you're going to put their sacred sites and archaeological resources at increased risk of destruction," he said.
"Obama," Anderson said, "invited the world to the doorstep of San Juan County."
As part of the Sutherland Institute, Anderson works alongside Stewards of San Juan, an interest group composed of San Juan County locals. Stewards of San Juan has definite ties to the Sutherland Institute. The two groups partnered to create the website, rescindbearsears.org. Both are viciously critical of environmental groups and accuse them of various misdeeds and corrupt agendas.
Jami Bayles denies the claim: "The Stewards of San Juan are NOT funded by Sutherland. They support us in our fight, but do not support us financially. A hundred percent of the money we have raised to help fight the monument has come from San Juan County residents, former residents, and friends and family who have been against this monument from day one. And we're pretty damn proud of that."
The environmental groups, in turn, claim that the interest groups' hostility is diversionary, that Sutherland and its affiliates are the real villains here.
*
Brian Sybert is a hunter. He's been to Bears Ears three times since it was designated a monument. He went in October for the opening Saturday of elk season.
Sybert is also the executive director of Conservation Lands Foundation, a nonprofit conservation organization that has rallied for the monument since at least 2014, two years before Obama's proclamation.
He knew the area before it was designated a monument.
"It pretty much looks and feels exactly the way it did when I first stepped foot in it 15 or more years ago," Sybert said.
He's dismayed by Trump's proclamation, like something he'd spent hours making vanished from his grip.
"I think, whether you're a Democrat, Republican, Independent, we love our protected lands," Sybert said. "We want them the way that they are."
For him, the size of Bears Ears represents the expanse of nature. In wilderness like that, he said in a phone interview, you're able to wander a landscape with its ruggedness intact, you're able to hunt like hunters used to hunt.
"You've gotta have places to do that and if everything is developed, it gets harder and harder and harder to find those places," Sybert said.
He sees development as a blemish, a gutshot.
"You're not going to go hunt or camp with your family next to a pumpjack or a uranium mine," he said. "It pretty much ruins the landscape pretty quick."
Not every landscape needs to be preserved, Sybert said.
"You know, I drive a pickup truck and heat my home and buy gas, so there's gonna be places where oil and gas development is appropriate and certain types of mining is appropriate. But there's gonna be places where it's not and inside significant landscapes, like you find with Bears Ears, that's not an appropriate place," he said.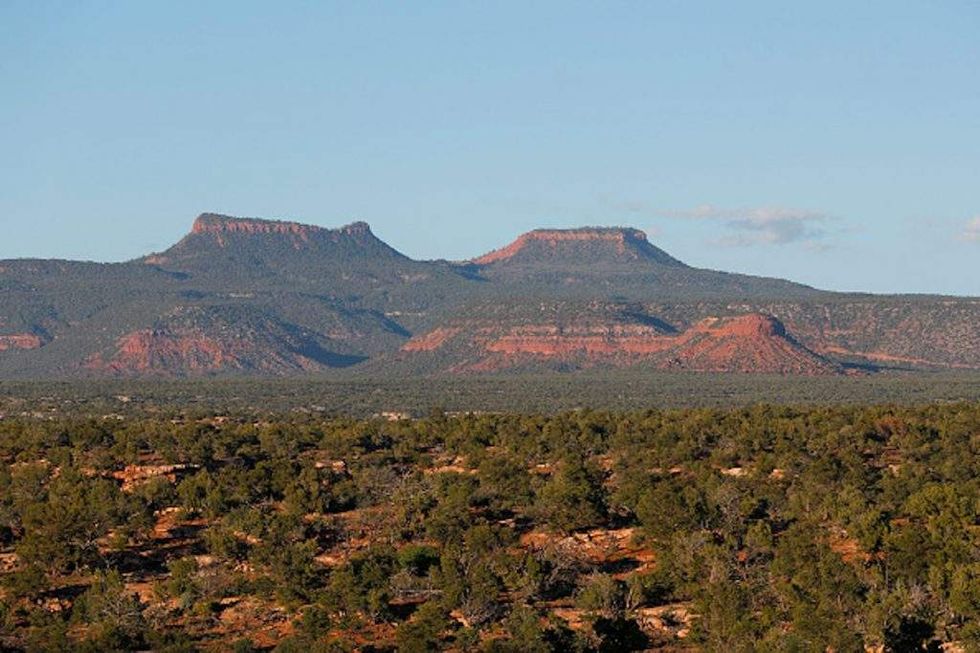 The two bluffs, known as the "Bears Ears," stand off in the distance in the Bears Ears National Monument on May 11 outside Blanding, Utah. The Bears Ears National Monument and the Grand Staircase-Escalante National Monument, are under review by the Trump administration to help determine their future status. (George Frey/Getty Images)
*
Ryan Benally, who serves as co-vice president of Stewards of San Juan, is from Montezuma Creek, Utah, which sits on the edge of Navajo Nation. Nearly all of the town's 500 residents are Native American.
Benally, a Navajo, said he got tired of land restrictions within the monument, so he and "several other tribal members became involved with the need to rescind Bears Ears National Monument."
There's a palatable venom to his language every time he mentions environmental groups. Not hatred, maybe just weariness. He accuses the groups of pushing out "bizarre narratives left and right of how the entire area was to be destroyed with 'extractive mineral companies' lining up waiting to 'dig in.'"
"Unfortunately," he added, "false narratives like those have jolted some people to attack one another."
Jonathan Nez, vice president of Navajo Nation, disagrees with Benally. He insists that the majority of the Native American community has "allied together to advocate the protection of the region" and that the Navajo community rejects Trump's measures.
Benally, in turn: "There are tribal members that do support the original President Obama monument designation, though I fear they've been misinformed by the disingenuous media campaigns pushed by enviro-organizations."
Benally accuses environmental organizations of co-opting Native tribes in order to spread their message, claiming that many of the major players have ties to the tourism industry and outdoor apparel companies.
He's not wrong, there are plenty of connections. Before Sally Jewell served as Interior Secretary of the Interior, she was the CEO of Recreational Equipment Inc. — a company that sells outdoor clothing and equipment, suited for camping, hiking and kayaking. Clothing and outdoor product company, the North Face, pledged $100,000 in a Kickstarter fund, which has already exceeded its goal, for lawsuits against Trump's legislation.
REI President and CEO Jerry Stritzke wrote a letter to Secretary of the Interior Ryan Zinke on June 6, 2017, and in June, 2017, REI released a video, detailing their perspective and informing viewers that they had "until July 10th to tell the Department of the Interior what public lands mean to you."
Patagonia has also made headlines for its involvement in legislation, which CEO Rose Marcario considers part of its "radical revolution." Marcario has devoted herself to land preservation and conservation causes. Peter Metcalf, founder and CEO Emeritus of Black Diamond Equipment, is on the board of directors of Conservation Lands Foundation.
But beyond sizable donations to environmental groups and lawsuits, there doesn't seem to be anything dubious at play, or anything illegal. Although, the fact that they have intertwined their business with their political beliefs does make their involvement newsworthy and politically relevant, and as organizations, they become politicized in the same way Chick-fil-A or the NFL have.
Benally takes greater issue with environmental groups. Conservation Lands Foundation specifically, Benally added, is "on a mission to litigate and sue anyone just to achieve their erratic goals" using heavily funded media campaigns.
When asked what he thought of these accusations, Sybert, Conservation Lands Foundation's executive director, was not surprised.
"We've heard that before," he said. "That's a claim that's come up before, so that's nothing new, but the reality is different. These are real people in real communities, and sovereign nations, representing five different tribes, which is about as real as it gets. So, to say that's astroturfing — these are real human beings."
*
Bob Wyss has been a journalist for 40 years and specializes in environmental issues. He was a professor for 30 years, most recently at the University of Connecticut, where he taught journalism. He has written about and studied astroturfing, especially in relation to environmental issues.
Astroturfing is a form of propaganda that uses fake grassroots movements or small organizations to add credibility or support to a product, organization, politician, religious figure, political ideology or religious movement.
It uses grassroots campaigns because they are often community-minded efforts, which begin at the local level and build up. Wyss explains that grassroots organizations often focus on "NIMBY (Not in My Back Yard)" issues, "local issues that may conflict with very valid regional or national issues."
Most early examples of astroturfing involved environmental issues, "probably because environmental issues are often local and often produce grass roots organization of local citizens who are particularly incensed about a particular project or issue."
Wyss added that "[Astroturfing] groups can be very powerful both with the press and politicians and early on companies and developers fought back by developing their own grass roots groups."
The tactic has increasingly been used by both left-leaning and right-leaning groups.
*
The CLF board of directors
Conservation Lands Foundation's board of directors boasts quite a roster:
• Bruce Babbitt, former Arizona governor and secretary of the interior under President Clinton
• Anne Shields, chief of staff for Department of the Interior
• Chris Killingsworth, vice president of the Wyss Foundation, worked for the Department of the Interior and Bureau of Land Management in Utah
• Michael Kowalski, former CEO of Tiffany & Co.
• Hansjörg Wyss, of the Wyss Institute
• Peter Metcalf, founder, CEO emeritus, and brand advocate of Black Diamond Equipment.
*
Critics of Conservation Lands Foundation offered a 2014 document — CLF meeting minutes from a board meeting on Oct. 24 in San Francisco — as evidence of astroturfing, and proof of the foundation's concerted effort to co-opt tribes to make the land grab politically popular.
The document overflows with vague references to controlling legislation and influencing politicians:
"Struggles with Secretary Jewell, she is not being a strong advocate for the Antiquities Act, but continues to show gradual improvement. With strong leadership from the White House this has become less of a roadblock . . . Bills that gut the Antiquities Act continue to be introduced and will require more robust and strategic effort to ensure they are blocked."
Another section: "[a board member] asked if we were 'hitching our success to the Navajo' and if so, what happens if we separate from them or disagree with them. Without the support of the Navajo Nation, the White House probably would not act." Critics of the CLF take umbrage with the lines about "hitching our success to the Navajo" or else "the White House probably won't act."
Another section: "In the event that the Senate turns after the midterm elections and there are more attacks on the Antiquities Act, CLF is leading a broad coalition of national organizations that are increasingly focused on defense."
The document references the foundation's media influence: "On media, Dayton Duncan recommended that we try to work with an editor or reporter to do a series of stories; it would be large and abstract, but a series of stories to explore how people can experience the National Conservation Lands — like a top 10 list — could be a possibility."
Sybert is not listed in the document, and he denies any astroturfing by CLF."Our primary niche and reason for being in the world, other than the BLM lands themselves," Sybert said, "is the network of 60 local, are the independent grassroots groups we work with and support— that is not what astroturfing looks like. Astroturfing was probably invented precisely because building real grassroots power requires so much time and long-term effort. (Not surprising that someone would come up with a cheap shortcut, but it should be called out every time.) The suggestion that CLF is in any way like an astroturf organization is just provably wrong."
When asked why organizations like the Sutherland Institute and Stewards and San Juan would level those kinds of accusations, Sybert said: "I'd like to see their membership list. I'd ask them to disclose, 'What are their numbers? Who's funding them?' We file 990s every year that are audited by an independent auditor, it's public record on who funds us, so I'd like to see the same degree of transparency there."
*
On its most recent 990, Sutherland Institute billed itself as "a conservative public policy think-tank" committed to shaping "Utah law and policy based on a core set of governing principles."
Sutherland does not exactly hide its political bias or its lobbying efforts, although "shaping Utah law and policy" does sound vaguely ominous.
In an op-ed for the Salt Lake Tribune, authors Karen Shepherd and Jonathan Ruga excoriated the Sutherland Institute, describing it as "much more an advertising agency and propaganda machine for conservative policies than it is a contemplative, fact-based, conservative think-tank." Karen Shepherd served as a Utah state representative Democrat, and Jonathon Ruga is an advocate for the Justice Party.
Jimmy Tobias, an environmental reporter who has written several articles examining the Sutherland Institute, has accused them of shady tactics and questionable money sources.
"They have taken large sums of money from Donors Trust and Donors Capital Fund, the two donor-advised funds that are most often associated with Charles and David Koch and their political network," Tobias said. "It also appears that Sutherland works very closely with the Heritage Foundation as well as an organization called Strata Policy, which has been a leading anti-monument voice and has also received hundreds of thousands of dollars from Donors Trust and Donors Capital Fund."
He clarified that both CLF and Sutherland are both legitimate "in the legal sense." But CLF maintains transparency with who its major donors are. With Sutherland Institute, on the other hand, it is difficult "to get a sense of who is funding [it] and even then the digging ultimately leads you to donor-advised funds whose financial backers are shielded by anonymity."
*
Just a little over 400 words long, the American Antiquities Act of 1906 allows U.S. presidents to designate national monuments. It was instituted by President Theodore Roosevelt to protect archaeological sites from looters eager to steal Indian artifacts.
With the Antiquities Act, a president can designate monuments by executive order. Fans of Trump's proclamation, the rescind crowd, have mixed feelings about this aspect of the bill. They consider Obama's designation to be excessive, an overreach which is both contrary to the Antiquities Act and detrimental to the local communities. But they also acknowledge that this exact overreach is what allowed Trump to rescind the monuments at his will.
San Juan County Commissioner Bruce Adams thinks the legislation should be amended: The president should be "required to consult with the governor and the state Legislature in getting some kind of majority consensus opinion from the local state and legislative body before declaring a monument in somebody's state."
Sybert disagrees: "The Antiquities Act should remain in its current form with the balance of power maintained between the executive and legislative branches and was reaffirmed by Congress with the 1976 Federal Land Management Policy Act."
All of the rescind crowd disagree: Obama's Proclamation contains paragraph-long lists of animals, plants, rocks, fossils, an ode to reptiles. The Antiquities Act was designed to protect cultural rarities on federal land. Artifacts, fossils, ruins. Not "'solitude,' and 'dark skies' and 'sage brush' and 'wildlife.'"
In turn, environmentalists say that the whole area is full of "cultural rarities."
In turn, Adams retorts: "The cultural resources that we have here are already protected by 11 layers of protection offered by the BLM (Bureau of Land Management), so the monument as proposed by President Obama was more of a land-grab for the environmental community."
In turn, environmentalists: "[It] has benefited America by protecting natural, cultural, and historic sites across the country."
In turn, the rescind crowd shake their heads, cite a little-known exception, then mash it into accusations aimed at environmentalists and their media preferences.
In turn, the environmental community vehemently disagree, then eloquently, passionately, deliver the perfect counterargument, something about a deformity of justice.
Surely that's the final blow, the uppercut that brings the concussive win.
Afraid not. In turn, the rescind crowd shake their heads, accuse the enviro's of doping, of cheating somehow, and sneak a few jabs, muttering something about privatization.
And they fight like that forever and they never get tired of fighting.