Dallas Cowboys quarterback Dakota "Dak" Prescott was doing a great work of charity for the Christmas season, when he got a very funny surprise from a recipient.
Watch the funny news video report below:
What happened?
Prescott had teamed up with Albertson's and Tom Thumb to deliver groceries to needy families. Cameras rolled as he visited football fans in Frisco, Texas, dropping off groceries, autographed jerseys and footballs.
But when he knocked on one door, the winner had a funny surprise for him — she was wearing a Green Bay Packers T-shirt!
Local news reporter J.D. Miles posted a photo of the surprising moment the football fan met Prescott at the door:
I got to go along with Dallas Cowboys QB Dak Prescott on a holiday surprise today. Look for my story on CBS 11 at 6… https://t.co/h5YlM6CVzr

— J.D. Miles (@J.D. Miles) 1513639168.0
That moment when Dallas Cowboys QB Dak Prescott surprises a contest winner at their front door with a free gift and… https://t.co/JEqE6y1UUe

— J.D. Miles (@J.D. Miles) 1513641813.0
Prescott was gracious about the coincidence and posed for photos with the winner, whispering, "go Cowboys, boo Green Bay" on the way out of the her home.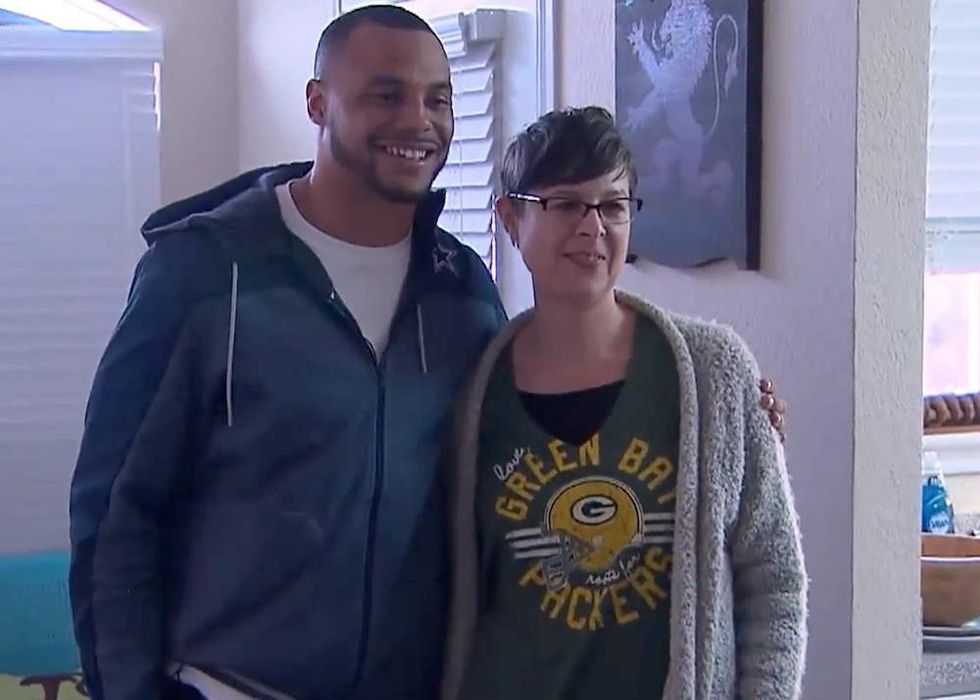 Cowboys quarterback Dak Prescott poses with contest winner. (Image Source: YouTube screenshot)