Next month's issue of National Geographic will be dedicated to race, but before the magazine could broach the topic, it decided to first take a look at its own publication.
"It hurts to share the appalling stories from the magazine's past. But when we decided to devote our April magazine to the topic of race, we thought we should examine our own history before turning our reportorial gaze to others," Editor-in-Chief Susan Goldberg wrote in the issue's editor's letter.
Goldberg asked professor John Edwin Mason, who teaches African history and the history of photography at the University of Virginia, to dive into the magazine's 130-year archive.
"What Mason found in short was that until the 1970s National Geographic all but ignored people of color who lived in the United States, rarely acknowledging them beyond laborers or domestic workers. Meanwhile, it pictured 'natives' elsewhere as exotics, famously and frequently unclothed, happy hunters, noble savages — every type of cliché," Goldberg wrote.
"National Geographic did little to push its readers beyond the stereotypes ingrained in white American culture," Mason told Goldberg.
Who are the girls on the April issue's cover?
The April cover features biracial fraternal twins, Marcia and Millie Biggs, 11, from the United Kingdom.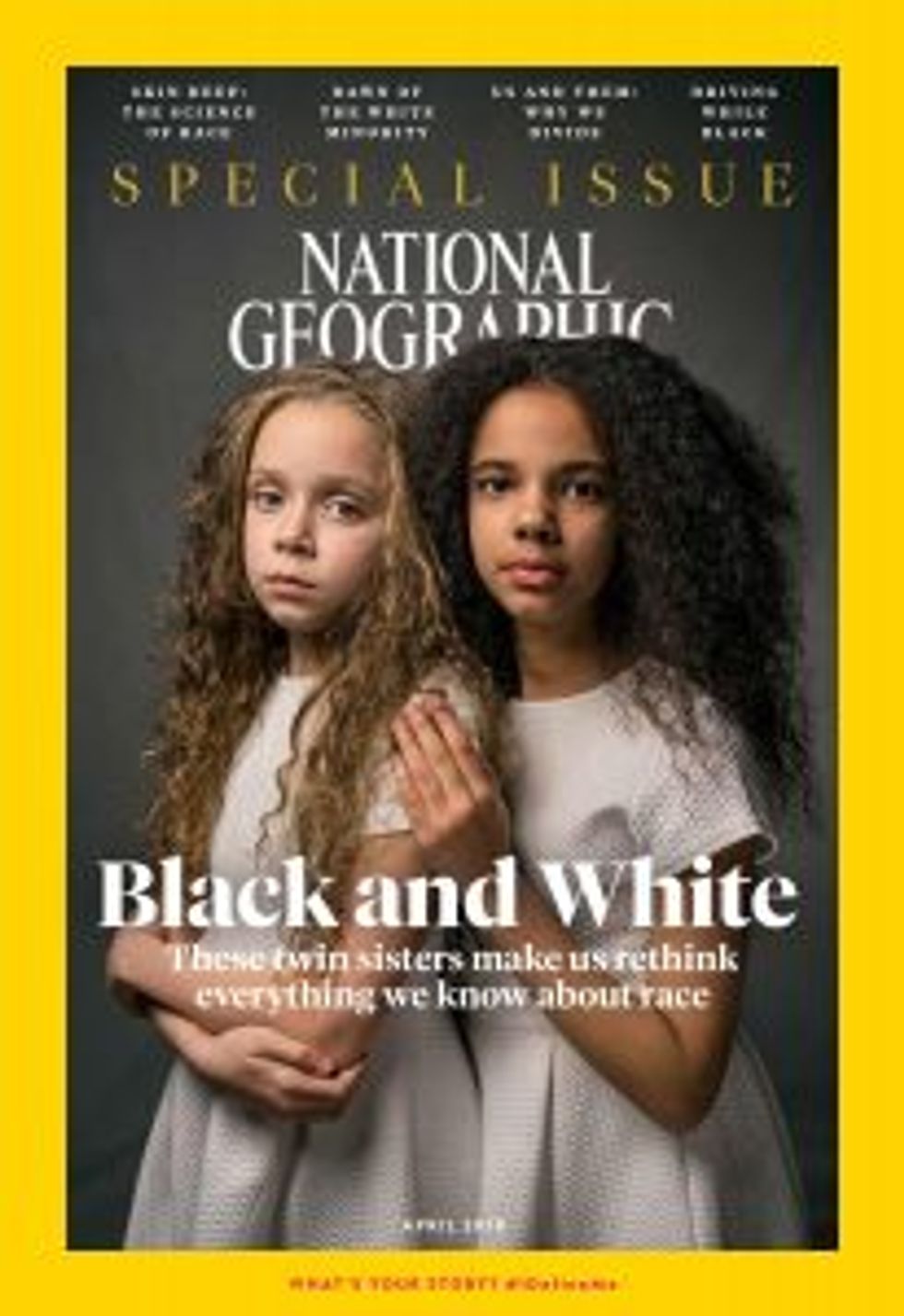 The April issue is all about race. (Image source: National Geographic)
The twins were born with similar features, but one was fair-skinned like her white mother and the other was darker-skinned like her black father.
"We never worried about it; we just accepted it," their father Michael Biggs told National Geographic.
Their story discusses the role of genetics and how skin color has played a role in identity and racism.
What else?
Goldberg also noted she's the magazine's first woman and first Jewish person to be the editor since the magazine's founding in 1888 and "a member of two groups that once faced discrimination here."
The April issue marks the 50th anniversary of the assassination of Martin Luther King Jr., and also kicks off its "Diversity in America" series.