For Jade Pinkenburg — a 17-year-old who's against armed school security — the face-to-face encounter with a "considerably larger" man at a Long Island, New York, school board meeting Wednesday night was something he's not likely to forget.
"My legs got weak, and my heart was beating fast," the Rocky Point High School senior told Newsday later on.
Just hours after dozens of Rocky Point students joined the national walkout for stricter gun control, Pinkenburg stood before the school board's health and safety committee and told them there shouldn't be armed guards in school, the paper reported.
With that, a man sporting a bandana who Pinkenburg said he didn't know asked him to return to the front of the room, Newsday said — and cellphone video recorded what happened next.
The clip showed the unnamed man standing just a couple of feet opposite Pinkenburg and then using him to make a point about lack of school security.
"I'm considerably larger than you, OK?" he told Pinkenburg, gesturing with his hand. "If something happened, if I decided to attack you, it would take the cops three to five minutes to come here — probably 10 if the traffic's bad."
Things quickly get interesting
Then the man pulled out what appeared to be closed pocket knife and held it in front of Pinkenburg's face: "What are you gonna do now? What are you gonna do now?"
"Stop it! Stop it!" Pinkenburg's 54-year-old father, Chris, yelled at the man, Newsday said, as his long-haired son jogged gingerly to the back of the room.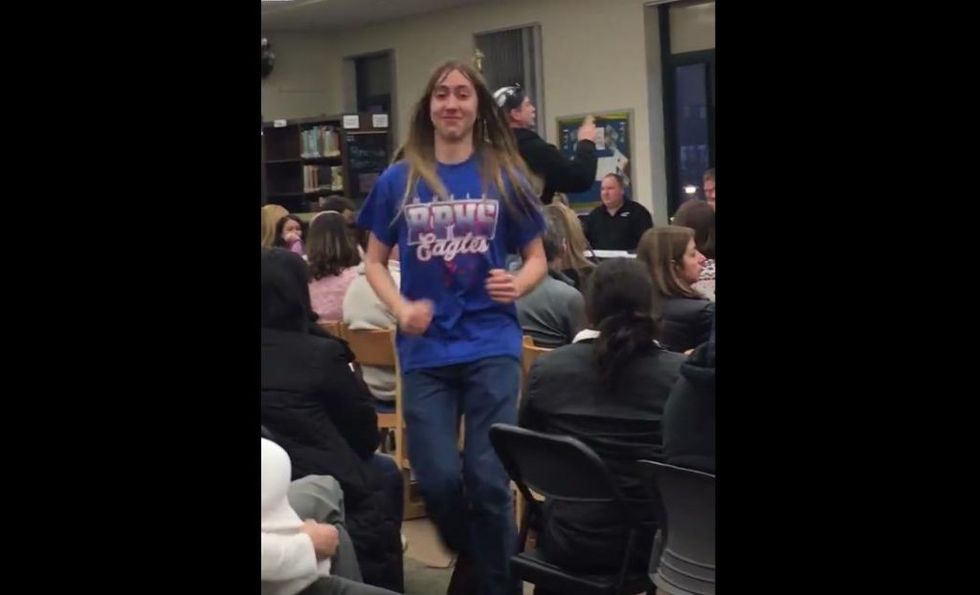 Image source: YouTube screenshot
Others yelled that his actions are illegal and that he should be removed from the building. A board member told the man his actions were "inappropriate," but the man countered with what seemed to be his point.
What was the man's point?
"I just walked into the building with this!" the man said to those at the meeting, holding up the apparent pocket knife. "It's not a gun, but I can do a lot of damage with it."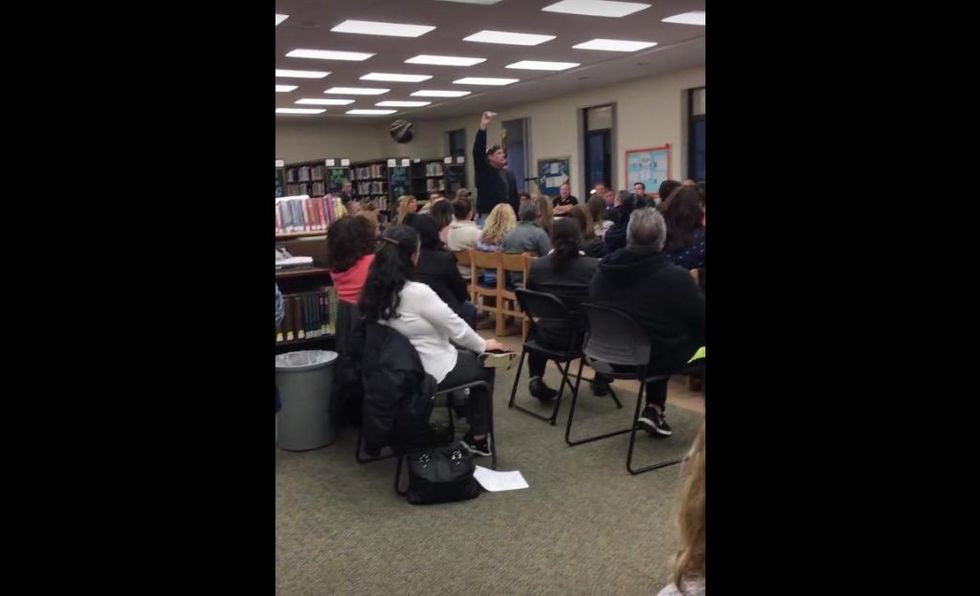 Image source: YouTube screenshot
He then addressed the board and asked, "What are you gonna do? I have two girls in this school. What are you gonna do? ... Nothing."
While one audience member can be heard calling the man's actions "fear mongering," another can be heard calling his point "the truth." Applause then broke out from some at the meeting apparently for the man's demonstration.
What else did the student who stood face-to-face with the man say?
Jade Pinkenburg told Newsday he "had no idea what was happening. He was in my face a bit and I didn't know what he was about to do. When I realized, I kind of jumped back."
"Everybody kind of freaked out. It was scary," he added to the paper. "He brought a weapon to school, and it shocked everyone. No one knew who he was."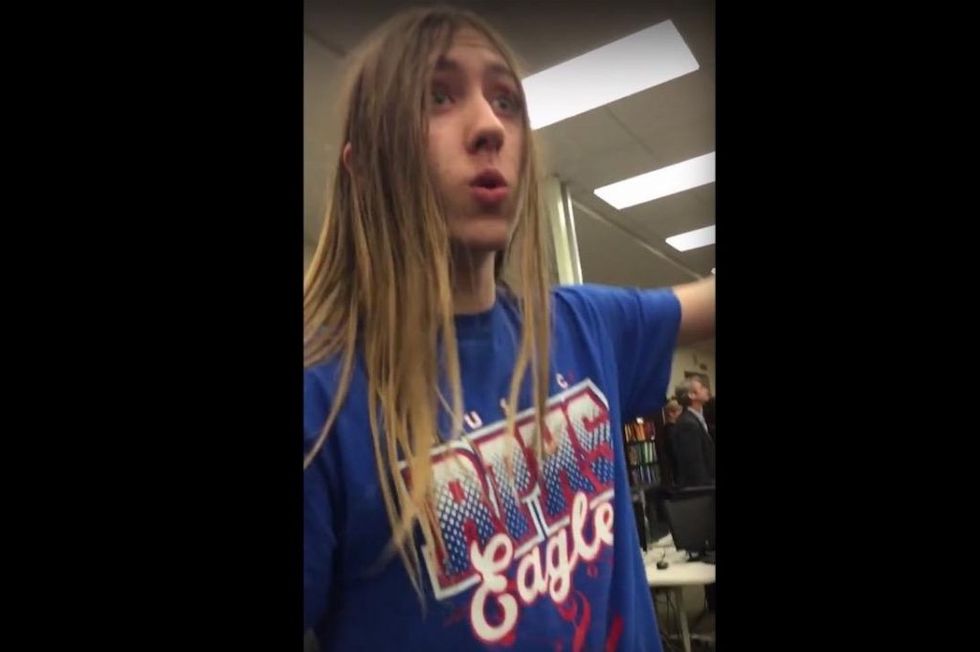 Jade Pinkenburg in the meeting room immediately after the incident. (Image source: YouTube screenshot)
Parent Chris Pinkenburg told Newsday "everyone was stunned and other people started chiming in" before security escorted the man from the room. And while he said he didn't believe anything was going to happen to his son, he added to the paper that "it was still scary."
"He was out to intimidate my son, you can see it in the video," Chris Pinkenburg told Newsday. "I didn't hear it was a demonstration, so I started yelling to stop because he's my kid, and he started to look scared. He said he has two daughters. Why didn't he use them?"
How are authorities responding?
Suffolk County police said the school notified them about the incident and that it's being investigated, the paper reported, adding that police didn't yet know the identity of the man and wouldn't comment regarding if any charges would be filed. School officials told Newsday only that the man is a parent in the district.
Michael Ring, Rocky Point Union Free School District superintendent, wrote in an email to parents Thursday that the man was trying to make a point but his approach "was ill-conceived and inappropriate for the venue," the paper reported.
"During a discussion on the topic of armed security guards, a parent in attendance attempted to conduct a demonstration to reinforce his belief that all school districts should have such resources at their disposal," Ring wrote, Newsday reported. "While the district firmly acknowledges that the demonstration was ill-conceived and inappropriate for the venue, we believe that the act was not intended to compromise the safety of those in attendance."
This writer's perspective
Of course, it was unwise for the man to bring an apparent pocket knife to a school board meeting, pull it out feet from a juvenile and make what could be interpreted as threatening remarks to the boy. Whoever this guy is, he very well may face charges when all is said and done.
But his point indeed was made.
And it's quite ironic that immediately after a 17-year-old boy told the school board there shouldn't be armed security in schools, the kid came face-to-face with a man who pulled out what appeared to be a weapon.
Pinkenburg himself said it all. His legs got "weak" and his heart started going pitter patter. Heck, he scooted away from the man as fast as he could in the middle of the meeting.
So the teen doesn't want armed security in schools? Really?
One wonders whether or not the kid would continue hanging on to that principle if his experience in the front of the meeting turned out to be real.
(H/T: The Raw Story)