Parkland student David Hogg doesn't accept Fox News' Laura Ingraham's apology after she shared a story opining on his recent college application rejections.
Hogg spoke with CNN's Alisyn Camerota on Friday, where he also said that Ingraham needs to "stand down" and effectively stay out of the way if she doesn't have something more substantial and nonpartisan to offer to the gun control conversation.
What did Hogg tell Camerota?
Camerota opened the segment by addressing Thursday's back and forth between Hogg and Ingraham, which resulted in several advertisers pulling spots from her Fox News show, "The Ingraham Angle."
"At our latest count, there has been seven advertisers that have pulled out of Laura Ingraham's show, after one tweet from you. It seems like you have a lot of power at the moment, and I'm just wondering how you feel about all of this?" Camerota asked.
Hogg said that he thinks it's "great that corporate America is standing with me and the rest of my friends."
"When you come against any one of us ... you're coming against all of us," he added.
"I think it's important that we stand together as both corporate and civic America to take action against these people, and show them that they cannot push us around, especially when all we're trying to do here is save lives," the 17-year-old high school student explained. "And when people try to distract, like what Laura's trying to do now, from what the real issue here is — which is gun violence in America — it's not only sad, it's just wrong."
Hogg went on to note that he believes Ingraham needs to be "more objective and needs to stand down, because I am not the issue here."
"The issue needs to be gun violence in America but what she's trying to do is distract from that, and I hate it," he claimed.
Camerota went on to describe Ingraham's apology, which the Fox News host issued on Thursday after advertisers began pulling out of her show upon Hogg's demand.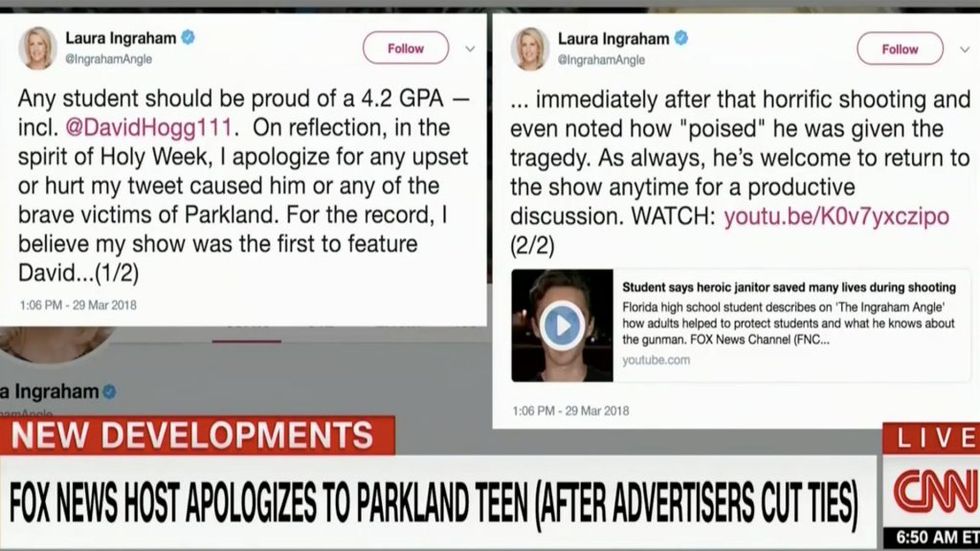 Image source: Twitter video screenshot
"Do you accept her apology?" Camerota asked.
Hogg responded in the negative and said that he did not accept Ingraham's apology.
"She's only apologizing after a third of her advertisers pulled out," he explained. "And I think it's really disgusting the fact that she basically tried promoting her show after apologizing to me."
Later in the segment, Camerota asked Hogg if he'd be open to discussing gun violence with Ingraham, but Hogg said that the Fox News host would need to be more "objective" for that to happen.
"I think it's great that corporate America is standing with me," David Hogg says of his call for advertisers to boycott Laura Ingraham's Fox News show, "They cannot push us around, especially when all we're trying to do here is save lives" https://t.co/kL7RrM6fHF pic.twitter.com/yvz1PpXMxg

— New Day (@NewDay) March 30, 2018
'What kind of dumba** colleges don't want you?'
Camerota later discussed Hogg's college plans, and touched upon his rejections from UCLA and the like.
During the segment, she told Hogg that she was "stunned" by his college rejections, and asked the Marjory Stoneman Douglas High School student, "What kind of dumba** colleges don't want you?"
"It goes to show that regardless of whether you get into college, you can still change the world," Hogg responded. "The hardest part is just believing you can and continuing that effort to change the world because you eventually will."
He went on to tell Camerota that he isn't even sure college is in his plan for the fall, and may take a gap year instead in order to work on the "campaign trail."
"Lives really are not a partisan issue," Hogg explained. "I think that's what a lot of this country is forgetting. We are simply just trying to save lives. Once we remember that, we can all work together on both sides of the aisle to solve this issue, but when we work against each other, we can't."
Alisyn Camerota: What kind of dumbass colleges don't want you?

Parkland survivor and gun control activist David Hogg: They rejected me about two weeks ago ... I think there's a lot of really good candidates that don't get into college.https://t.co/kL7RrLOEQ7 pic.twitter.com/9N3teyvIw7

— New Day (@NewDay) March 30, 2018