It's a horror scenario that will make any parent's heart skip more than a few beats.
Rodney Cole told KNSD-TV he was making only a quick stop to buy some hair ties for his daughter.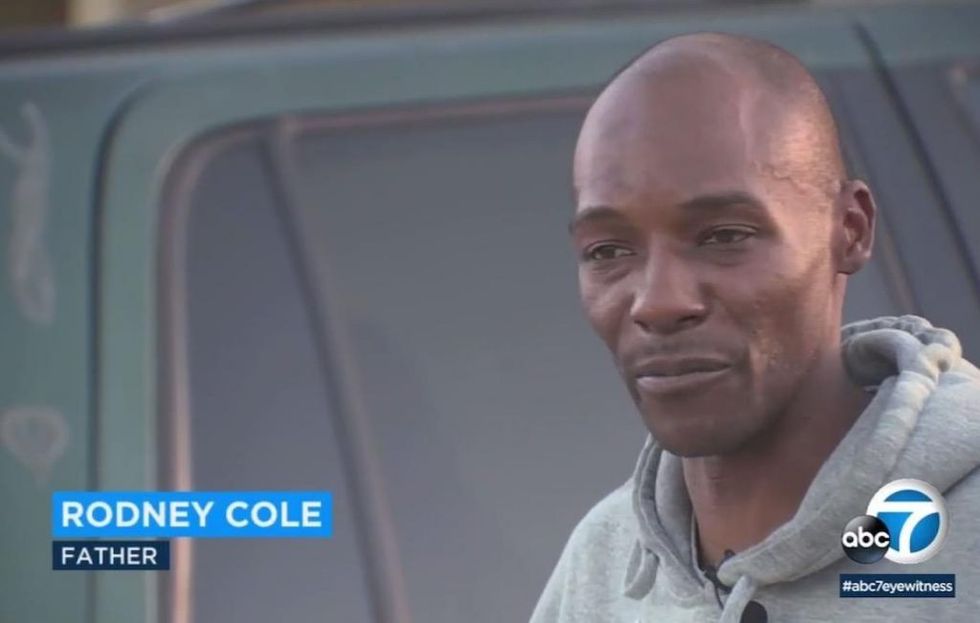 Image source: KABC-TV video screenshot
So he left 8-year-old Malaiha and her 3-year-old brother Jackson in the back seat of his car while he entered a beauty supply store, the station said. But given the hot San Diego weather Monday afternoon, Cole left the car and air conditioning running, KABC-TV reported.
That's when a nearby woman who was bouncing a basketball dropped it suddenly and looked into Cole's car, presumably to determine if the keys were still inside, a witness told KNSD — and she jumped in.
The witness told KNSD he started honking his horn to alert Cole of what was unfolding.
"He saw me honking, and I pointed at his car, and he just started running to chase his car," the witness noted to KNSD, adding that he wanted to do more but was feeding his own child in his passenger seat.
Cole chased after his car as the woman drove it from the strip mall onto a street, KNSD said — but as you might expect, he couldn't keep up on foot.
"I saw my dad coming out of the store, and I saw him banging on the window, but she rolled the window up," Malaiha told KABC.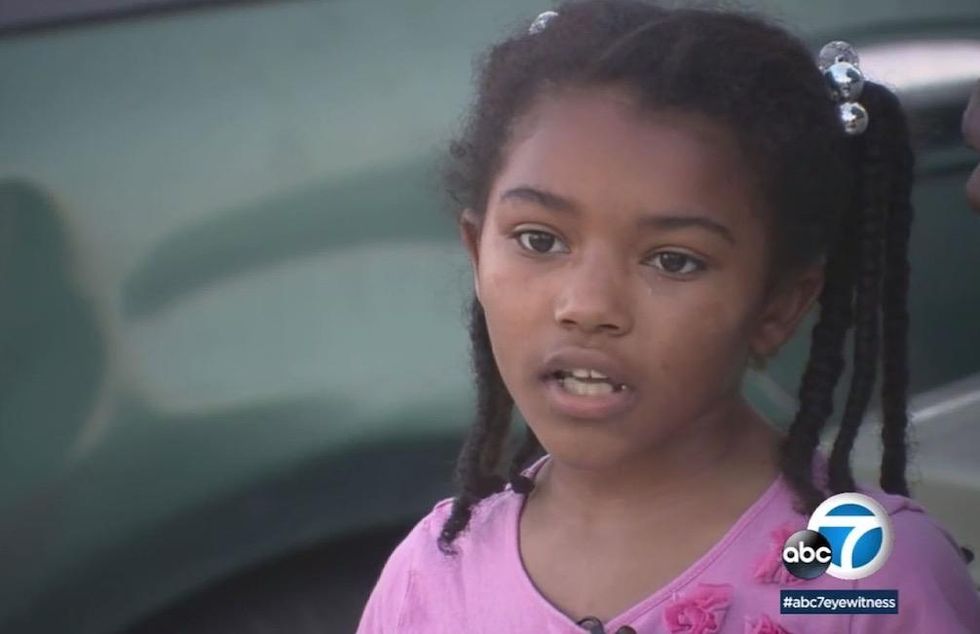 Malaiha (Image source: KABC-TV video screenshot)
"I almost caught the car, but she started driving erratically," Cole told KNSD. "She got to the light and ran the light and made a left, and I was just stuck in the middle of the street crying and bawling. I didn't know what to do — these are my babies."
And how did Cole's smart, cool-headed daughter respond?
Cole called 911, KNSD reported — and then minutes later his daughter did the same thing from her own cellphone. Cole gave it to Malaiha in case of an emergency, KABC reported. She's had it since she was 5, KNSD said.
"I said, 'If you don't take us back to our daddy, I'll call police.' Then I called 911," Malaiha told KNSD she told her abductor.
"They said, '911, what's your emergency?' And I said, 'Me and my little brother got kidnapped,'" Malaiha told KABC. "She said, 'Can you tell us where you are? What do you see?' I said, 'I see signs that say Mexico border.'"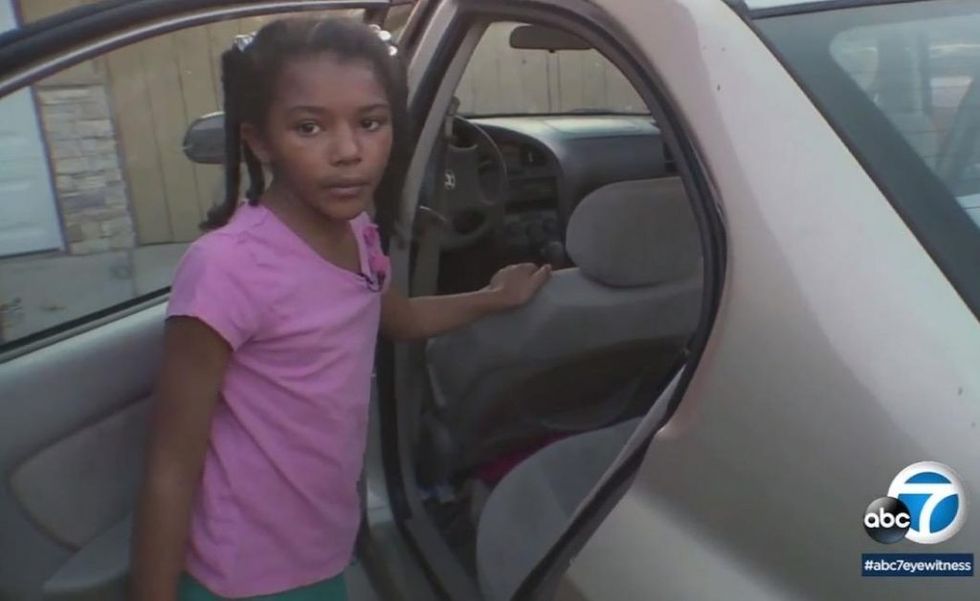 Image source: KABC-TV video screenshot
Malaiha told KABC the woman "tried to take the phone from me, but then I moved away from her. She said, 'Give me the phone or I'm going to drive in circles and crash into the freeway wall.'"
While Malaiha said she eventually gave the phone to the woman, by then authorities knew where they were, KABC noted.
What did authorities do?
The San Diego Sheriff's Office alerted United States Customs and Border Patrol and local police to be on the lookout for Cole's gold Hyundai sedan, KNSD reported, and CBP officers immediately began searching cars waiting to cross into Mexico.
Cole told KNSD that Border Patrol officers found his car in the secondary inspection area at the San Ysidro Port of Entry where officers saw his two kids in the back seat mouthing "help me."
Video captured near the U.S.-Mexico border showed authorities moving in with guns drawn, KABC reported.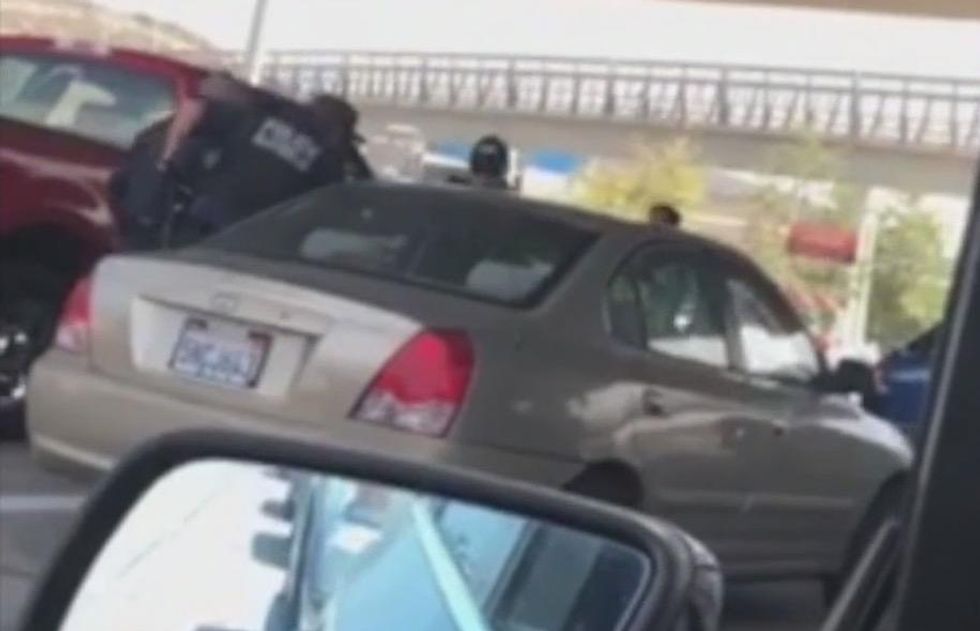 Image source: KABC-TV video screenshot
The woman was soon removed from the car and taken into custody, KNSD reported.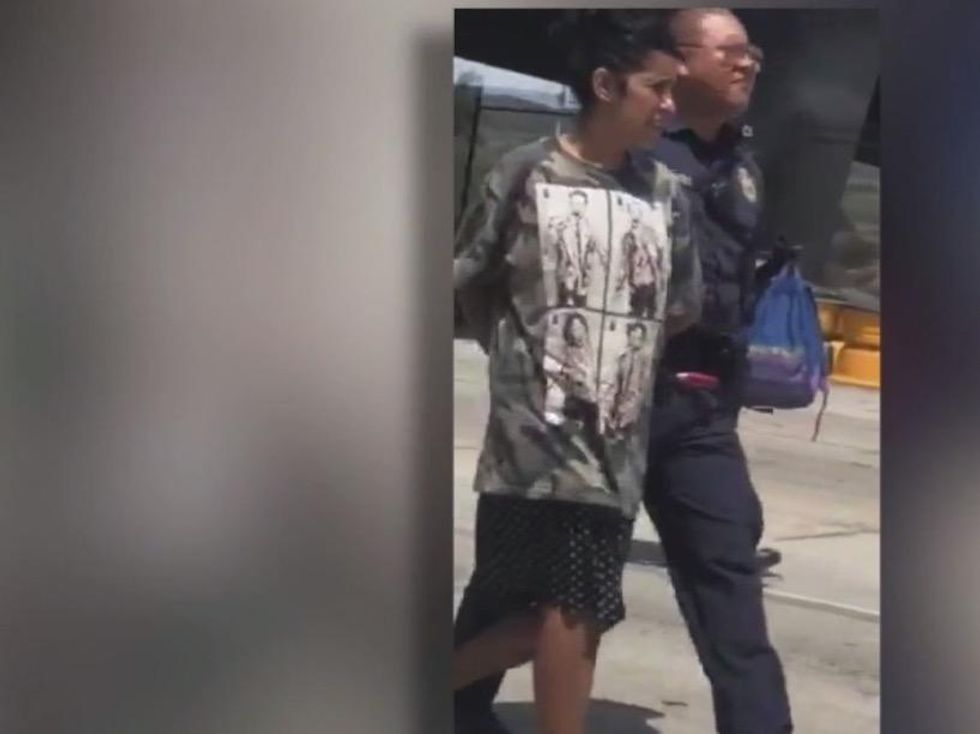 Image source: KABC-TV video screenshot
"Probably less than two minutes away from actually crossing the border," a witness added to KABC.
"I'm just thankful for God, and I'm very, very thankful for the San Diego Police Department and every other law enforcement agency that joined in and found my kids within an hour," Cole told KNSD amid tears. "Each five minutes that went by seemed like a day."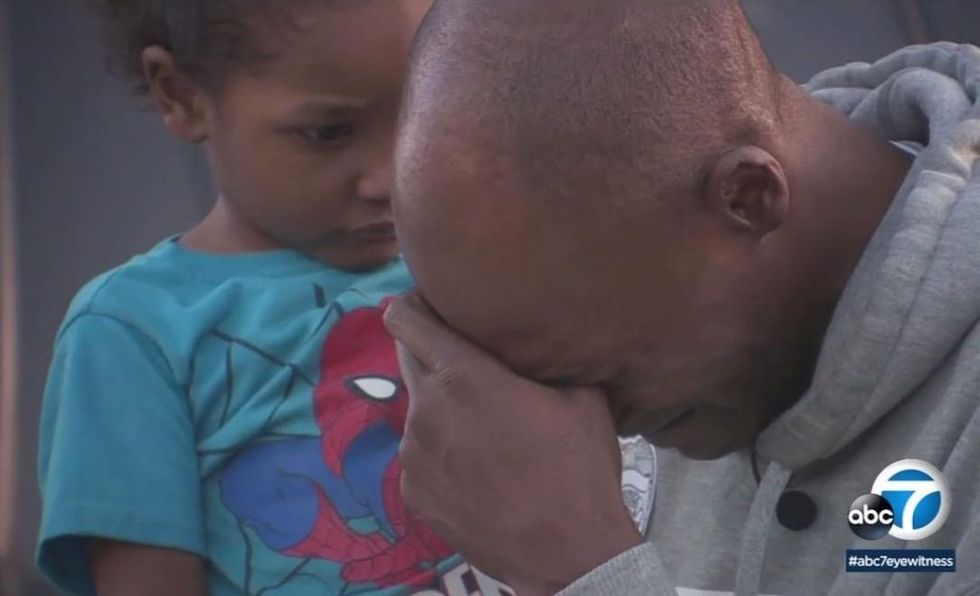 Image source: KABC-TV video screenshot
Some friendly advice from police
San Diego Police Captain Jerry Hara stated the obvious to KNSD: Never leave children in unattended vehicles, no matter how fast you think your errand will be.
Cole told KNSD he grew up in the neighborhood where the incident took place and hasn't ever felt unsafe — but all the same will be doing as Hara advised.
Police haven't established a motive for the kidnapping and said the Cole family doesn't know the woman, KNSD reported.