After students from Bay City Western High School in Auburn, Michigan, flew Confederate flags from their vehicles at school this week, rumors flew that others planned to converge on the school and confront the students, The Associated Press reported.
With that, Bay City Public Schools closed the high school and middle school Thursday over the "unsubstantiated" rumors characterized as possible threats, WJRT-TV reports.
What did students do instead of gathering at the high school?
But students — and some adults — were undeterred in their collective intention to continue flying Confederate flags and instead gathered Thursday at Auburn City Park, MLive reported.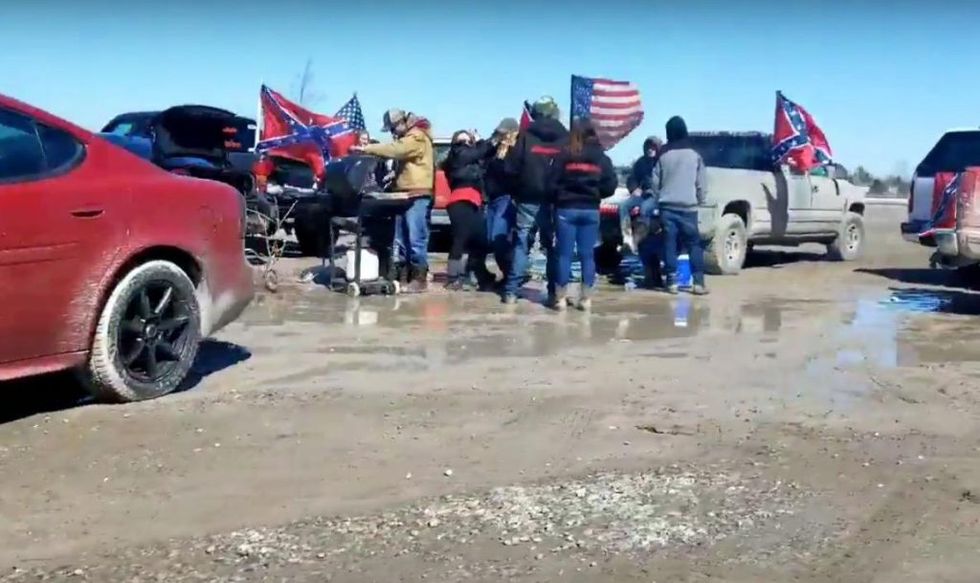 Image source: YouTube screenshot
Several pickup trucks flying Confederate flags were arranged in a semicircle at the park Thursday, the outlet said, adding that participants held a cookout.
What did the students flying the Confederate flags have to say?
The students and their parents told MLive they've been called racists. Student Cameron Myers denied the claim and said he and his friends fly the Confederate flags as "a country thing" but wouldn't define "a country thing," the outlet said.
Myers added to MLive that he and his friends began flying the Confederate flags this week after a black female classmate removed a flag from his truck, which was parked on school property.
"We're flying the flag because of injustice," Myers told the outlet, which noted he wouldn't specify why he previously flew the flag from his truck. But he did say that "it looks cool in the mirror," MLive reported.
Myers added to the Bay City Times that "if we were going over there and saying racist slurs and cussing them out, that would be another thing," the AP said.
Myers' friends argued the Confederate flag is "part of American history," MLive noted.
How did others react to the students flying Confederate flags?
Some counterprotesters displayed rainbow flags in support of LGBTQ rights and a sign that read "Hate Not Heritage," MLive said.
Matthew Felan, president and CEO of Great Lakes Bay Regional Alliance, said in a Facebook post Thursday that the students "have the Constitutional right to fly a Confederate Flag, an ISIS Flag, a Nazi Flag, to burn the U.S. Flag, or to kneel during the national anthem. But there are consequences for taking those actions! (Ask Colin Kaepernick)," the outlet said.
"This is going to follow these students to every single job interview, background check, college application, and beyond for the rest of their lives," Felan added in the post, MLive said. "Is it really worth it?"
Auburn is about two hours northwest of Detroit. Here's a clip of students gathered at the public park Thursday: