Since their son has autism and has long loved the work of legendary artist Vincent Van Gogh, Nancy Nemhauser and Lubomir Jastrzebski decided to have the outside of their Florida home painted like Van Gogh's "Starry Night."
The idea was that the iconic swirling colors and surreal depictions of the night sky from Van Gogh's masterpiece on their Mount Dora home would "relax" the couple's adult son and be a beacon for him if he ever got lost, the Orlando Sentinel reported.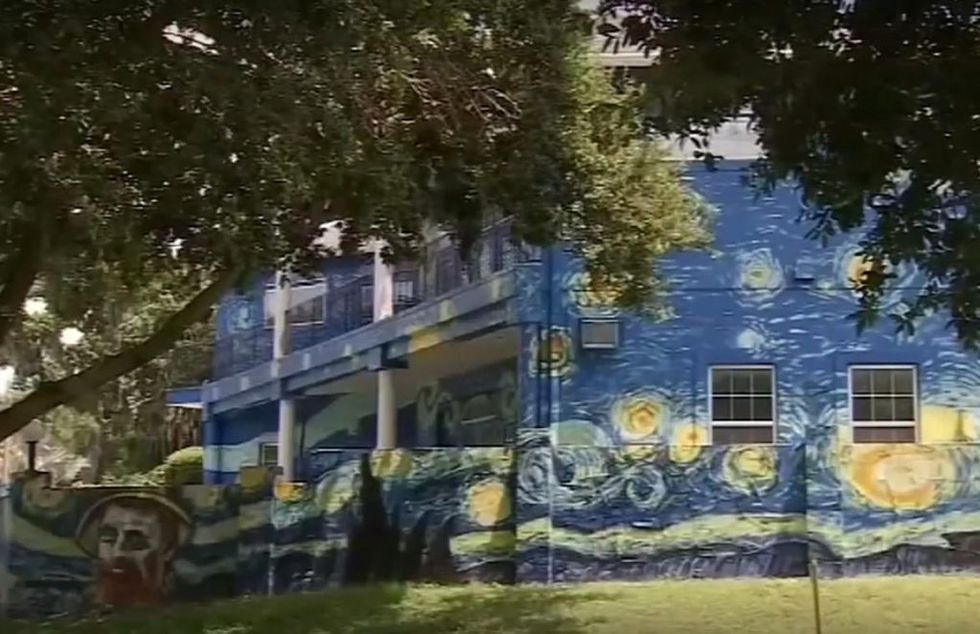 Image source: WFTV-TV video screenshot
"It's a landmark for him," Nemhauser told WFTV-TV regarding her son, who's 25. "He can say, 'Van Gogh house.' It does comfort him."
But last year the city said the massive mural covering the exterior of the residence along Old Highway 441 violated code, which led to fines of more than $10,000 and a lien on the house, WFTV said.
Then it was on.
Nemhauser and Jastrzebski — a physicist who emigrated to the U.S. in the 1970s — filed a federal lawsuit claiming Mount Dora was squashing their constitutional right to free expression, the Sentinel said.
More from the paper:
Nemhauser called the city's opposition to artist Richard Barrenechea's depiction of van Gogh's famous 1889 masterpiece, which is on display in New York City's Museum of Modern Art, "selective enforcement. There were other murals in the residential section. I suspect that someone didn't like ours."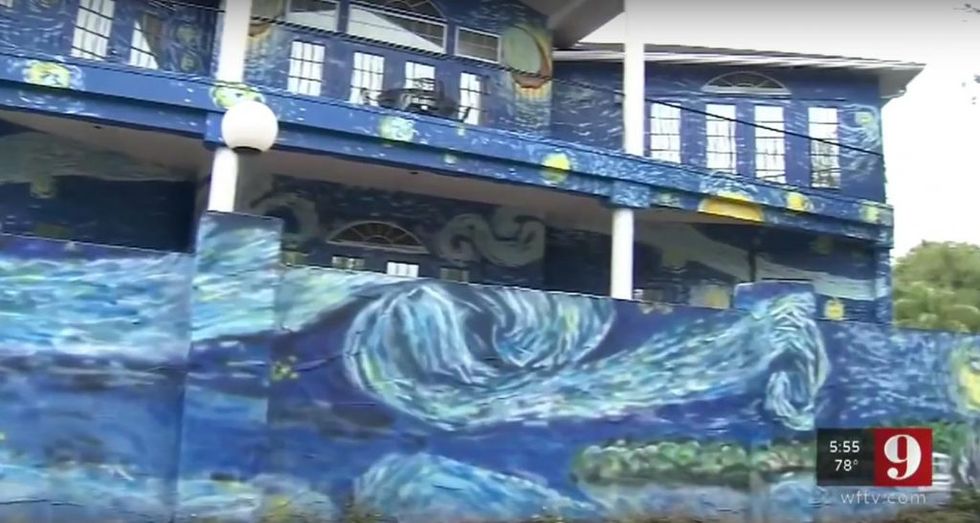 Image source: WFTV-TV video screenshot
What turned things around?
After months of hearings — along with the federal lawsuit and research into recent free-speech litigation — Mount Dora decided to settle with the couple, acknowledging that city codes need more clarity, WFTV reported.
And City Council members on Tuesday voted unanimously to accept the settlement, which gets rid of the fines and the lien, awards the couple $15,000, and lets the "Starry Night" paint job stay, the Sentinel said.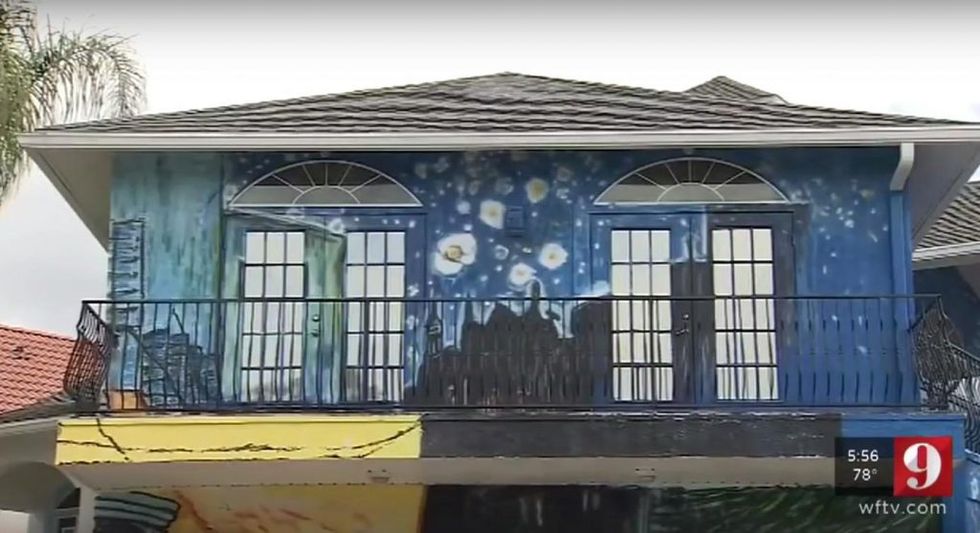 Image source: WFTV-TV video screenshot
Oh, and another settlement term was an apology, which was delivered by Mayor Nick Girone at City Hall on Wednesday, the paper noted.
"I would like to start by extending my sincere apology to Nancy and Lubek for how this matter has turned into an unfortunate dispute," Girone said, WFTV reported. "The city will undertake a prompt and comprehensive review of our present codes in light of the court findings."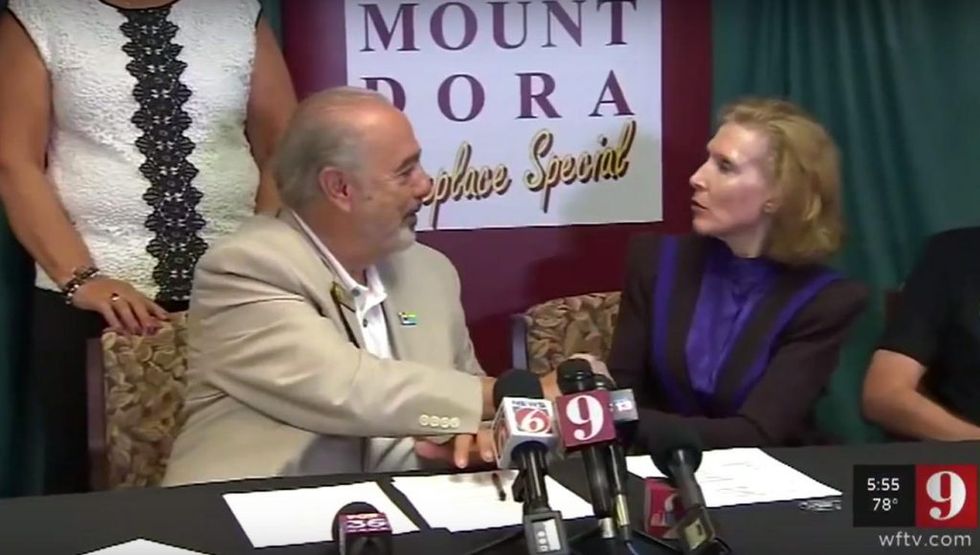 Image source: WFTV-TV video screenshot
More from the Sentinel:
[Girone] invited Nemhauser to serve on a seven-member advisory panel to be created to help develop new ordinances or codes "which are essential to the enhancement of the city of Mount Dora," according to a city document. That was also part of the settlement.

Regardless of any changes to city codes that could set house-painting rules, the "Starry Night" motif will be grandfathered in and allowed "to remain as is, so long as certain conditions are met." They must keep the design "in good condition and protect against fading, peeling and other conditions that may contribute to deterioration," Girone said.
"With this matter behind us, this city wants to look ahead and focus on reviewing our present codes and to continue and embrace arts and artists with open arms since we are: 'Someplace special,'" the mayor said, referring to the city's nickname, the Sentinel reported.
'A classic case of bullying'
Jastrzebski added to WFTV that the ordeal was "a classic case of bullying."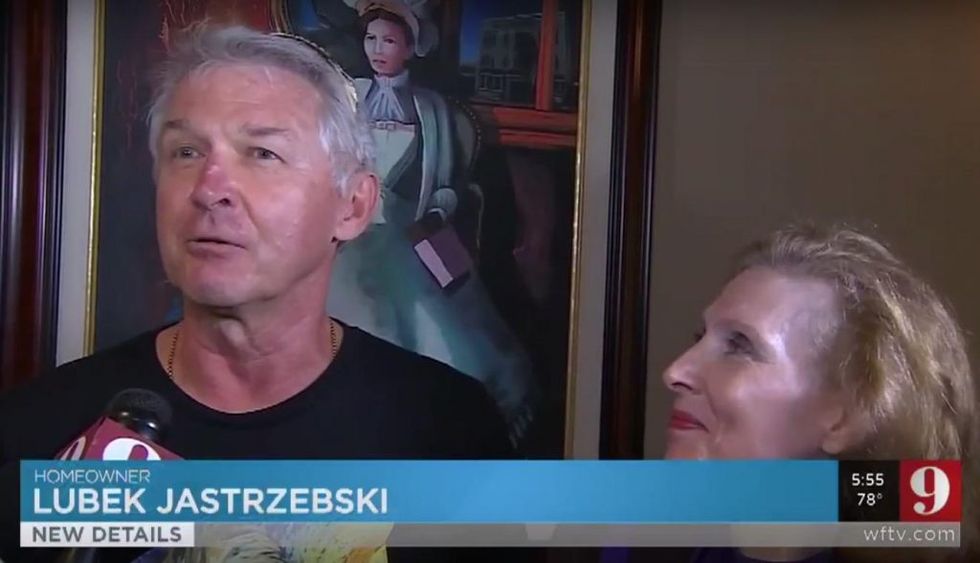 Image source: WFTV-TV video screenshot
"There's a saying: You cannot fight City Hall. Apparently, you can," he added to the station. "I believe as an American citizen, who was naturalized a long time ago, the most important things are constitutional rights."

(H/T: Reason)