It was a contentious scene outside a Massachusetts town hall for Democratic U.S. Sen. Elizabeth Warren on Sunday, as Shiva Ayyadurai — who was born in India and is an independent running against Warren — spoke with a bullhorn to those lined up waiting to enter the Great Barrington venue.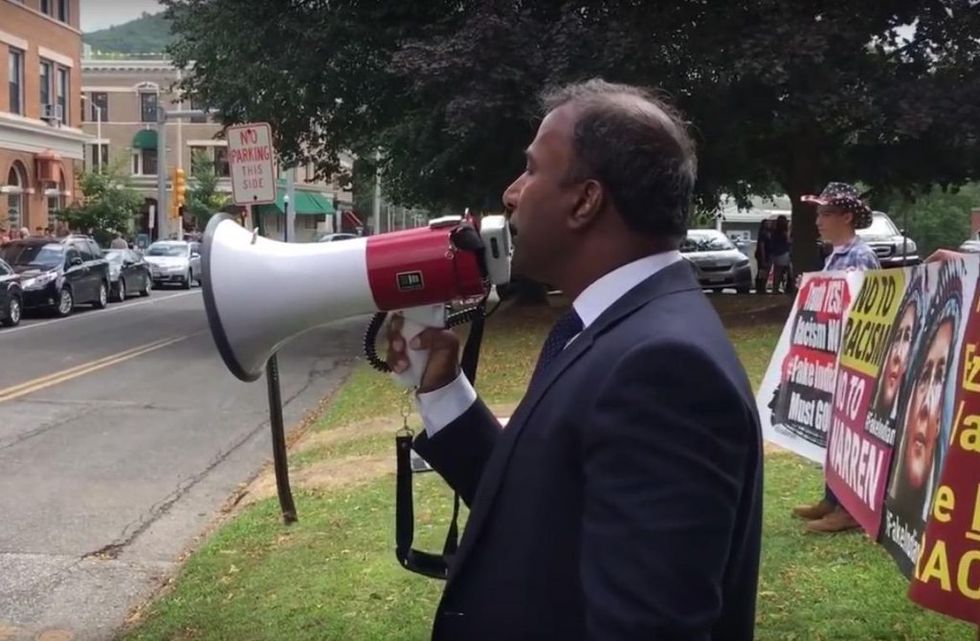 Image source: YouTube screenshot
"We don't produce enough engineers, we don't produce enough doctors," Ayyadurai told the crowd across the street as supporters stood with him. "What we do is produce a bunch of scumbag lawyer lobbyists like Elizabeth Warren who you're sitting there to go see. It's so unfortunate."
Soon an elderly man with a white beard and hair — and wearing a T-shirt with "Liberal" emblazoned across the front — began walking across the street toward Ayyadurai, yelling back while pointing a long, folded-up umbrella at him.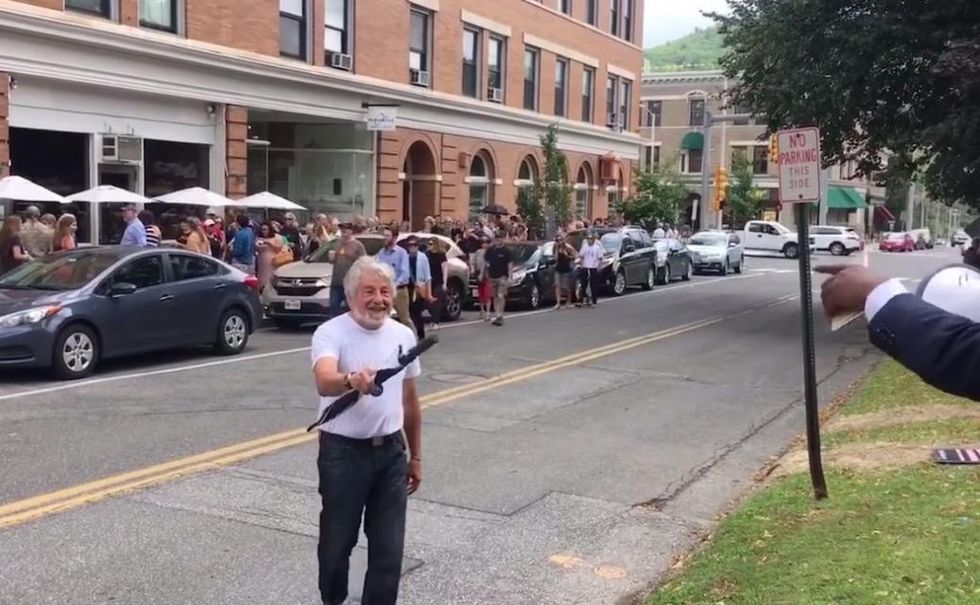 Image source: YouTube screenshot
When the man was standing just feet away from Ayyadurai, the candidate noted the man's presence to a nearby police officer as the pair traded barbs: Ayyadurai chanted "racist, racist" at the man who in turn told Ayyadurai he was "full of s**t."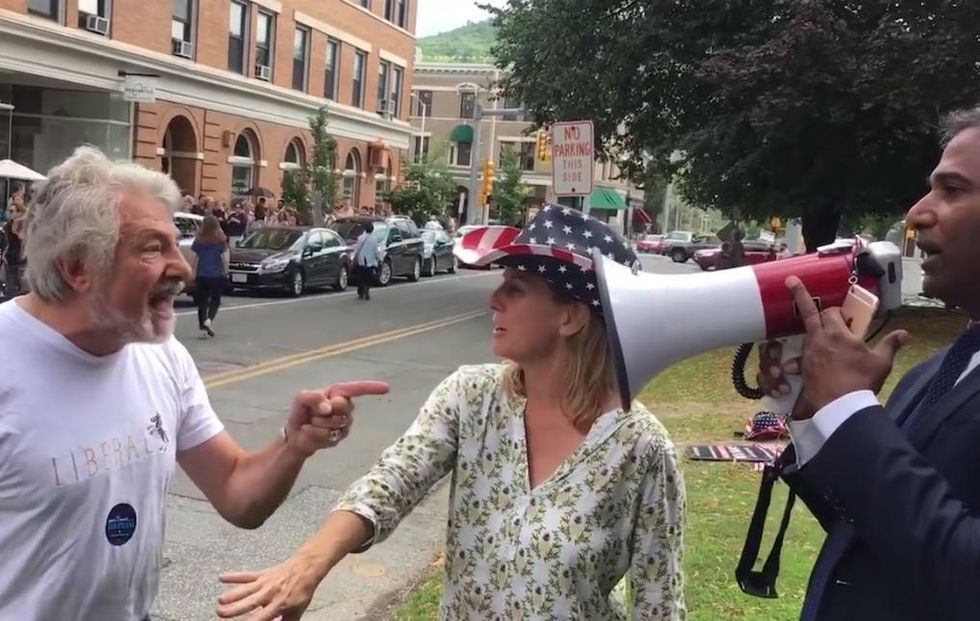 Image source: YouTube screenshot
Then the man reached out and shoved the bullhorn Ayyadurai was holding into his face.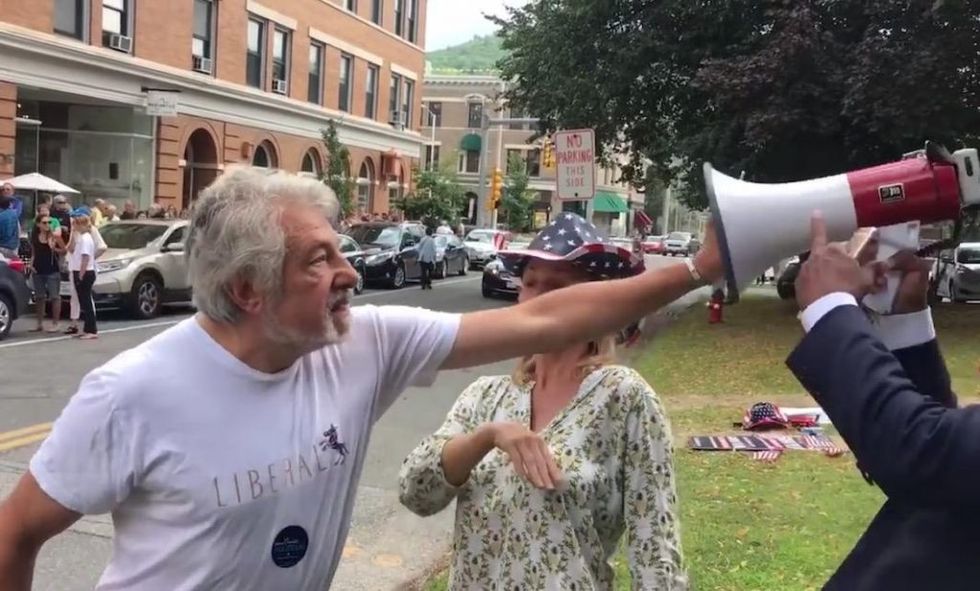 Image source: YouTube screenshot
That led an apparent Ayyadurai supporter to run at the backpedaling man and knock him to the street, holding him there until police arrived.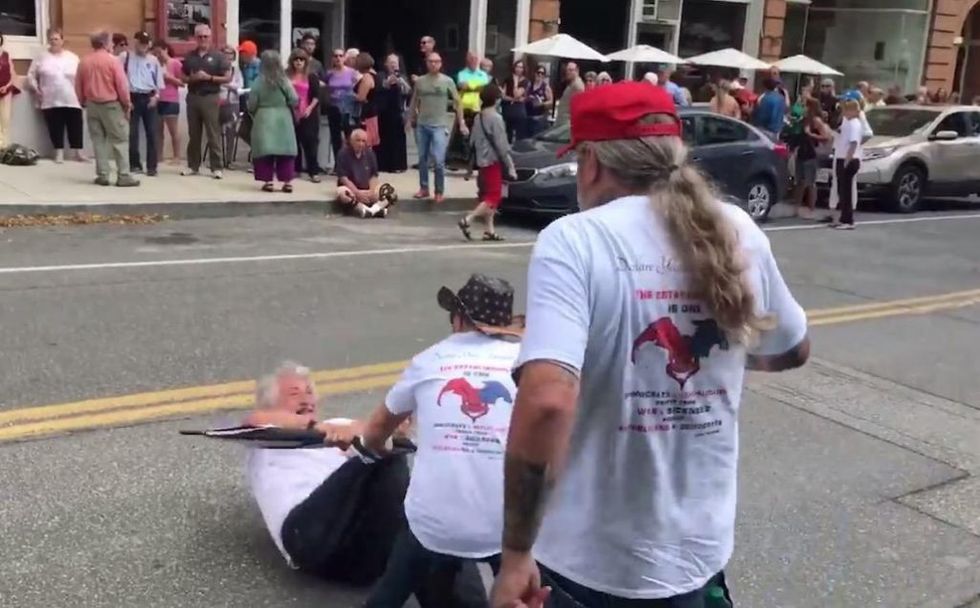 Image source: YouTube screenshot
What happened after the incident?
"That's racism, right there," Ayyadurai told the crowd as the elderly man was handcuffed.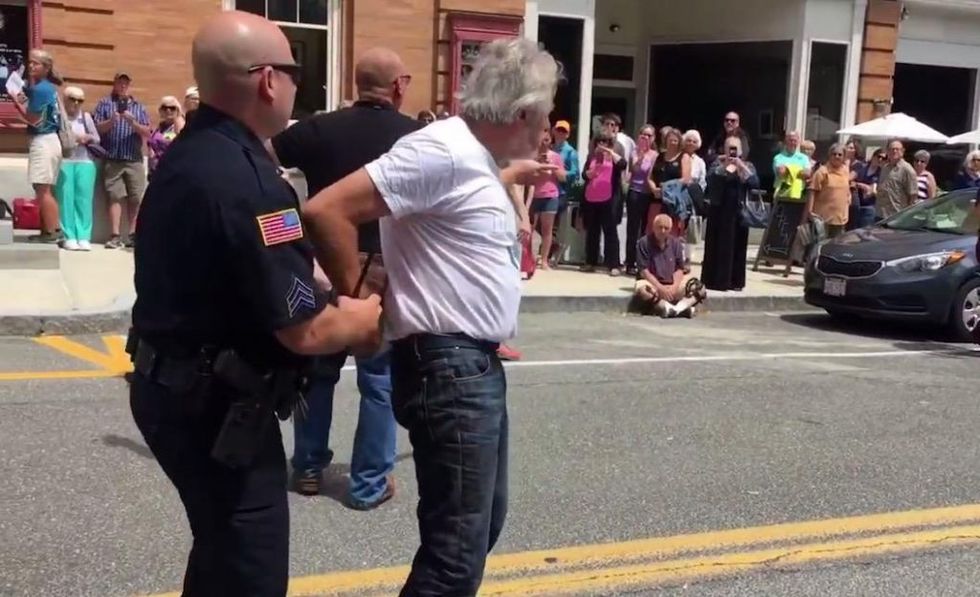 Image source: YouTube screenshot
One apparent Ayyadurai supporter also was heard yelling "the violent left! Violent liberals!" while another asked the Warren crowd, "What is wrong with you people? Freedom of speech!"
Ayyadurai also called the crowd "liberal fascists" and accused them of "white privilege" before the Warren crowd actually began chanting "when they go low, we go high."
"What you just witnessed is how you white supremacists react when you don't want to hear the truth from [an] ... Indian guy, the same guy you claim you want to help," Ayyadurai yelled again at the crowd with his bullhorn. "Wake the f*** up ... you guys are the f***ing racists ... you guys are violent people."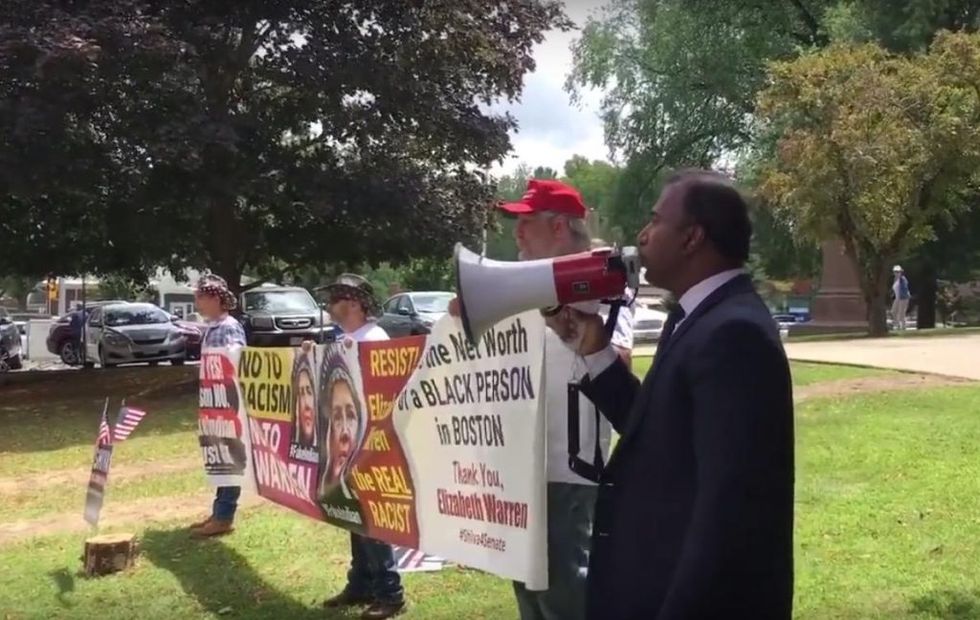 Image source: YouTube screenshot
A man, apparently recording the video for Ayyadurai, added in reference to the Warren crowd, "They're like in a religion. They can't have a conversation so they resort to violence right away ... these people are all brainwashed. It's pretty sad."
What happened to the elderly man who attacked Ayyadurai?
Great Barrington police told the Berkshire Edge that the elderly man was charged with assault and battery and was scheduled to appear in court Monday morning. Police declined to elaborate or disclose the man's name, the paper added.
The Edge noted he was "evidently released quickly because he could be seen near the stage" after Warren's question-and-answer session was over at the Mahaiwe Performing Arts Center.
Who is Ayyadurai?
According to his campaign website, Ayyadurai came to the U.S. from India as a child and received a doctorate in systems biology from the Massachusetts Institute of Technology in 2007. He began Systems Health in 2014, calling it a "bold new educational technology that unifies Eastern medicine with Western systems theory."
Here's the clip of the incident. (Content warning: Language):