The women of "The View" tore into Judge Brett Kavanaugh and Republican senators Friday, blasting the often angry testimony the Supreme Court nominee gave on Thursday in the wake of Christine Blasey Ford's sexual assault allegations against him.
'Angry drunk'
"When he was angry like that," co-host Joy Behar said, "one of the people who knew him as a young man said that he was an angry drunk. And that's all I could think about when he was acting like that, that that must have been how he was when he was an angry drunk."
Co-host Abby Huntsman jumped on the bandwagon, noting that with "the temperament that we saw with him yesterday, I couldn't help but wonder, if that was a woman up there, what the response would've been."
That was all co-host Whoopi Goldberg needed to hear: "They would call her hysterical!"
'She was telling the truth'
Co-host Sunny Hostin added that Ford "was 100 percent — 150 percent — credible. She was telling the truth, in my view. When [Kavanaugh] came up, I did not find him as credible. I think that credibility, candor, character, and impartiality are the most important qualities for a Supreme Court justice, and he doesn't have those."
Behar and other co-hosts — in line with Democrats on Capitol Hill — also demanded an FBI investigation.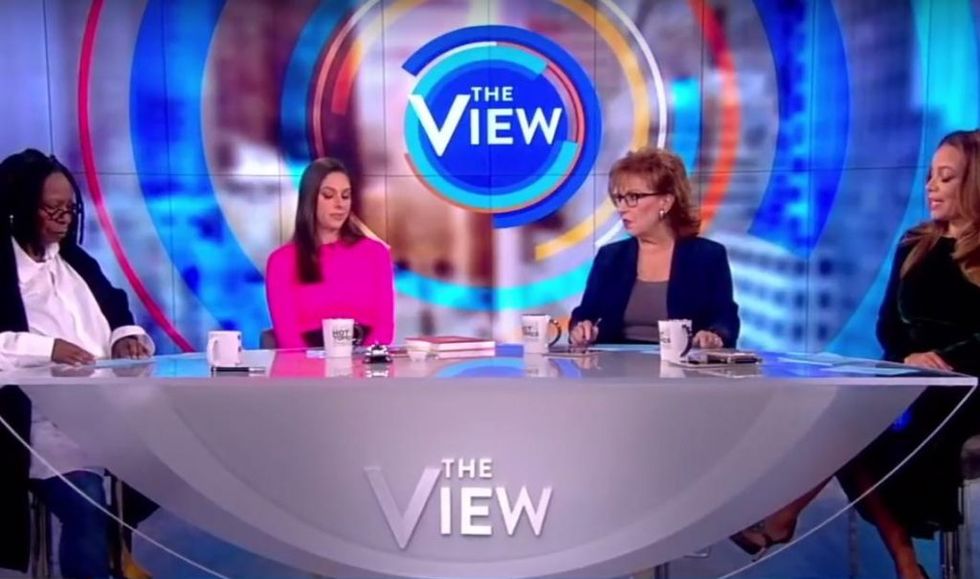 Image source: YouTube screenshot
'Only interested in retaining white power'
Apparently wanting to cover all the sociopolitical bases, Behar somehow found a way to inject race into the argument, saying Republicans are "only interested in retaining white power."
"They know that this country is getting darker," she said. "White Europeans are now 61 percent of the population — 61 percent are white Caucasians. In 2045, it will be 49 percent, so it's going down ... it's almost like they're worried that white people are going to lose all their power, so they don't care if she's lying, or she's not lying, or he's lying. They just want to hold on to their power."
Behar then warned the U.S. soon would mirror apartheid South Africa.

'Too much of a frat boy'
Not to be outdone, Goldberg added more Democratic talking points, echoing her favorite senators' insistence that Kavanaugh was simply going through a "job interview."
"This wasn't about putting you in jail," Goldberg continued. "This was to determine whether you're too much of a frat boy still to sit on the court. This wasn't about taking you to jail. This was a job interview that we all have to have!"
Huntsman attempted at one point to argue that the proceedings were a sham and partisanship was evident on both sides of the political aisle, but Behar said the problem was all Republicans' fault.
(H/T: Newsbusters)