Shiru Cafe near Brown University in Providence, Rhode Island, distinguishes itself in at least two unusual ways.
First, it serves only college students or professors — IDs are required.
"We definitely have some people that walk in off the street that are a little confused and a little taken aback when we can't sell them any coffee," Sarah Ferris, assistant manager, told National Public Radio.
Second, if college students don't want to pay cash, they can get free coffee — all they have to do is turn over their personal information, the outlet said.
In exchange for some java, tea, or juice, NPR said all students have to do on an online form is punch in their:
Names
Dates of birth
Phone numbers
Email addresses
Majors
Professional interests
And by releasing that info, the outlet said students open the door for corporate sponsors — which pay the cafe to reach customers through logos, apps, digital ads, signs, and surveys — to send them company information.
Even baristas get into the act.
"We have specially trained staff members who give students additional information about our sponsors while they enjoy their coffee," Shiru's website indicates.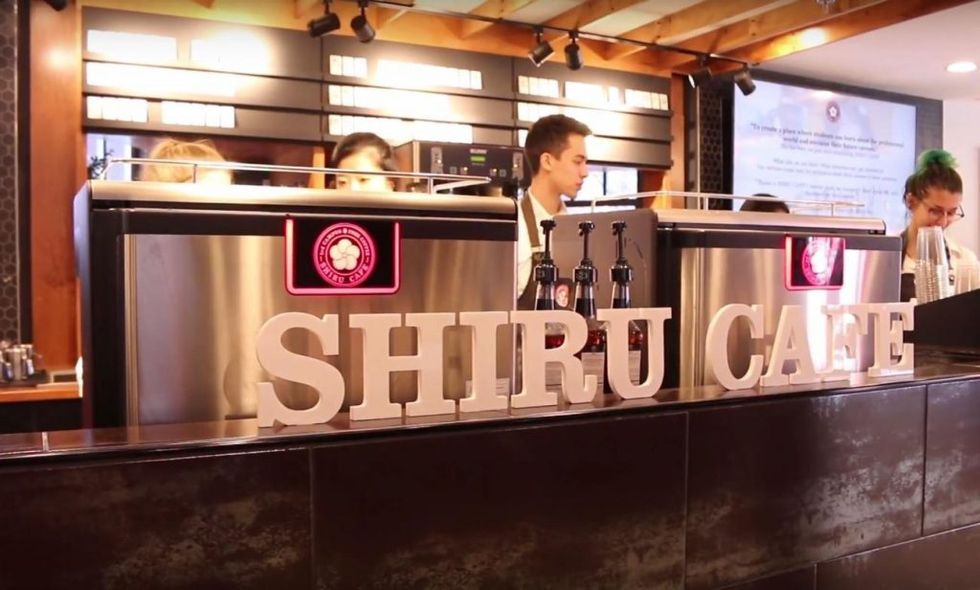 Image source: YouTube screenshot
The website adds that customers can order their drinks "from their personal page on the SHIRU CAFE® website where sponsor company information will be displayed."
Shiru's 'mission'
Shiru, which originated in Japan, explains on its website that "through a free drink we try to give students some information" from sponsor companies in order to broaden their "choices" regarding their future careers. Those sponsor companies "can have desired information projected on screens, which are tactfully arranged in our stores," the site notes, adding that companies also "can interact with students" at special Shiru events during which companies can "learn about students' academic interests and students' start-ups."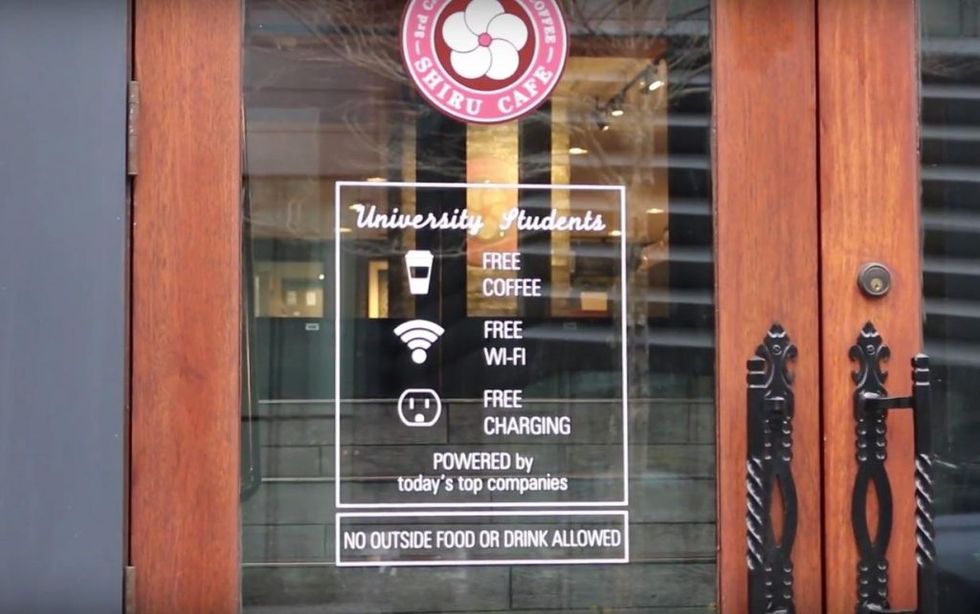 Image source: YouTube screenshot
Corporate sponsors have included Microsoft, Nissan, and Suzuki, NPR said.
But Alex Inoue, Shiru Cafe's general manager, told the outlet the cafe doesn't give out data on specific students but rather general, aggregate data such as student majors and expected graduation years.
The Providence shop is the only Shiru Cafe operating in the U.S., NPR said, but the franchise hopes to open up more locations near Amherst College, Harvard, Yale, and Princeton.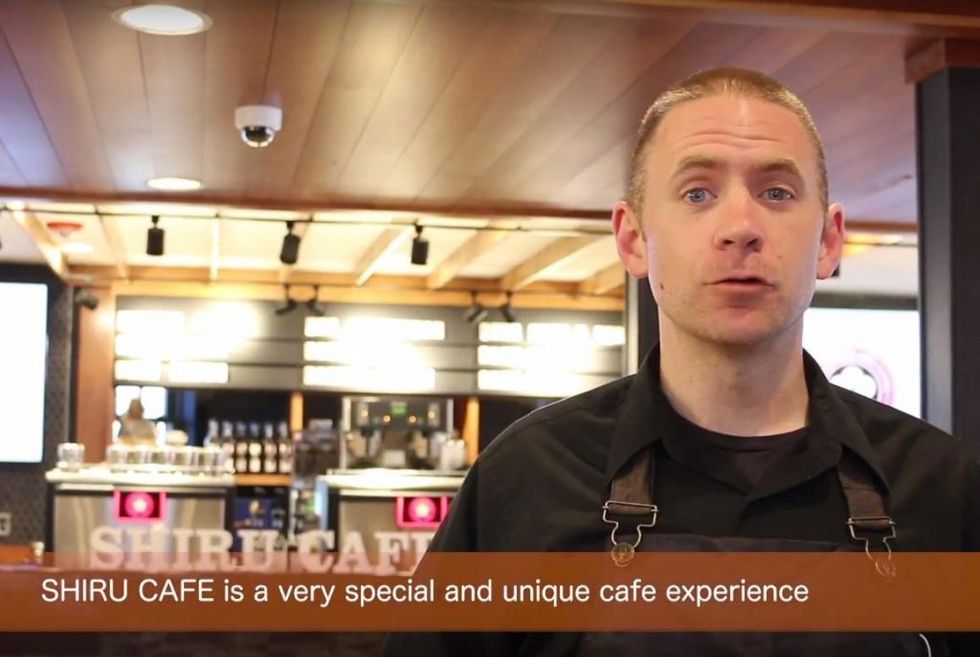 Image source: YouTube screenshot
Pushback
Two Brown students in a letter to the campus paper called for a Shiru boycott last December over some sponsor companies' principles:
According to The Herald's article about the Shiru Cafe, "last year, 40 percent of JP Morgan Japan's new hires were Shiru Cafe patrons." This statistic is alarming, given that JP Morgan engaged in deceitful financial practices which likely contributed [to] the 2008 financial crisis and then became the only large financial institution to make a profit during the crisis.
'Does not seem so risky to me'
Nina Wolff Landau, a junior at Brown, told NPR the information Shiru collects is easy to find online: "Maybe I should have been more apprehensive, but everyone has your information at this point anyway. To give out my name and email and what I study does not seem so risky to me."