New York Times-bestselling author Chuck Wendig told his followers that he was fired Friday from Marvel Entertainment for being uncivil on his social media after numerous expletive-filled anti-Trump tweets.
"Too much vulgarity, too much negativity"
Wendig, who was the writer for Star Wars comics for Marvel, said on social media that he had been fired because his tweets were too politically charged.
"Today I got the call," Wendig told his audience. "I'm fired."
"Because of the negativity and vulgarity that my tweets bring. Seriously, that's what Mark, the editor said. It was too much politics, too much vulgarity, too much negativity on my part."
"Basically, because I was not civil," he noted ironically.
In one fiery tweet posted in June, Wendig tossed 8 f-bombs at Republicans over the reporting about child separations at the border. He specifically wrote, "F**k civility."
"F**k' em," Wendig tweeted. "F**k Trump. F**k the GOP. F**k ICE. F**k the whole lot of'em. F**k'em up the flagpole and down the road, in and out of every restaurant, twice on Sundays and thrice on Tuesdays."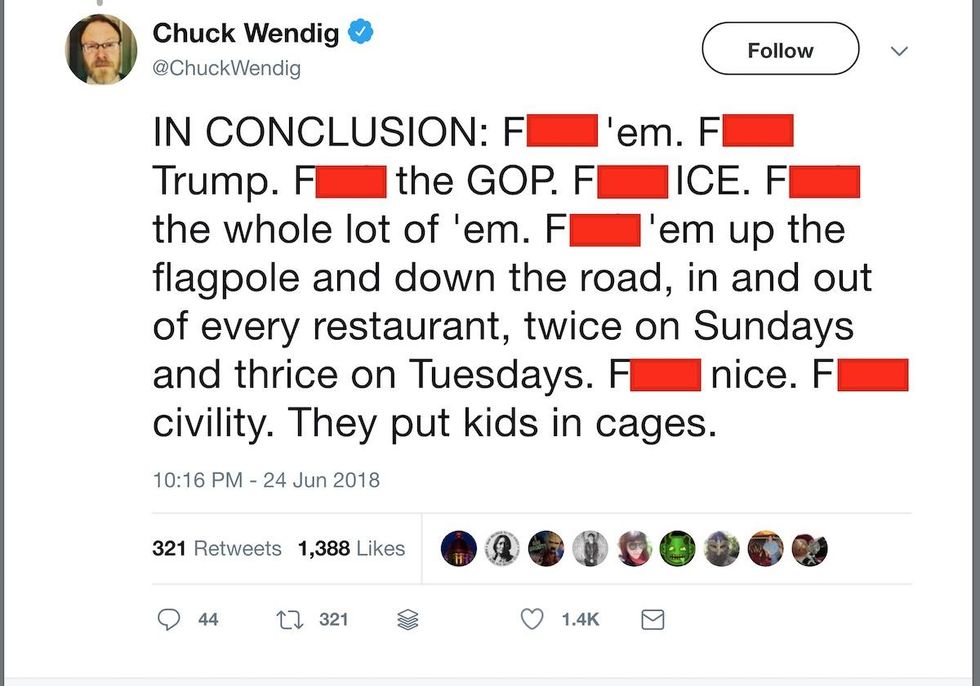 An example of an anti-Trump tweet from Chuck Wendig. (Image Source: Twitter screenshot)
"F**k nice," he concluded. "F**k civility. They put kids in cages."
Wendig wrote that he understood why the company didn't want their products to be marred by the negativity from his social media missives.
"[T]his is really quite chilling," he added. "And it breaks my heart."
"I am very sad," he concluded, "and worried for the country I live in, and the world, and for creative people all around. Courage to you all. I have a dire fear this is going to get a whole lot worse before it gets better."