A University of Mississippi professor is under fire after encouraging harassment of senators in restaurants in a Twitter post and even adding "put your whole damn fingers in their salads."
Assistant professor of sociology James Thomas — whose Twitter account was protected Thursday morning — added that senators "don't deserve your civility," according to the Daily Mississippian.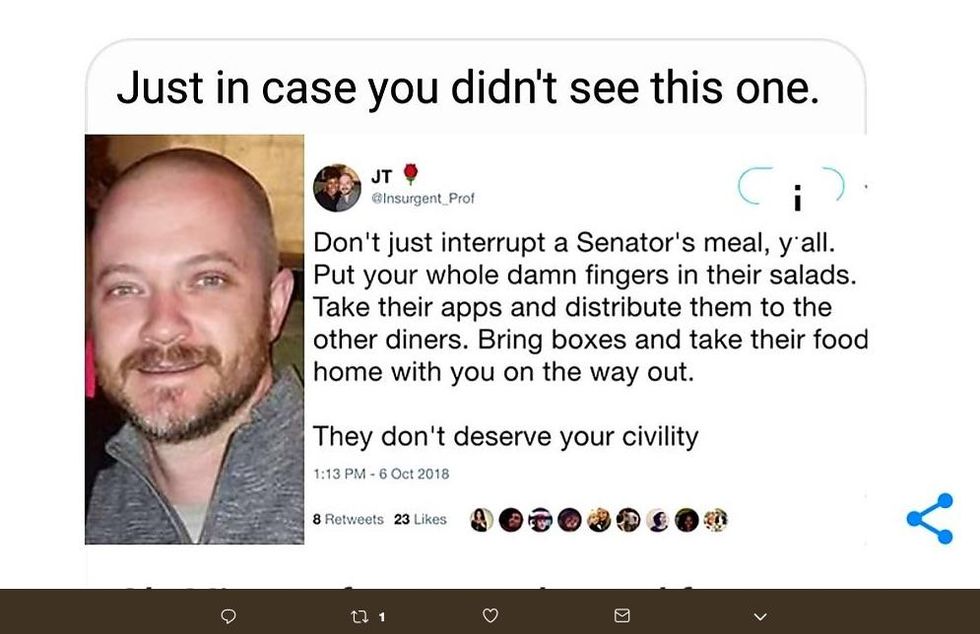 Image source: Twitter
"Don't just interrupt a Senator's meal, y'all. Put your whole damn fingers in their salads. Take their apps and distribute them to the other diners. Bring boxes and take their food home with you on the way out," Thomas tweeted Oct. 6, the day Judge Brett Kavanaugh was confirmed to the Supreme Court amid throngs of left-wing protesters who descended upon Washington, D.C.  "They don't deserve your civility."
A leftist mob harassed Republican Sen. Ted Cruz of Texas and his wife in the nation's capital in late September. And the left-wing group that posted video of this incident added a chilling promise to Cruz, President Donald Trump, Supreme Court nominee Brett Kavanaugh, and "right-wing scum" in general: "You are not safe. We will find you."
What did an Ole Miss official say?
"A recent social media post by a UM faculty member did not reflect the values articulated by the university, such as respect for the dignity of each individual and civility and fairness," Ole Miss Chancellor Jeffrey Vitter wrote in a Facebook post Sunday without naming Thomas. "While I passionately support free speech, I condemn statements that encourage acts of aggression. I urge all members of the Ole Miss community to demonstrate civility and respect for others and to honor the ideal of diversity of thought that is a foundational element of the academy."
How did one politician respond?
Chris McDaniel, a Republican Mississippi state senator and independent candidate for U.S. Senate, called Thomas a "low-life liberal," according to the Daily Mississippian.
"Another threat from another low-life liberal — this time it's from an Ole Miss professor," McDaniel wrote on Facebook, the paper said. "Disgusting. It's time for disciplinary action."
How did Thomas respond to the outrage?
"Run for office. Get elected. Pass legislation that harms large groups of people. And I will stick my whole foot in your lunch. Deal?" he wrote Saturday, according to Fox News.
The network added that Thomas also said if he's given a sabbatical, he'll write his fifth book and is "committed to helping strengthen Democratic Socialists as a viable political alternative, so I'll do that in my spare time."
Thomas told the Daily Mississippian he's "guessing" the Ole Miss chancellor's statement was directed at him, "but you'd need to ask [Vitter] since he wrote it. Only he would know who he was directing it toward. I support the chancellor's right to free speech and to express himself through his social media. The free exchange of ideas is a hallmark of higher education."
Campus Reform said when it called Thomas' office for comment, he hung up the phone — and the school didn't respond to the outlet, either.
Prominent Democrats encouraging bad behavior
The political landscape has become increasingly unbridled this year with conservative figures other than Cruz getting heckled and punched and kicked out of restaurants — and prominent Democrats have been encouraging such behavior.
In recent days, the ante only seems to have been upped: