If you've caught a glimpse of 10-year-old Collier Rule shredding onstage at the Foo Fighters' show in Kansas City last week, you're not alone — the viral video has been viewed over 2.3 million times in six days.
What you couldn't have known, however, is that Collier wants to use his moment in the spotlight to turn attention to someone else — his friend, Bo.
What is Collier doing?
Bo is battling a rare disease that includes Type 1 diabetes, epilepsy, growth hormone deficiency, and chronic lung disease, the Kansas City Star reported.
Collier told the paper that he'd already planned to raise money for Bo with a lemonade stand at his home at the end of the month. But now that he's a real guitar hero, the kid who struck a chord with Foo Fighters' leader Dave Grohl is spreading the word about Bo in a bigger way.
In quite the heartwarming clip, Collier and "SuperBo" work together to ask viewers to assist with Bo's cause by coming to city hall in Shawnee, Kansas,  from 10 a.m. to 4 p.m. on Oct. 27 "to make a donation, get some lemonade, and rock 'n' roll."
And if you can't make the trip, you can always make a donation via the GoFundMe site for Bo, which has already surpassed the $10,000 goal — but who's to say more won't be needed?
"The National Institute of Heath named the disease after Bo," the page reads. "Which means it's very rare, and there is no treatment, there is no fix, no miracle."
How did Collier end up on stage with Foo Fighters anyway?
Collier's mother took him to Foo Fighters' concert at the Sprint Center last Friday, and after the kid moved close to the stage to get a photo of the band, Grohl spotted him playing air guitar, the Star said.
"I can play the guitar," Collier shouted — and Grohl heard him, the paper reported.
With that, the kid was pulled onstage in front of the screaming crowd.
"What songs do you know?" Grohl asked Collier.
"I know a lot of Metallica songs," he replied.
A nifty electric guitar finds its way into the kid's hands, and he wowed the crowd — and the Foo Fighters' frontman — by ripping into the opening notes of "Enter Sandman" with Grohl doing what he could to capture James Hetfield's voice.
By the end of the magical moment on stage, Grohl let Collier keep the guitar.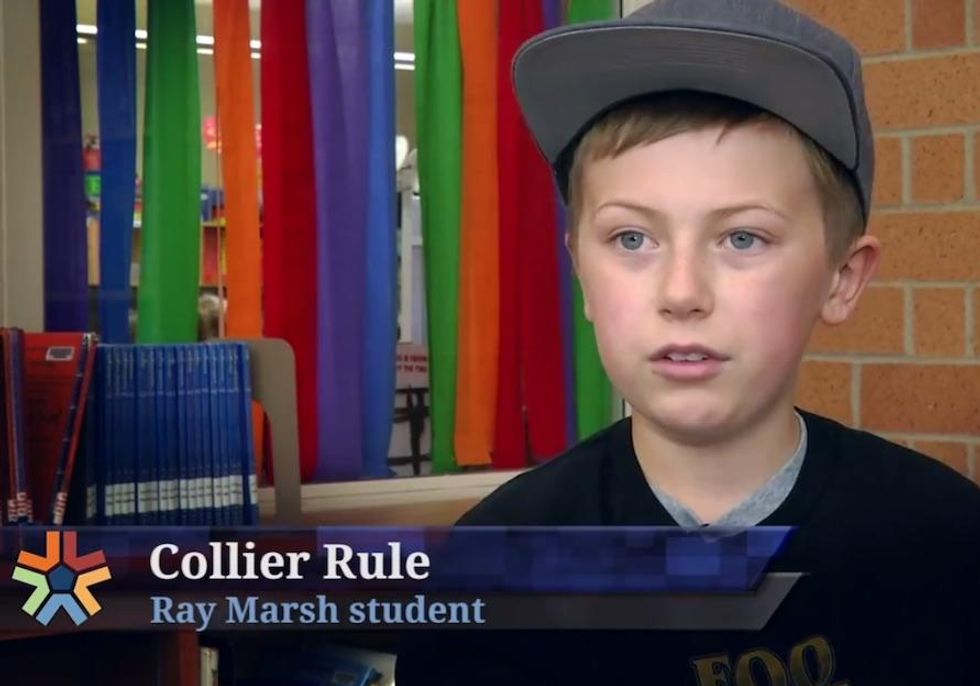 Image source: Kansas City Star video screenshot
"It was exciting — I couldn't even believe it," Collier said in a Shawnee Mission School District video, the paper reported. "Because most musicians probably wouldn't do that."
Here's the clip. (Content warning: A couple of cuss words — not spoken by Collier, mind you):