The actor who penned a headline-grabbing December essay for the Atlantic bluntly titled, "Cancel Mel Gibson" — which included an accompanying question, "Why is Hollywood still hiring this raging anti-Semite?" — has weighed in on Whoopi Goldberg's recent comments about the Holocaust that got her suspended from "The View" for two weeks.
In short, Joshua Malina — who's been in "The West Wing" and other productions — doesn't believe Goldberg said anything too terrible. But Gibson? Malina still wants his head on a platter.
What are the details?
Late last month Goldberg said on "The View" that "the Holocaust isn't about race" since dictator Adolf Hitler and other white Nazis murdered "white" Jews in concentration camps. Instead she said it was "about man's inhumanity to man."
Later that same day, Goldberg went further with her comments, telling Stephen Colbert that the "Nazis lied" and "had issues with ethnicity, not with race" in regard to the Jews amid the Holocaust. Soon Goldberg apologized.
Malina told Page Six that he "didn't hear what Whoopi said and thought, 'That's an anti-Semite. That's someone that doesn't like Jews.' I just thought she was off. My original take was I think there's a lot of nuance in discussing, 'What is race?' I know I swabbed my cheek, sent it to a company and came back 89 percent Ashkenazi Jew, so I know it's not just a religion, but I know you can convert to Judaism. I'm married to a woman who did convert."
As for Gibson, pretty much everybody knows about his drunken, anti-Semitic rant in the back of police car in 2006. The veteran actor and director apologized for his words and reportedly educated himself about the Holocaust and quietly conducted related endeavors, such as his philanthropic work to help Holocaust survivors in eight countries through the Survivor Mitzvah Project.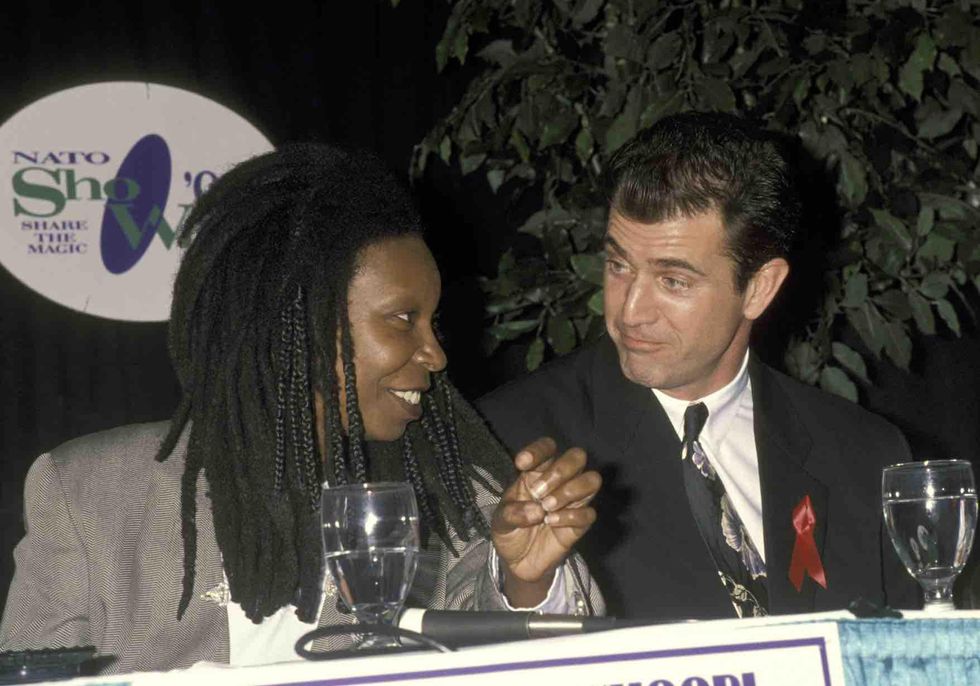 Whoopi and Mel in happier times Photo by Ron Galella/Ron Galella Collection via Getty Images
But that hasn't been enough for Malina.
"To me, there is a bad person who is a Jew hater, and then there's Whoopi Goldberg, who misspoke or needed to clarify or educate or discuss," Malina added to Page Six. "She's getting a two-week suspension [from 'The View'], and he [Gibson], every time I turn on my computer, he's starring in a new movie. Apparently he's potentially going to direct 'Lethal Weapon 5.' Let's keep our focus on the worst of it. I find it appalling."
In his December essay, Malina wrote that "Gibson is a well-known Jew-hater (anti-Semite is too mild). His prejudices are well documented. So my question is, what does a guy have to do these days to get put on Hollywood's no-fly list? I'm a character actor. I tend to take the jobs that come my way. But—and this hurts to write—you couldn't pay me enough to work with Mel Gibson."
Malina went on to acknowledge that Gibson is "talented" but that "many horrible people produce wonderful art. Put me down as an ardent fan of Roald Dahl, Pablo Picasso, and Edith Wharton; can't get enough of what they're selling. But these three had the good taste to die. That makes it a lot easier to enjoy their output. Gibson lives. And Tinseltown need not employ him further."
Anything else?
Malina also told Page Six about "momentum" he sees in Gibson's return to regular work "where [it's like], 'Oh, [Gibson has] just done 'Hacksaw Ridge.' He's back. He's been forgiven. He's OK now.' And the more jobs he gets, the more OK he's going to seem."
He added to the outlet that "generally when I say something about Mel Gibson, everyone doubles down, and I'm hit with anti-Semitism that kind of proves my point, to be honest."
Following publication of Malina's essay for the Atlantic, folks on social media hit back hard, saying he's pushing "censorship" and dusting off "old news."
'Unless you are completely without sin'
It bears repeating that back in 2011, actor Robert Downey Jr. chided a star-studded audience during a speech for an award that Downey specifically had Gibson present to him.
"I humbly ask that you join me, unless you are completely without sin — in which case you picked the wrong f***ing industry — in forgiving my friend his trespasses, offering him the same clean slate that you have me, and allowing him to continue his great and ongoing contribution to our collective art without shame," Downey said in regard to Gibson.
Before those pointed words, Downey revealed to listeners how Gibson had helped him — previous to Gibson's own downfall:
When I couldn't get sober, he told me not to give up hope, and he urged me to find my faith. It didn't have to be his or anyone else's as long as it was rooted in forgiveness. And I couldn't get hired, so he cast me in a lead of a movie that was actually developed for him. And he kept a roof over my head, and he kept food on the table. And most importantly he said that if I accepted responsibility for my wrongdoings, and if I embraced that part of my soul that was ugly — "hugging the cactus," he calls it — he said that if I hugged the cactus long enough I would become a man of some humility and that my life would take on a new meaning, and I did, and it worked. All he asked in return was that someday I'd help the next guy in some small way. It's reasonable to assume that at the time he didn't imagine that the next guy would be him or that someday was tonight!
Downey added to the crowd that Gibson had "hugged the cactus long enough!"
Robert Downey Jr asks forgiveness for Mel Gibsonyoutu.be