Democrats blasted President Donald Trump this week over new asylum regulations enacted in response to the growing humanitarian crisis at the southern border.
House Speaker Nancy Pelosi (D-Calif.) called the regulations — which require migrants to claim asylum in the first safe country to which they arrive, not the country of their preference — "illegal" and "cruel."
However, new video of former President Barack Obama from five years ago shows just how far Democrats' goal posts have moved.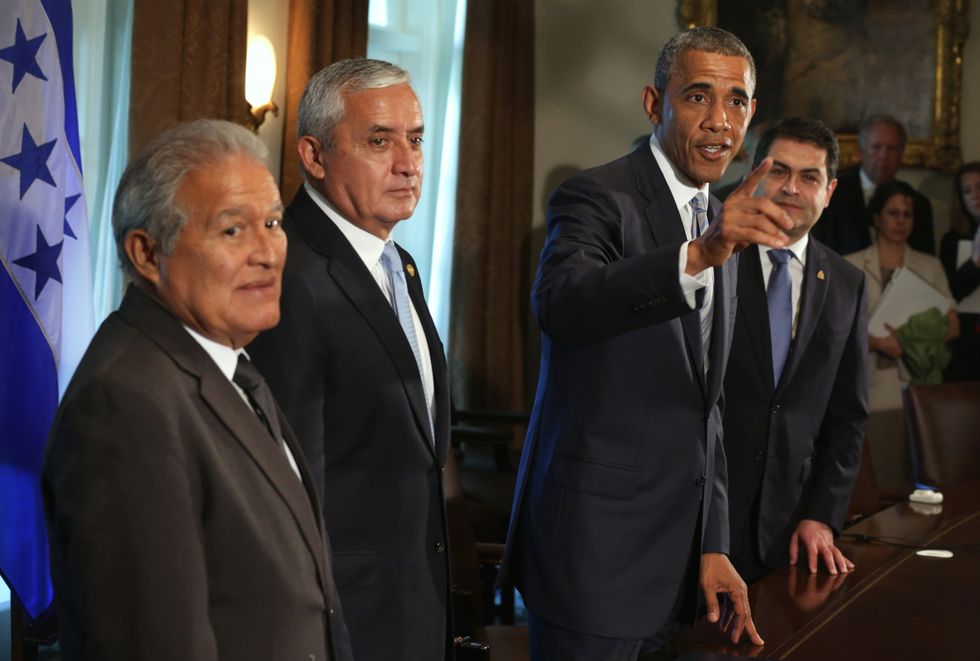 Obama meets with leaders of Honduras, Guatemala, and El Salvador at the White House Alex Wong/WHITE HOUSE POOL (ISP POOL IMAGES)/Corbis/VCG via Getty Images
Speaking in 2014, Obama said that poverty and crime are not sufficient legal reasons for granting asylum.

"Under U.S. law, we admit a certain number of refugees from all around the world based on some fairly narrow criteria. And, typically, refugees status is not granted just based on economic need or because a family lives in a bad neighborhood, or poverty," Obama said.
"It's typically defined fairly narrowly," he explained. "You have a state, for example, that was targeting a political activist and they need to get out of the country, for fear of prosecution or even death."
"There may be some narrow circumstances in which there is a humanitarian or refugee status that a family might be eligible for," Obama went on to say. "If that were the case, it would be better for them to be able to apply in country, rather than take a very dangerous journey all the way up to Texas to make those same claims."
However, Obama was clear that the American asylum-request pipeline is not suited to handle a large-scale humanitarian asylum crisis.
"I think it's important to recognize that would not necessarily accommodate a large number of additional migrants," Obama emphasized.
Flashback Clip of the Day: In 2014, @BarackObama says crime and poverty do not justify an asylum claim https://t.co/SorutFTXL9

— Tom Elliott (@Tom Elliott) 1563202417.0
Obama's comments followed a meeting at the White House with Honduran President Juan Orlando Hernandez, then-Guatemalan President Otto Perez Molina, and then-El Salvadorian President Salvador Sanchez Ceren.

Obama had met with his three counterparts to discuss what was at the time an ongoing migrant crisis impacting Central America, Mexico, and the U.S. That crisis is most notable for the surge of unaccompanied migrant children that overwhelmed U.S. immigration resources.