Four days after identifying a suspect caught on video punching a conservative activist in the face at the University of California, Berkeley, campus police are now seeking a felony warrant against the suspect, the Daily Californian reported.
UC Berkeley spokesman Dan Mogulof added to the paper that police concluded its investigation and are asking for the felony warrant from the Alameda County District Attorney. He added to the Daily Californian that campus police will "immediately" pursue the suspect's arrest if the warrant is issued.
The suspect — who police said isn't a student or affiliated with UC Berkeley — hasn't been named. But cops provided a photo: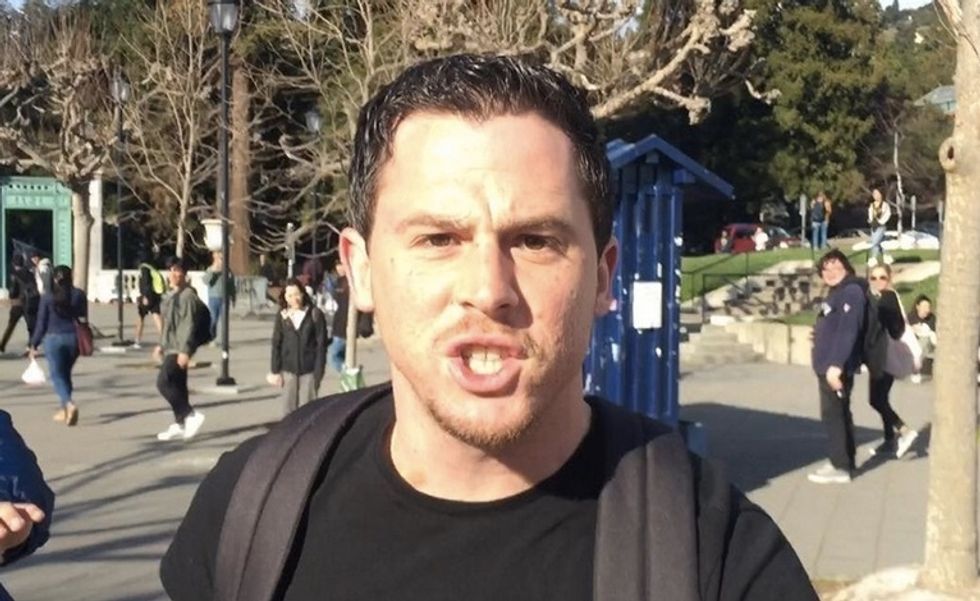 Image source: UC Berkeley police
What's the background?

Hayden Williams — a field representative for the Leadership Institute, which trains conservative activists — was helping conservative student group Turning Point USA recruit members at UC Berkeley on the afternoon of Feb. 19.
Williams told Fox News' Sean Hannity that some Berkeley students got angry at Turning Point USA's recruitment table sign that read, "Hate Crime Hoaxes Hurt Real Victims." The network added that the group also had a sign that read, "This is MAGA Country" — a reference to President Donald Trump's 2016 campaign slogan, "Make America Great Again."
The signs also referred to the controversy surrounding "Empire" actor Jussie Smollett, who was arrested last week and accused by Chicago police of staging a fake hate crime against him — at the hands of Trump supporters — to advance his career.
Williams told Hannity the man who punched him claimed Williams and Turning Point were promoting violence — and then the culprit got violent himself, even threatening to "shoot" him, according to the video of the incident.
Here's the clip. ( Content warning: language):
The victim added to Hannity that he "absolutely" has evidence and eyewitnesses that he didn't provoke the attacker. Williams said, "I feared for my own safety so I started to record at that moment," but he told Fox News the attacker knocked his phone from his hand; however, a bystander recorded video as well.
Then came the face punch — and a black eye for Williams.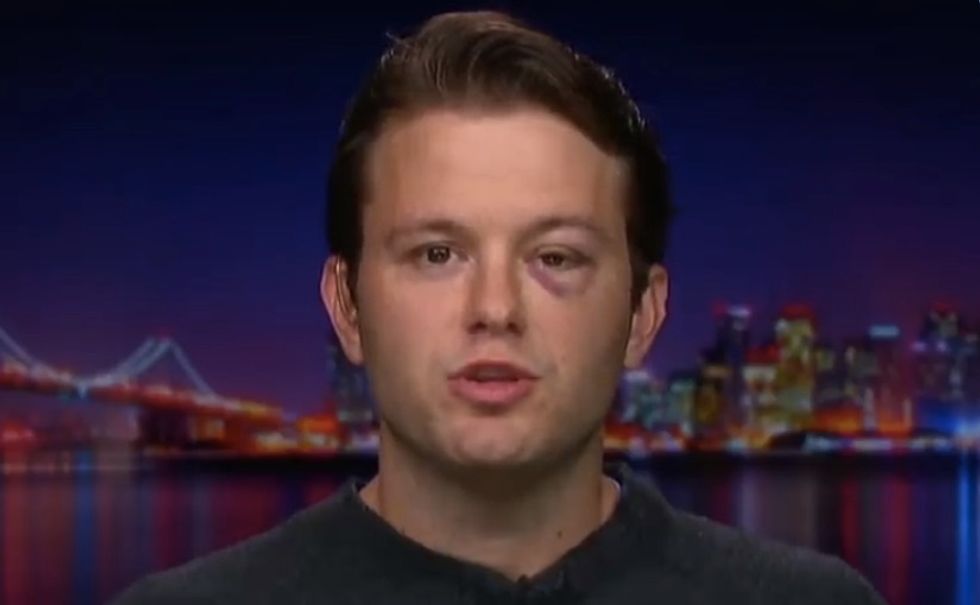 Image source: YouTube screenshot
$50,000 reward offered
Conservative group Citizens United Foundation is offering a $50,000 reward for information leading to the suspect's arrest and conviction, Fox News said.
"Any person having information related to this crime is requested to contact Citizens United Foundation at the following email address: BerkeleyThugReward@citizensunited.org," the reward offer said. "In the email, please provide contact information and details of the information in your possession, including relevant facts. Any information provided will be promptly forwarded to the UC Berkeley Police Department."
Conservatives speak out
Charlie Kirk — founder and executive director of Turning Point USA — was none too pleased with the seemingly slow response of UC Berkeley police.
"This is really surprising," Kirk told Fox News on Tuesday. "From what I understand there's been no arrest. I don't understand why there's no public arrest file on this guy. If he had been wearing a Make America Great Again hat and had punched a liberal in the face there'd be nationwide outrage and a manhunt to find him. The whole thing is crazy."
Republican U.S. Sen. Rand Paul of Kentucky called the incident "abhorrent behavior against free speech on campus."
This is abhorrent behavior against free speech on campus. No form of violence is acceptable! Conservative activist… https://t.co/Nq2N0cPJ41

— Senator Rand Paul (@Senator Rand Paul)1550788810.0
Donald Trump Jr. wondered "if it would be the same if a conservative beat up a leftist" at Berkeley.
Wonder if it would be the same if a conservative beat up a leftist on the Berkeley Campus? Conservatives call out… https://t.co/J3lY5e0Ml9

— Donald Trump Jr. (@Donald Trump Jr.)1551213613.0