A University of California, Berkeley, employee expressed delight after a conservative activist was punched in the face by what appeared to be an angry leftist. The nasty beat down in a high-traffic campus area on Tuesday was captured on video and made national news.
Here's the clip. (Content warning: language):
'F*** you, Turning Point USA'
The violent episode was a real pick-me-up for an employee at the northern California college, known far and wide for birthing the free-speech movement of the 1960s.
"OH MY GOD THE MAGA PEOPLE ON UC BERKELEY CAMPUS YESTERDAY GOT PUNCHED IN THE FACE BY SOMEONE," Yuvi Panda gushed in a tweet Wednesday night. "THIS MAKES ME FEEL EMOTIONALLY SO MUCH BETTER."
Panda, who works for the school's Data Science Education Program, added: "Thank you, random stranger for not letting it go unchallenged. Hope you aren't in too much trouble. F*** you, Turning Point USA."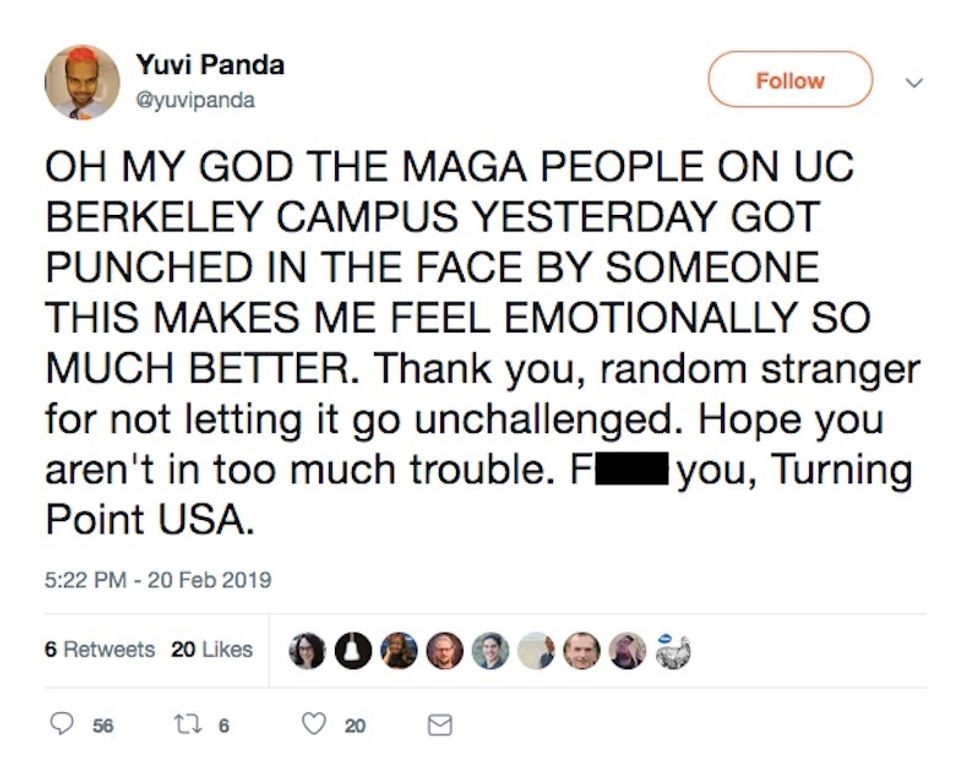 Image source: Twitter, redacted
Hayden Williams, the recipient of the face punch, is a field representative for the Leadership Institute, which trains conservative activists. He was helping conservative student group Turning Point USA recruit members at UC Berkeley — and got a black eye for his troubles.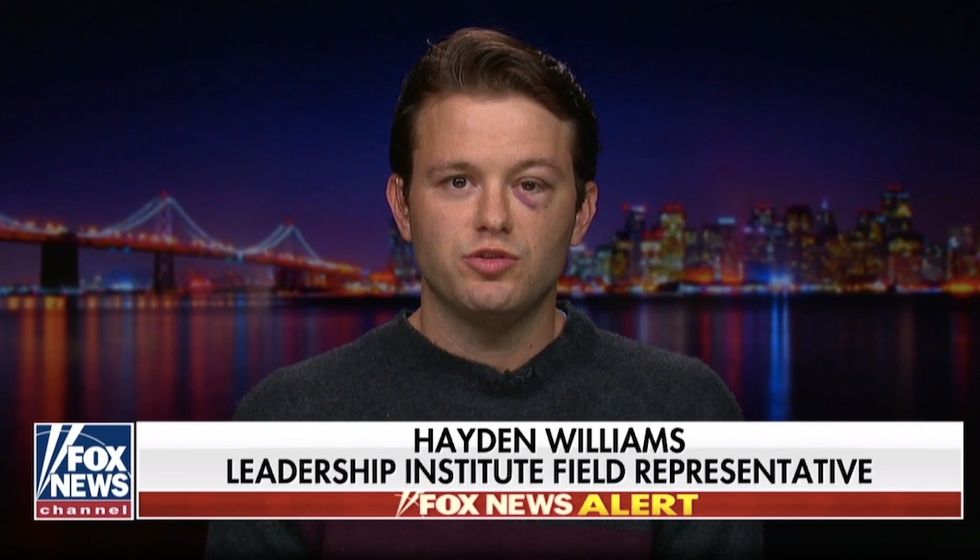 Image source: Fox News video screenshot
UC Berkeley spokesman Dan Mogulof confirmed Panda's employment to Campus Reform and added that Panda's "expression of approval and support for violence stands in complete and total opposition to the values, commitments, and policies of this university."
Mogulof, however, noted that the college has "no legal ability to control or sanction what employees do during their free time."
The Leadership Institute owns and operates Campus Reform, the outlet noted.

'I've been angry a lot recently'
The day before the face punch, Panda tweeted the following: "I saw a 'This is MAGA country' banner + stall in Sproul Plaza, Berkeley. I'm so sad and angry. I've been angry a lot recently."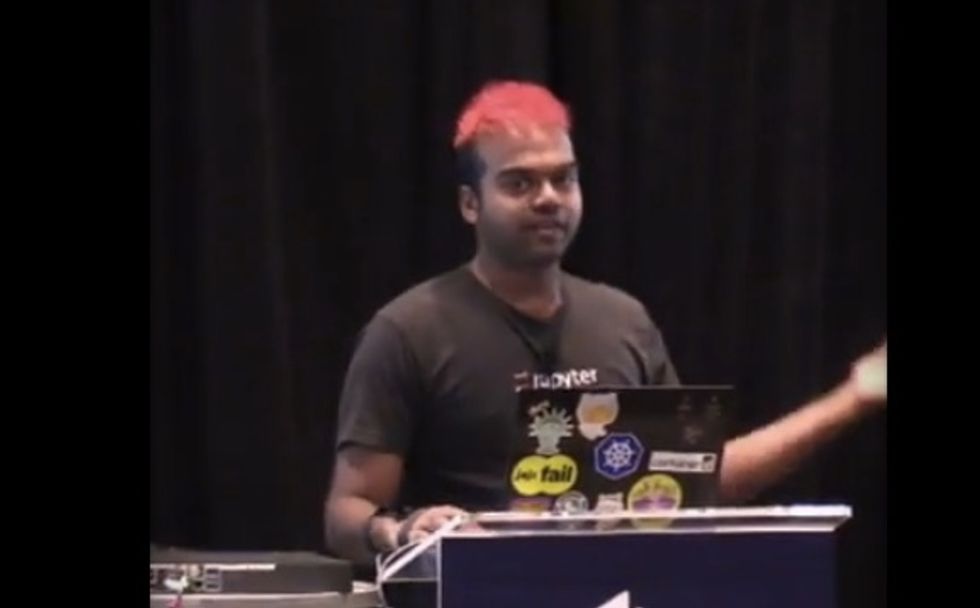 Yuvi PandaImage source: YouTube screenshot
What's the background of the face-punch incident?

Williams on Thursday told Fox News' Sean Hannity that some Berkeley students got angry at Turning Point USA's recruitment table sign that read, "Hate Crime Hoaxes Hurt Real Victims." The network added that the group also had a sign that read, "This is MAGA Country" — a reference to President Donald Trump's 2016 campaign slogan, "Make America Great Again."
The signs referred to the controversy surrounding "Empire" actor Jussie Smollett, who was arrested Thursday and accused by Chicago police of staging a fake hate crime against him — at the hands of Trump supporters — to advance his career.
Williams told Hannity the unidentified male who punched him claimed Williams and Turning Point were promoting violence on campus — and then the culprit got violent himself, even threatening to "shoot" him, according to the video of the incident.
The victim added to Hannity that he "absolutely" has evidence and eyewitnesses that he didn't provoke the attacker. Williams said, "I feared for my own safety so I started to record at that moment," but he told Fox News the attacker knocked his phone from his hand; however, a bystander recorded video as well.
Hannity called the final punch a "cheap shot."
What did UC Berkeley have to say about the violent incident?
Mogulof told Campus Reform the unidentified assailant "does not speak for the university, does not represent the university, and does not share the university's values. The University has made clear through word and deed that violence and harassment are reprehensible and intolerable, no matter who the perpetrators and victims are, or what they believe in."

The UC Berkeley spokesman added to the outlet that officials have "sent a message to the entire campus community with a picture of the suspect and a strong request that those with information come forward to report what they know. We very much want to identify the suspects and bring those responsible to justice."