© 2023 Blaze Media LLC. All rights reserved.
Bicyclist caught on video setting fire to 'Trump Won' sign will be charged, DA says
A bicyclist who was caught on video earlier this month kicking, then torching a "Trump Won" yard sign in Raleigh, North Carolina, will be charged.
Wake County District Attorney Lorrin Freeman on Monday said the suspect will face misdemeanor criminal charges — two counts of injury to real property — the News & Observer reported .
Freeman added to the paper that she couldn't identify the suspect until the charges have been served. Raleigh police told the News & Observer they're investigating.
What's the background?
The owner of the sign is John Kane, a local businessman and Republican political activist, the Daily Mail said .
Kane on Friday posted home surveillance video of the incident on social media , asking viewers to "help me make him a felon" and offering a $1,000 reward.
The first part of the clip shows the bicyclist pulling up to the yard sign just after 7 a.m. Aug. 12 and kicking it five times with his right foot.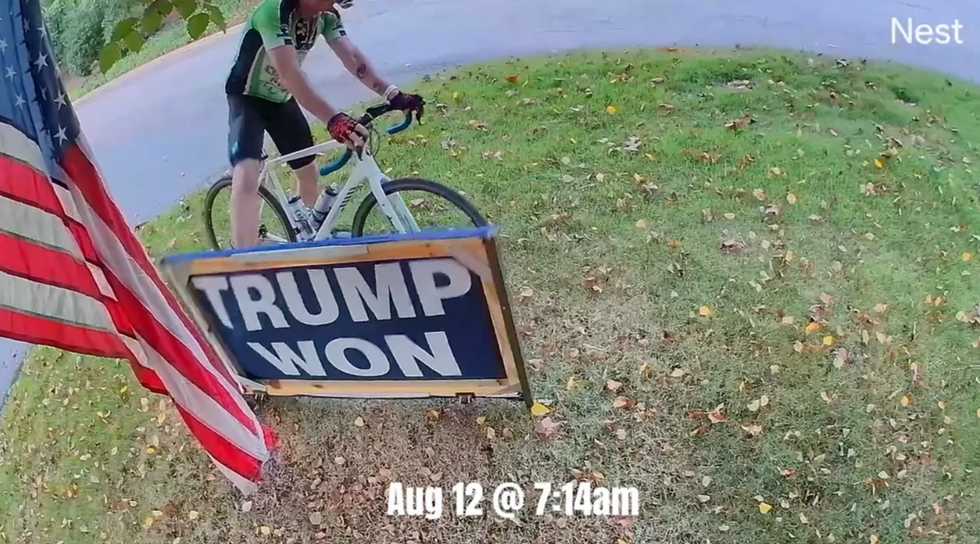 Image source: X video screenshot via @johnmkane1776
Realizing his efforts are futile, he quickly pedals away.
The clip continues with what appears to be the same bicyclist walking up to the sign at 4:19 a.m. Aug. 15 and setting it on fire before running off.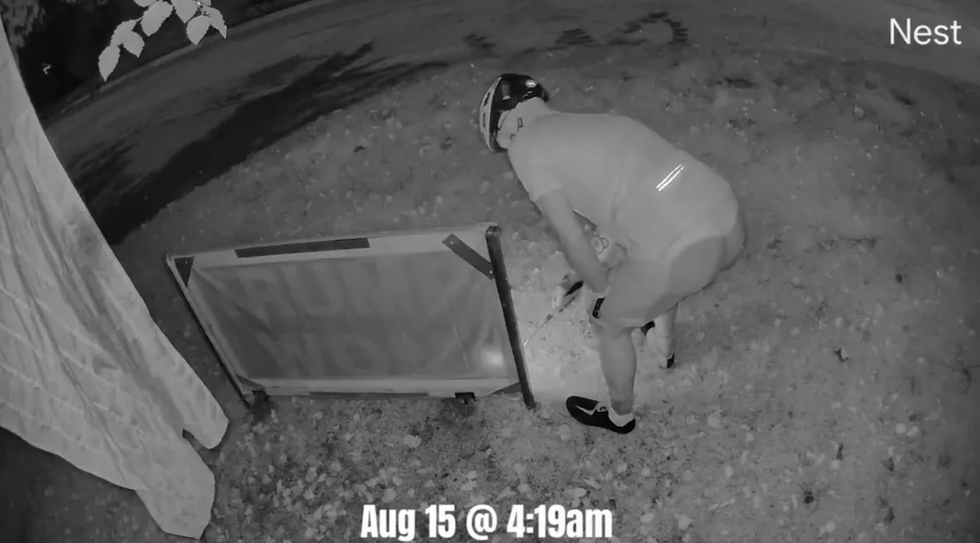 Image source: X video screenshot via @johnmkane1776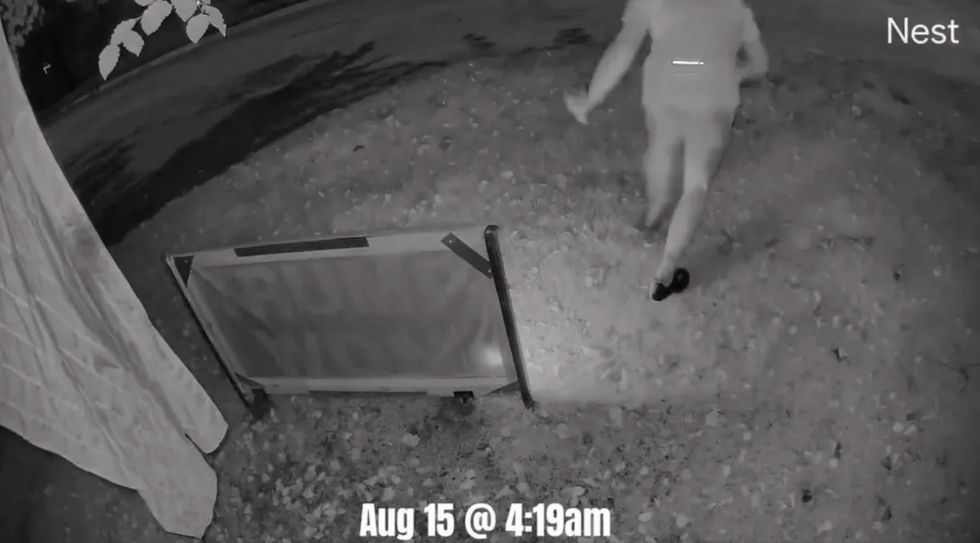 Image source: X video screenshot via @johnmkane1776
Screenshots in the video from that same morning show the "Trump Won" sign burning up and then completely gone.

Yet another video segment shows what appears to be the same bicyclist setting on fire a new "Trump Won" sign on the property and again running off. The time stamp reads Feb. 18, but Kane noted that the correct date actually is Aug. 18. What appears to ash covers the bottom part of the sign's frame.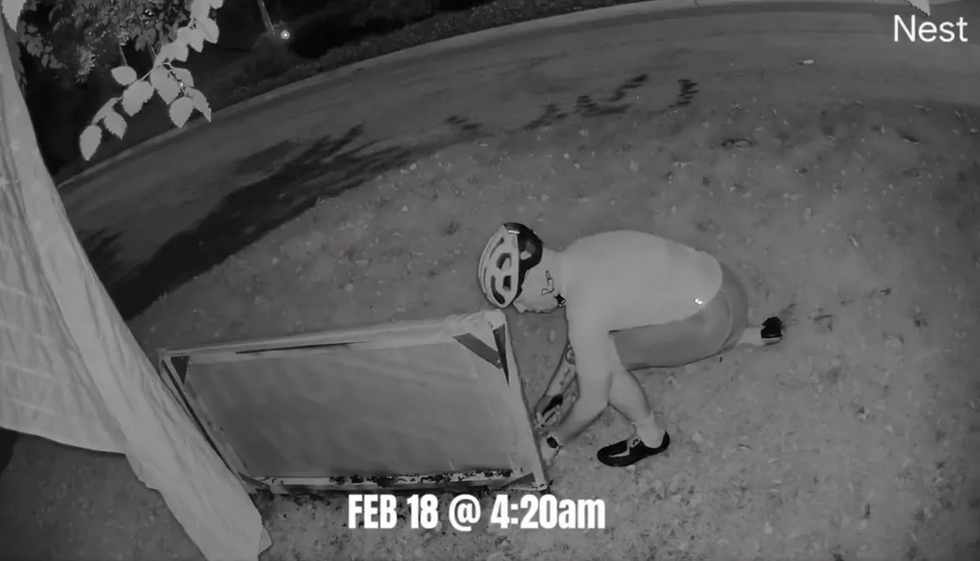 Image source: X video screenshot via @johnmkane1776
Here's the clip:
Attorney James R. Lawrence III on Saturday added that Kane "has retained me to file a lawsuit against this pyro-activist once he is identified."
Conservative commentators Tim Pool and Benny Johnson each offered to add $5,000 to the reward for finding the culprit.
'This is not OK in America'
Kane on Monday posted another video to social media explaining how dangerous he believes the suspect's actions were.
He noted that the frame of his sign was reinforced with steel brackets and said had it not been, the resulting flames could have engulfed neighboring trees and finally his house "with my young family inside."
"This is not OK in America," Kane continued. "I don't care who you support politically. None of us can accept a country where someone can be so triggered by someone's support of a majority party political candidate that they come and commit premeditated arson on their home. Really an attempt to kill them."
The Daily Mail said Kane recently ran for the chairmanship of North Carolina's Republican Party but lost to incumbent chairman Michael Whatley. The outlet, citing the Carolina Journal , said several pro-Kane delegates filed a lawsuit challenging the results. The Daily Mail reported that the suit claimed a mobile app used for voting violated party rules, adding that the status of the suit was not immediately clear.
Like Blaze News? Bypass the censors, sign up for our newsletters, and get stories like this direct to your inbox. Sign up here !
Want to leave a tip?
We answer to you. Help keep our content free of advertisers and big tech censorship by leaving a tip today.
Sr. Editor, News
Dave Urbanski is a senior editor for Blaze News.
DaveVUrbanski
more stories
Sign up for the Blaze newsletter
By signing up, you agree to our
Privacy Policy
and
Terms of Use
, and agree to receive content that may sometimes include advertisements. You may opt out at any time.