British comic Jo Brand suggested tossing battery acid upon "easy to hate" political figures instead of trendy milkshakes — and got some big laughs.
The 61-year-old appeared on the BBC radio show "Heresy" Tuesday night, the Irish Examiner reported, and was asked about UK politics — which of late have featured woke leftists publicly pelting conservative figures such as Brexit leader Nigel Farage with milkshakes. Such physical attacks have been called "absolutely hilarious."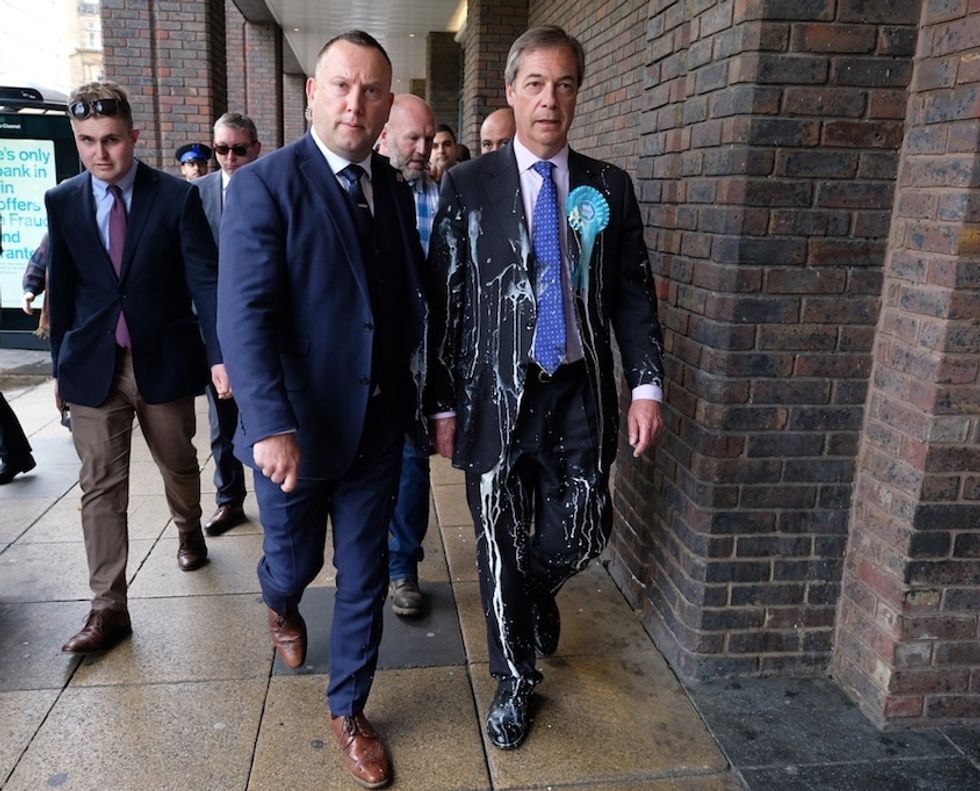 Photo by Ian Forsyth/Getty Images
How did Brand respond?
In response to host Victoria Coren Mitchell's question, Brand noted that "certain unpleasant characters are being thrown to the fore, and they're very, very easy to hate, and I'm kind of thinking: 'Why bother with a milkshake when you could get some battery acid?'"
Listeners howled with laughter.
"That's just me ... I'm not gonna do it, it's purely a fantasy," Brand added, "but I think milkshakes are pathetic, I honestly do, sorry."
Here's the clip of her comments:
Jo Brand on the BBC "Why bother with a milkshake when you could get some battery acid"youtu.be
How did Farage respond?
Farage on Wednesday said Brand's battery acid comment "is incitement of violence" and that "police need to act."
This is incitement of violence and the police need to act. https://t.co/j3F0jsKGBZ

— Nigel Farage (@Nigel Farage) 1560332951.0
Coren Mitchell said at the end of her show that she hoped Brand's comment didn't offend but that the show is supposed to "test the boundaries of what it's OK to say and not say," the Examiner reported.
The host also replied to Farage's tweet, saying she's "disappointed" that he called for action against Brand.
Nigel! I'm genuinely disappointed; we don't agree on everything, but I would totally have had you down as a free sp… https://t.co/DgWBoLqCsX

— Victoria Coren Mitchell (@Victoria Coren Mitchell) 1560339034.0
Anything else?
The milkshake tossing trend has extended beyond political figures in the UK, as a supporter of President Donald Trump got hit with one in London last week during Trump's state visit. Leftists surrounding the lone man chanted "Nazi scum" at him: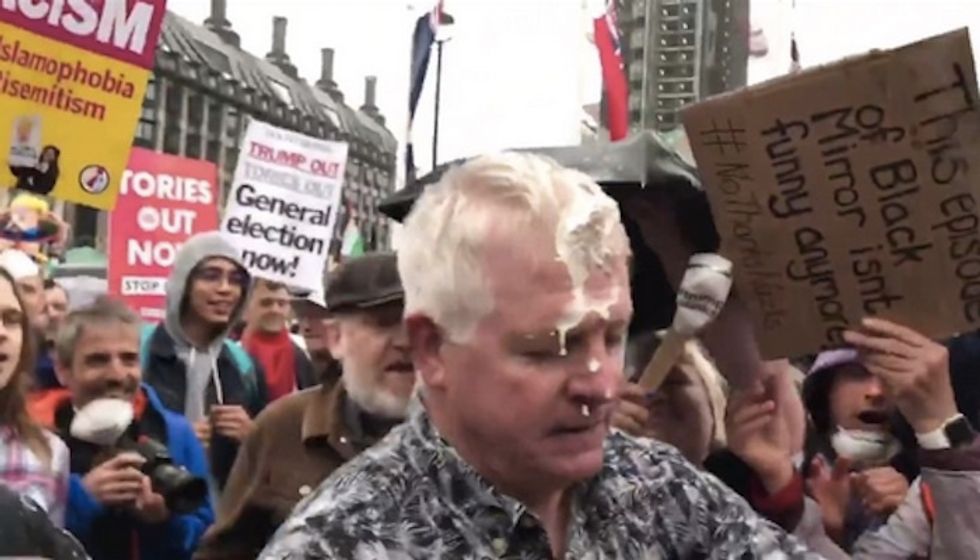 Image source: Twitter video screenshot