CNN commentator Angela Rye said the red "Make America Great Again" hat from President Donald Trump's 2016 campaign is just as upsetting for her to look at as a Ku Klux Klan hood.
Rye — also an attorney and Congressional Black Caucus Political Action Committee board member — was on CNN's "Cuomo Prime Time" Tuesday night and discussed last week's controversial standoff between white Catholic high schooler Nick Sandmann and Native American activist Nathan Phillips on the steps of the Lincoln Memorial.
Many in the media have insisted Sandmann got in Phillips' face and was the aggressor despite video evidence to the contrary — and Sandmann was wearing a Make America Great Again hat.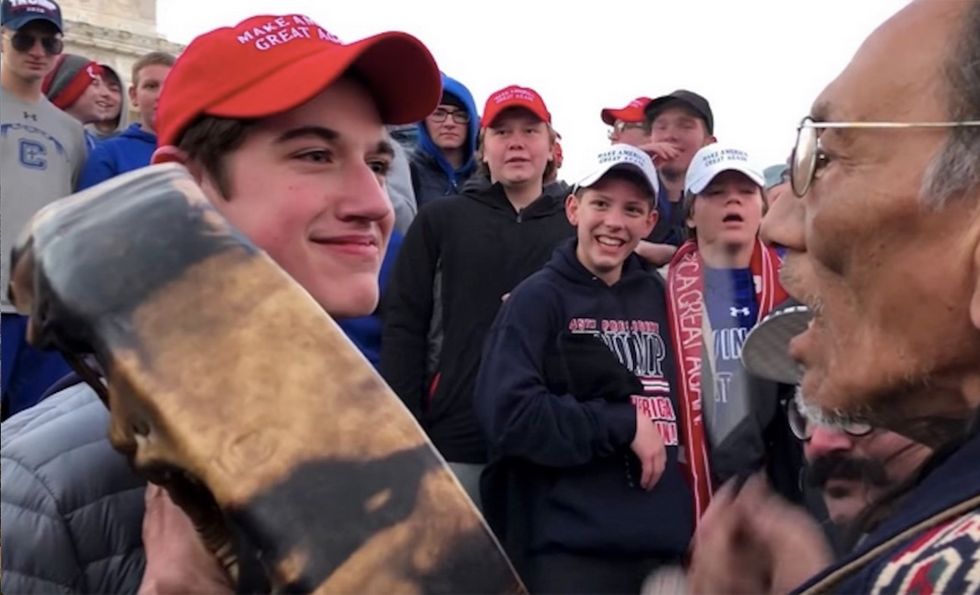 Image source: YouTube screenshot
'I am triggered. I'm so triggered.'
"Forget Donald Trump for a moment and just think about the symbol of that red hat," Rye told Chris Cuomo. "When I see the Make America Great Again hat now, Chris, I am triggered. I'm so triggered."
Rye added that "this Make America Great Again hat is just as maddening and frustrating and triggering for me to look at as a KKK hood. Like, that is the type of hatred that his policies represent. And until we can have common ground and understanding about that ... that it's that triggering, we're going to continue to have problems."
Rye also had it out on Twitter with a user who disagreed with her take on the MAGA hat:
What's the background?
Sandmann and his fellow students from Covington Catholic High School in Kentucky attended Friday's March for Life in Washington, D.C., and were waiting for their bus when members of the Black Hebrew Israelites were caught on video verbally harassing the students with racist and homophobic slurs.
The students — a number of whom were wearing MAGA hats — reacted with chants used at their school's athletic events. Soon video showed Phillips walking up to the students while beating a drum and chanting himself. He stopped in front of Sandmann, and the pair stared at each other.
An initial video showing only the pair in a standoff — with a caption that read, "This MAGA loser gleefully bothering a Native American protester at the Indigenous Peoples March" — went viral as a result of a suspicious Twitter account that the social media platform suspended Monday, CNN Business reported. A tech expert added to CNN that a network of anonymous accounts worked to make that clip go viral.
Still, journalists and others accused the students of surrounding, mocking, and trying to intimidate Phillips when he was the one who approached them — and Sandmann in particular has been excoriated for smiling at Phillips in apparent disrespect.
Sandmann denied that in a detailed statement blasting "outright lies" about him and his classmates.
In the meantime, a number of journalists and other notable figures reversed their initial positions and apologized for jumping the gun on the false narrative about the students — while others simply deleted their incorrect posts castigating the students over the incident.
Covington Catholic High School canceled classes Tuesday after receiving threats due to the misleading video but reopened Wednesday with a police presence, Fox News reported.
Glenn Beck breaks down the timeline of events in the video below:

(H/T: Washington Free Beacon)