© 2023 Blaze Media LLC. All rights reserved.
Gay man claimed he was set on fire in hate-crime attack; but cops say video shows him beating up pregnant woman — who fought back with flame
A gay man claimed he was set on fire in a hate-crime attack in San Diego earlier this month — but police said video shows him beating up a pregnant woman who fought back by setting him on fire.
What are the details?
Police told KGTV-TV they received calls about a man attacking a pregnant woman in the 900 block of Sixth Avenue just after 10:40 p.m. June 12.
"Officers were dispatched and arrived within minutes, but the suspect had already fled the scene," the department told the station.
Police said the woman was bleeding and injured when officers arrived, KGTV reported, adding that she was taken to a hospital for treatment.
Not long after, the case took a curious turn.
Cops told KGTV that just before midnight they received a report in the 1200 block of Market Street from a man who said he was set on fire.

Oops
"Investigators determined that this man was the suspect who battered the pregnant woman from the earlier incident [in the] 900 [block of Sixth] Avenue," police told the station. "Investigators have since determined the pregnant female was responsible for the burn injuries."
KGTV added that detectives have since gotten security video they say shows the "initial physical assault by the man on the pregnant woman and the subsequent use of fire as a weapon by the pregnant woman on the man."
The station said in the below video report that both incidents are being criminally investigated and that there have been no arrests.
How did this start out?
KGTV-TV's initial report about the gay man's claim that he was set on fire in a hate-crime attack paints a decidedly different picture than what police are now maintaining.
Scott Rowin, 39, told KGTV that on June 12 he inquired about a job at The Loft. The establishment is a gay bar in the 3600 block of Fifth Avenue.
The station said Rowin departed after 8 p.m. and headed south toward his downtown apartment and was intending to call an Uber.
KGTV said within a few blocks he heard what sounded like two people yelling gay slurs: "Started hearing [gay slur] this, [gay slur] that. The word came up quite a bit."
Image source: KGTV-TV video screenshot
The station said Rowin — who is gay — realized the slurs were being directed at him.
"I yelled back a couple of things, 'Hey, that's f***ed up!'" Rowin recalled to KGTV.
The station said moments later he heard footsteps behind him and — as he turned around — saw one of the individuals — a man in his 20s or 30s — after which water-like liquid was thrown at him.
"Immediately after that, I went up like coals on a barbecue," Rowin added to KGTV. "It started off really big."
He told the station that he was on fire then dropped down and rolled on the cement, patting himself and extinguishing the flames.
"Just in survival mode. Just in the zone, I have to save my life," Rowin noted to KGTV.
Rowin sustained second-degree burns, mostly along his side and back, the station said, adding that it was unclear if he'd need surgery.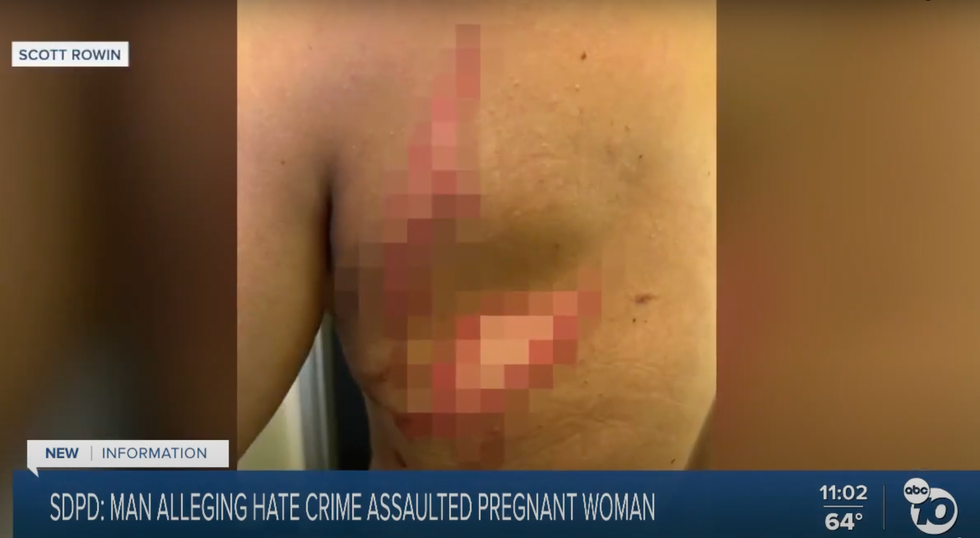 Image source: KGTV-TV video screenshot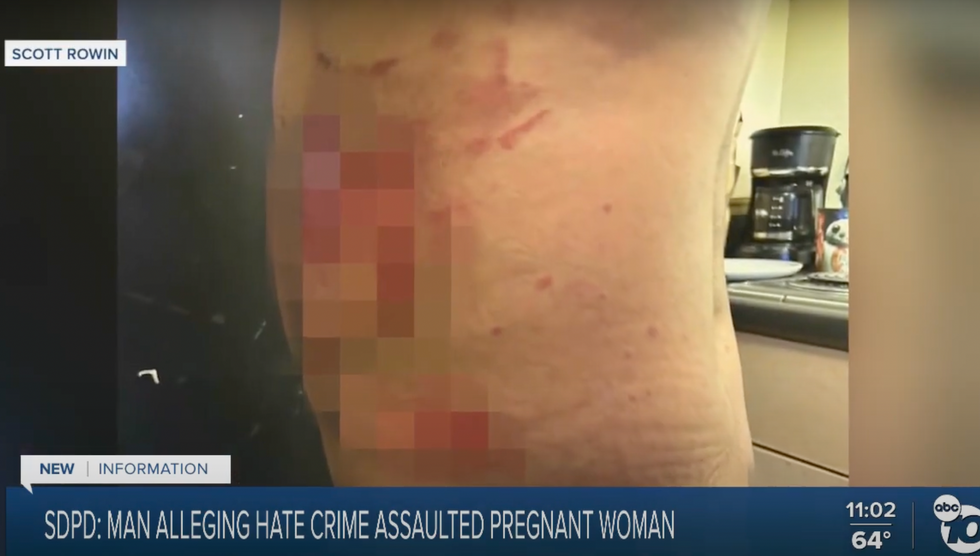 Image source: KGTV-TV video screenshot
'This is absolutely a hate crime'
Rowin added to KGTV that the slurs carried extra weight due to Pride events this month.
"This is absolutely a hate crime," he declared to the station. "The slurs were hate-filled."
Rowin also noted to KGTV that "nobody walks around with flammable liquid ... without an agenda. In my opinion, they were obliviously out there targeting the LGBT community."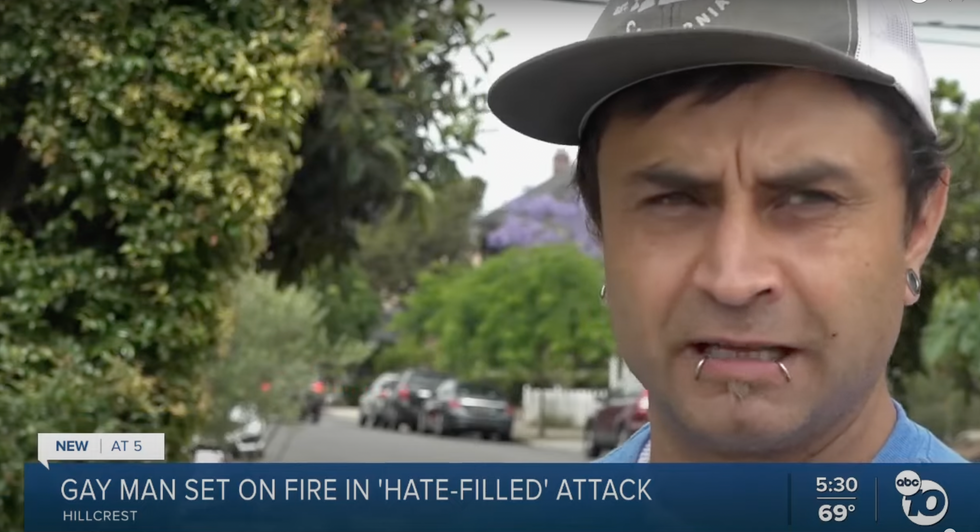 Image source: KGTV-TV video screenshot
He added to the station that "this can still happen in 2023. There are still a lot of haters out there. I don't want this to happen to anyone else. This time it was fire. What will it be next time?"
KGTV said a police report was filed and that Rowin said he lost a black cap, black shoe, and an AT&T Mobile Hotspot in the attack.
Anything else?
A KGTV reporter added in the first video in this story — which focuses on police saying the man who claimed he was set on fire in a hate-crime attack actually beat up a pregnant woman who fought back with fire — that Rowin didn't the respond to the reporter's call or text.
Here's video from the station's original story:
Like Blaze News? Bypass the censors, sign up for our newsletters, and get stories like this direct to your inbox. Sign up here!
Want to leave a tip?
We answer to you. Help keep our content free of advertisers and big tech censorship by leaving a tip today.
Sr. Editor, News
Dave Urbanski is a senior editor for Blaze News.
DaveVUrbanski
more stories
Sign up for the Blaze newsletter
By signing up, you agree to our
Privacy Policy
and
Terms of Use
, and agree to receive content that may sometimes include advertisements. You may opt out at any time.