TV show "Empire" — which had starred Jussie Smollett until Chicago police accused the gay actor and singer of staging a fake hate crime against himself earlier this year — will end after next season, Variety reported.
"We are turning the final season into a television event," Fox Entertainment CEO Charlie Collier said, according the magazine, adding that there are "no plans" for Smollett return for the show's sixth and final season.
However, Collier also told Variety "the writers room for next season hasn't even gathered yet."
What's the background?
Smollett claimed a pair of masked attackers yelled "this is MAGA country" — a reference to President Donald Trump's "Make America Great Again" 2016 campaign slogan — put a noose around his neck, and poured a substance that smelled like bleach on him while beating him in a Chicago street around 2 a.m. Jan. 29 in near zero temperatures.
The mainstream media, celebrities, and prominent Democratic politicians — including presidential candidates Sens. Kamala Harris (Calif.) and Cory Booker (N.J.), both of whom called it an "attempted modern-day lynching" in separate tweets — jumped on social media to decry the alleged hate crime.
But police arrested Smollett in February, accusing him of staging the entire thing and paying two black men to help him pull it off.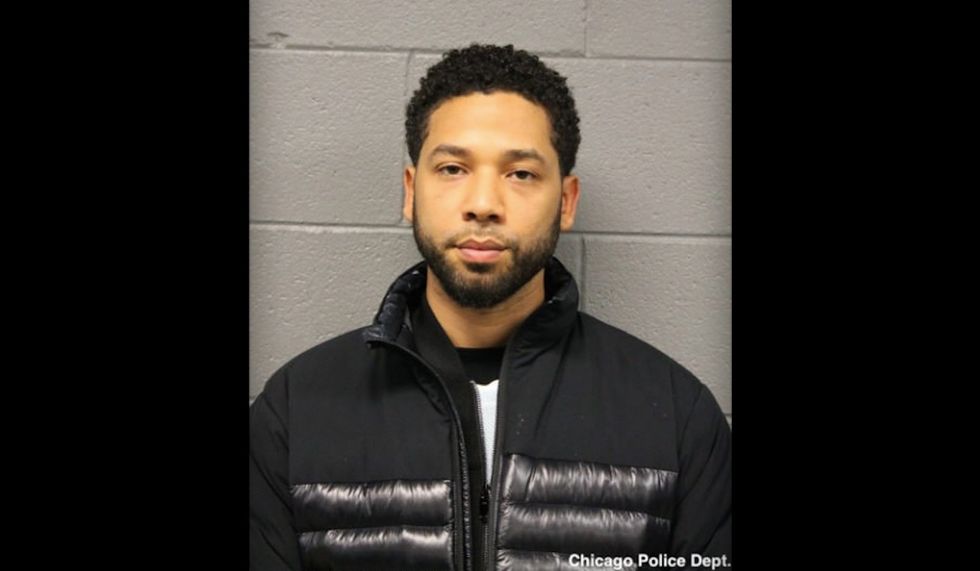 Image source: Chicago police
In fact, Chicago Police Superintendent Eddie Johnson, who also is black, tore into Smollett after the actor's arrest and said Smollett "took advantage of the pain and anger of racism to promote his career."
CPD Supt. Johnson: Smollett took advantage of the pain and anger of racism to promote his careeryoutu.be
Smollett pleaded not guilty to 16 counts of disorderly conduct for filing a false police report — and then in a shocking move, prosecutors dropped all charges against Smollett in late March. In addition, a "judge granted a motion to seal the case," and a Smollett spokesman said the actor's "record will be fully expunged."
That didn't stop Chicago Mayor Rahm Emanuel from angrily blasting the decision to drop Smollett's charges, saying the move was "not on the level" and a "whitewash of justice."
Chicago Mayor On Smollett: 'This Was A Whitewash Of Justice' | NBC Newsyoutu.be
Emanuel promised to send a bill to Smollett for the investigative work Chicago authorities took on in relation to his case, and when he missed the deadline to pay the $130,000 bill in early April, the city said it was suing the actor.
Meanwhile, it was widely reported that Cook County State's Attorney Kim Foxx recused herself from the Smollett case after rumblings that she interfered in the investigation — but then it came to light that she never actually recused herself at all.
In the aftermath, associations from every police department in Cook County announced "no confidence" in Foxx, and the Illinois Prosecutors Bar Association accused her of making "repeated misleading and deceptive statements to the public" and having "failed in her most fundamental ethical obligations to the public."
In response, Foxx wondered whether racism and sexism was behind criticism she was been receiving.
Conflicts of interest stack up against Smollett prosecutor Kim Foxxyoutu.be