The New York Times reported Monday that President Donald Trump recently "pushed" Australian Prime Minister Scott Morrison to help Attorney General William Barr gather information for an ongoing Justice Department investigation in hopes to "discredit" Robert Mueller's Russia investigation.
The newspaper characterized Trump's alleged request as "using high-level diplomacy to advance his personal political interests" — the same allegation Democrats and the media have made about Trump's controversial July conversation with Ukrainian President Volodymyr Zelensky.
But a letter surfaced later Monday discrediting the Times' reporting.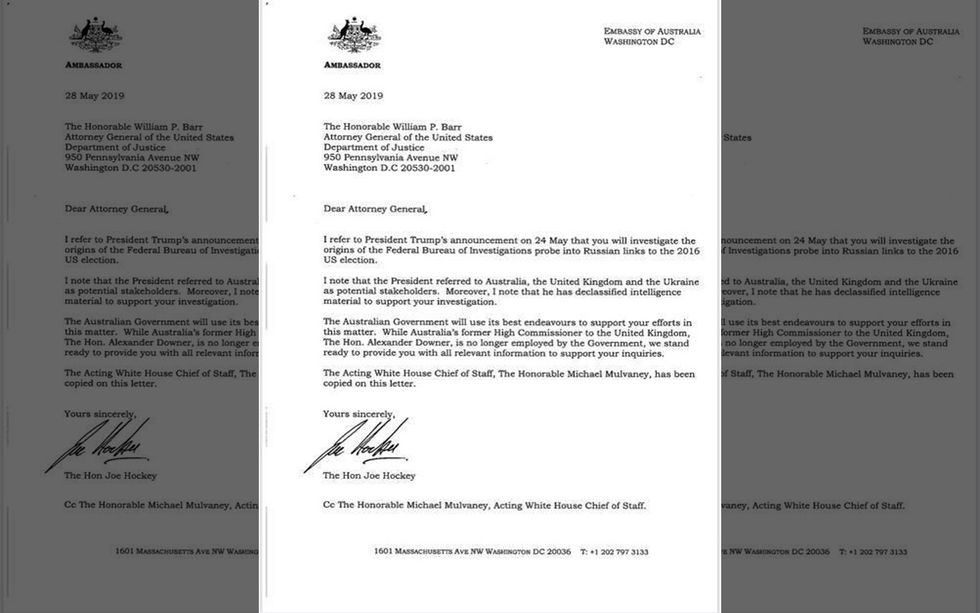 Image via Twitter @KerrieYaxley
The letter — first reported by Australian reporter Kerrie Yaxley — shows Australia proactively reached out to Barr via Scot Hockey, Australia's ambassador to the U.S., in May to offer assistance in the Justice Department's investigation into the origins of the FBI's Russia investigation.

The letter states:
I refer to President Trump's announcement on 24 May that you will investigate the origins of the Federal Bureau of Investigations probe into Russian links to the 2016 US election.

I note that the President referred to Australia, the United Kingdom and the Ukraine as potential stakeholders. Moreover, I note that he has declassified intelligence material to support your investigation.

The Australian Government will use its best endeavors to support your efforts in this matter. While Australia's former High Commissioner to the United Kingdom, The Hon. Alexander Downer, is no longer employed by the government, we stand ready to provide you with all the relevant information to support your inquiries.

The Acting White House Chief of Staff, The Honorable Michael Mulvaney, has been copied on this letter.
According to Fox News, Hockey wrote the letter after Trump told reporters he would direct Barr to seek assistance from other countries in the investigation, which is being led by U.S. Attorney John Durham.
A top Australian diplomat further corroborated Monday that it was Australia that initiated contact with Barr regarding the investigation.
"After the president said what he said — we initiated the contact. There was no pressure — we acted in order to help," the diplomat told Fox News.
Indeed, the Justice Department told Fox News that "countries have been helpful" in the DOJ's investigation.
"There was no pressing required," the DOJ official said.