© 2023 Blaze Media LLC. All rights reserved.
NY Times changes story's headline 3 times to shield Dems from blame after blocking coronavirus relief bill
From 'Democrats block action' to 'Partisan divide threatens deal'
Within the span of an hour on Sunday night, the New York Times changed the headline on its coverage of the stalled coronavirus relief bill three times with each iteration shifting blame away from Senate Democrats.
As TheBlaze reported, the Democrats blocked a critical $2 trillion coronavirus economic relief package on Sunday, a move that sent futures markets plummeting, arguing it was a "slush fund" to wealthy corporations. President Donald Trump and congressional leaders hoped the measure would send a signal that would help stabilize the stock market and U.S. economy amid fears of recession as economic analysts estimate unemployment levels could hit up to an unprecedented 30% in April-June with GDP contracting by 50%, figures not seen since the Great Depression.
An evolving headline
The Times' first article about the stalemate was titled: "Democrats Block Action on $1.8 Trillion Stimulus."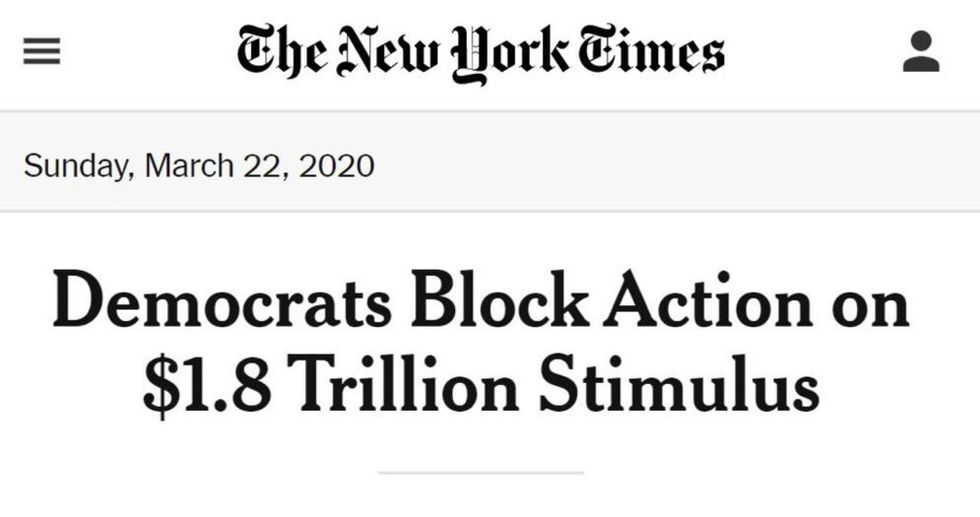 Image source: Screenshot from Twitter
Shortly thereafter, the headline evolved to "Democrats Block Action on Stimulus Plan, Seeking Worker Protections," which continued stating that Senate Democrats were responsible for blocking the bill, but softened the blow by offering a benign justification for doing so.
Image source: Screenshot from Twitter
Then came the coup de grace. In its third attempt, the Times' headline evolved to "Partisan Divide Threatens Deal on Rescue Bill," which made no mention of the Democrats' obstruction.
Image source: Screenshot from Twitter
Following a deluge of criticism from conservative leaders, the New York Times appears to have modified the story's headline a fourth time as of Sunday morning to "As State Pleas Mount, Trump Outlines Some Federal Action; Senate Democrats Block Stimulus Package."
Why did Senate Dems block the bill?
Senate Minority Leader Chuck Schumer declared on Saturday night that the bill had broad bipartisan agreement, but Democrats blocked the measure after House Speaker Nancy Pelosi (D) returned to Washington, D.C., on Sunday and began demanding changes to the legislation.
The Senate is expected to take up the relief bill again on Monday.
Want to leave a tip?
We answer to you. Help keep our content free of advertisers and big tech censorship by leaving a tip today.
more stories
Sign up for the Blaze newsletter
By signing up, you agree to our
Privacy Policy
and
Terms of Use
, and agree to receive content that may sometimes include advertisements. You may opt out at any time.