A spunky and salty-tongued older woman is becoming a bit of a folk heroine since video has been circulating of her confronting and stopping a suspected shoplifter in a Canadian Walmart over the weekend.
What are the details?
Global News reported that Saturday morning's incident at the store in Campbell River — about four hours northwest of Vancouver, British Columbia — began when a man followed the suspected shoplifter heading for the store exit.
The man — who apparently was recording video of the heist — asked the apparent shoplifter if he was planning on paying for the items that filled his cart.
"Yeah," the alleged shoplifter — who's wearing a ski mask — replied.
As the suspect grabbed his bike and wheeled it toward the open door, he told a gray-haired woman who arrived there before him "excuse me."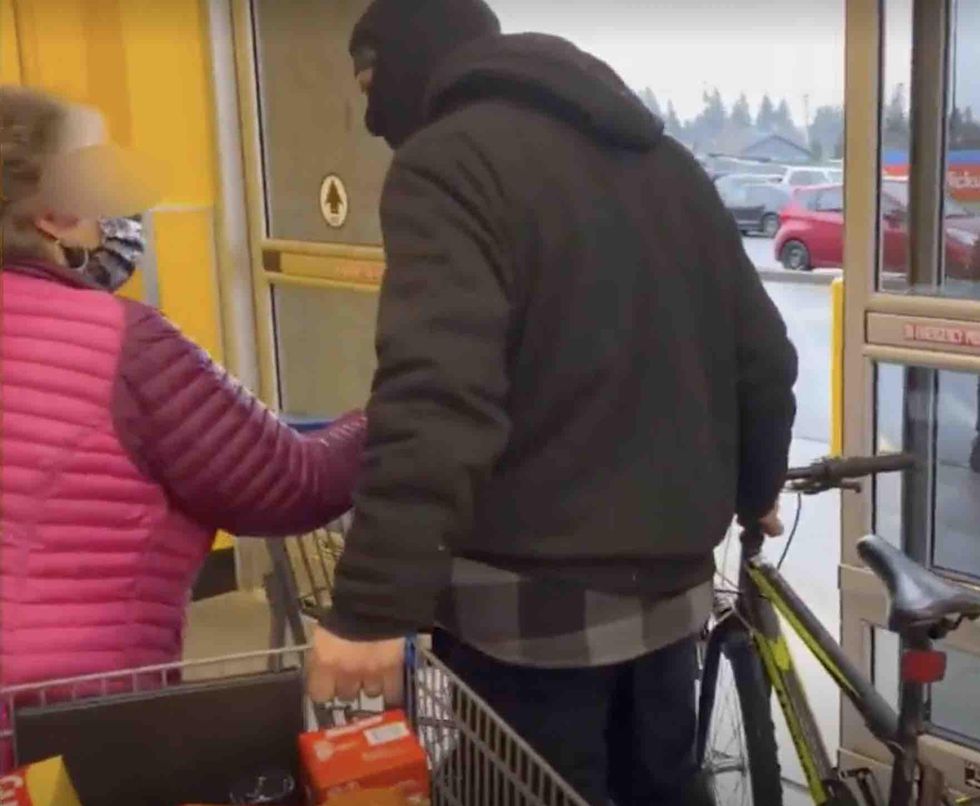 Image source: Global News video screenshot
"Excuse me!" she shouted at him — and blocked his path with her shopping cart.
'Enough of this bulls**t!'
With that, the woman got angry and began pulling off the man's apparent disguise — ordering him to "take that f***in' mask off, asshole!" — and hollering that she's seen "enough of this bulls**t!"
The crook put up no fight as the woman pulled his ski mask all the way off, and the man who was recording the incident on video — and perhaps the woman as well — pulled the shopping cart back into the store's lobby.
"F*** off, asshole!" the woman exclaimed. "Get out!"
"Take your s**t and go," the man recording the video instructed the culprit.
The woman then yelled it's "you assholes" who "jack up the price for everybody else ... it's about time they got caught!"
The alleged shoplifter left with only his backpack.
Anything else?
Campbell River RCMP Const. Maury Tyre confirmed the video's authenticity and told Global News that officers were still trying to get in touch with the person who recorded it.

Tyre added to the outlet that people in the community are growing frustrated about the strings of blatant crimes — and that the bravery shown by the people in the video, while not advisable, was nevertheless honorable.
Global News said that a Facebook post about the incident drew more than 1,200 comments on Sunday.