© 2023 Blaze Media LLC. All rights reserved.
Rachel Dolezal — former NAACP chapter president outed as white — makes deal to avoid welfare fraud trial
She agreed to pay nearly $9,000 in restitution and complete 120 hours of community service
Rachel Dolezal — the former president of a Washington state NAACP chapter who was outed as white in 2015 — agreed to pay nearly $9,000 in restitution and complete 120 hours of community service to avoid going to trial on welfare fraud charges, the Spokesman-Review reported.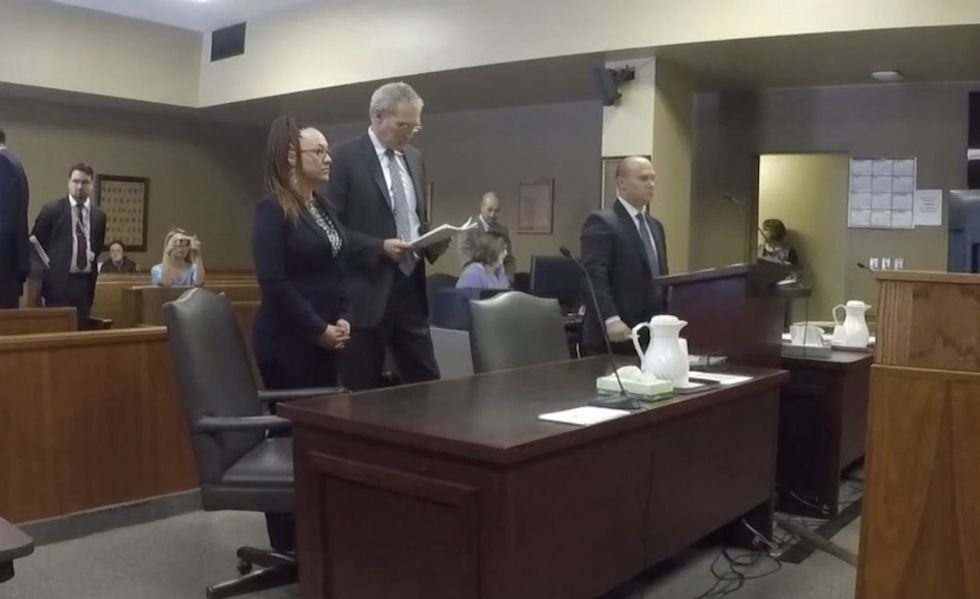 Image source: KREM-TV video screenshot
Dolezal — who changed her name to Nkechi Diallo two years ago — was arrested in May on charges of first-degree theft by welfare fraud, second-degree perjury, and false verification for public assistance.
Dolezal got on welfare allegedly claiming she was living on just a few hundred dollars a month that friends were giving to her as gifts. But investigators alleged she failed to report tens of thousands of dollars in income from her memoir, "In Full Color: Finding My Place in a Black and White World," so she could collect $8,847 in food and child care assistance from the state Department of Social and Health Services, the paper said.
Image source: KREM-TV video screenshot
But her attorney, Bevan Maxey, told KREM-TV that Dolezal reached a diversion agreement with the court and will have to pay back the money and complete community service. Once that happens, Dolezal's charges can be dismissed, the station said.
Image source: KREM-TV video screenshot
What's the background?

Dolezal's white parents outed her as white in June 2015. At the time Dolezal was president of the NAACP chapter in Spokane, Washington, and even taught Africana studies at Eastern Washington University the previous fall.
Dolezal defended her identity at the time: "I would definitely say that, 'Yes, I do consider myself to be black.'"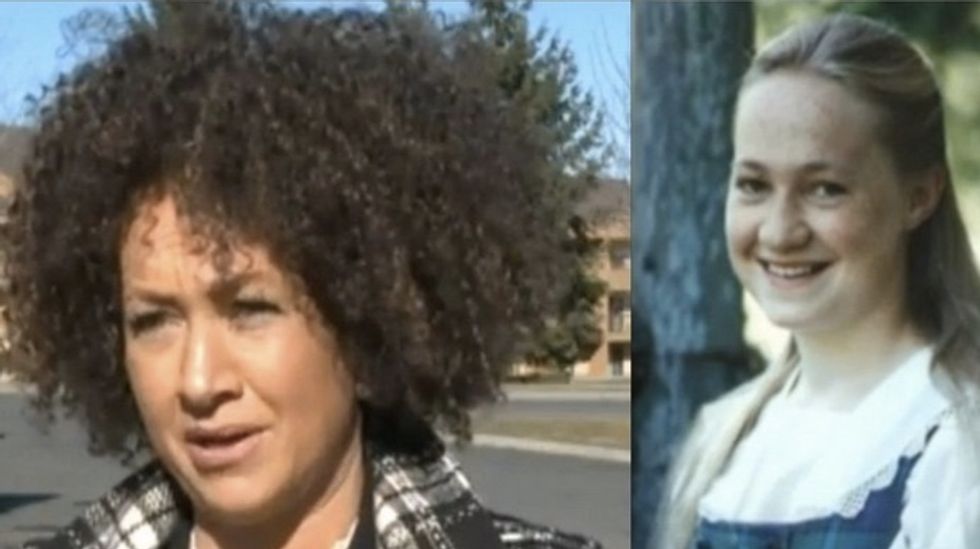 Left, Dolezal in 2015; and Dolezal, right, in an earlier yearImage source: KREM-TV video screenshot
After her race was revealed, the NAACP said it would stand behind Dolezal: "One's racial identity is not a qualifying criteria or disqualifying standard for NAACP leadership," according to the NAACP's statement at the time. But Dolezal stepped down from her post that same month.
In addition, Dolezal's 2002 lawsuit against Howard University soon surfaced in which she alleged she was discriminated against because she was white, further added fuel to the fire.
But a year after her story made national headlines, Dolezal appeared on the "Today" show and said, "I don't have any regrets about how I identify. I'm still me, and nothing about that has changed."
The following report includes footage of Dolezal from her first welfare fraud court appearance, KREM noted.

Want to leave a tip?
We answer to you. Help keep our content free of advertisers and big tech censorship by leaving a tip today.
Sr. Editor, News
Dave Urbanski is a senior editor for Blaze News.
DaveVUrbanski
more stories
Sign up for the Blaze newsletter
By signing up, you agree to our
Privacy Policy
and
Terms of Use
, and agree to receive content that may sometimes include advertisements. You may opt out at any time.