Former University of Kentucky swimmer Riley Gaines over the weekend ripped an ESPN Women's History Month tribute to transgender swimmer Lia Thomas and blasted Thomas as a "he" who "stole a national title."
What are the details?
OutKick's David Hookstead tweeted the ESPN video tribute to Thomas, a biological male who began identifying as female a few years ago and then made headlines by destroying biological female opponents — some in humiliating fashion — before ultimately winning the 2022 NCAA women's 500-yard freestyle.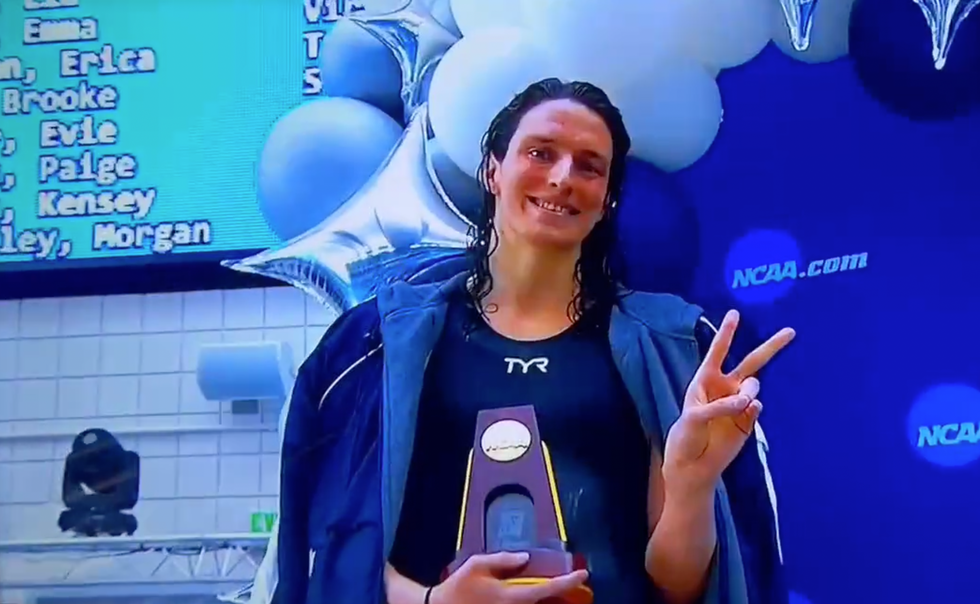 Image source: Twitter video screenshot via @dhookstead
"Being trans is not a choice," Thomas says in the ESPN tribute. "I didn't have any other choice because not transitioning was not leading me anywhere."
Gaines on Sunday commented on Hookstead's tweet, blasting ESPN's tribute to Thomas and ripping Thomas as a "he" who "stole a national title."
"Lia Thomas is not a brave, courageous woman who EARNED a national title," Gaines wrote before dropping a verboten pronoun bomb. "He is an arrogant, cheat who STOLE a national title from a hardworking, deserving woman. The is responsible. If I was a woman working at ESPN, I would walk out. You're spineless @espn." Gaines added a #boycottESPN hashtag.
The act of "misgendering" biological males who identify as females — e.g., saying he instead of she — gets leftists riled up and often results in severeconsequences for guilty parties.
It's personal for Gaines
Gaines isn't a mere observer in this controversy. She tied Thomas for fifth place in the women's 200-yard freestyle finals at last year's NCAA championships and later said officials cheated her on the podium.
Gaines told the Daily Wire that a man in an NCAA shirt told her, "Hey, I just want to let you know we only have one fifth-place trophy, so yours will be coming in the mail. We went ahead and gave the fifth-place trophy to Lia, but you can pose on the podium with the sixth-place trophy."
Gaines added to the outlet that she briefly argued with the official, noting that Thomas already nabbed the spotlight with the national title in the 500: "OK, that's fine, she worked hard, just like I worked hard, there's no question there. But can I ask why she gets the fifth-place trophy before I do? Especially last night, she just won the national title."
She recalled the official telling her, "I just want you to know that we respect you and admire your swim so much, but we just want Lia to hold the fifth-place trophy," the Daily Wire said.
With that Gaines stood on the podium next to a biological man who identifies as a woman — and who took center stage from yet another biological female athlete.

Gaines went on to speak out more broadly against biological males competing against biological females in women's sports — but there were more revelations about her time around Thomas as well.
Last summer Gaines detailed her "extreme discomfort" over being forced to share a locker room with Thomas at the NCAAs.
"So not only were we forced to race against a male, we were forced to change in the locker room with one," Gaines told Fox News host Tucker Carlson. "That's not something we were forewarned about, which I don't think is right in any means, changing in a locker room with someone who has different parts."
Like Blaze News? Bypass the censors, sign up for our newsletters, and get stories like this direct to your inbox. Sign up here!