A Russian star soprano refused to repudiate her support for Russian President Vladimir Putin amid her native country's invasion of Ukraine, and now soprano Anna Netrebko has withdrawn from future engagements at the New York Metropolitan Opera, the Associated Press reported.
What are the details?
"It is a great artistic loss for the Met and for opera," Met General Manager Peter Gelb said in a statement Thursday, the AP noted. "Anna is one of the greatest singers in Met history, but with Putin killing innocent victims in Ukraine, there was no way forward."
Gelb said Sunday that the Met would not engage artists who back Putin, the outlet added.
The Met made repeated efforts to convince Netrebko, 50, to repudiate her support for Putin but couldn't persuade her, according to an individual familiar with the situation who spoke to the AP on the condition of anonymity because that detail wasn't announced.
Netrebko was to perform in Giacomo Puccini's "Turandot" in the spring and Giuseppe Verdi's "Don Carlo" next season, the New York Post reported, adding that Ukrainian soprano Liudmyla Monastyrska is slated to replace her in both productions.
The developments followed the international career implosion of Russian conductor Valery Gergiev, who has been close to Putin as artistic and general director of the Mariinsky Theatre in St. Petersburg, the AP said.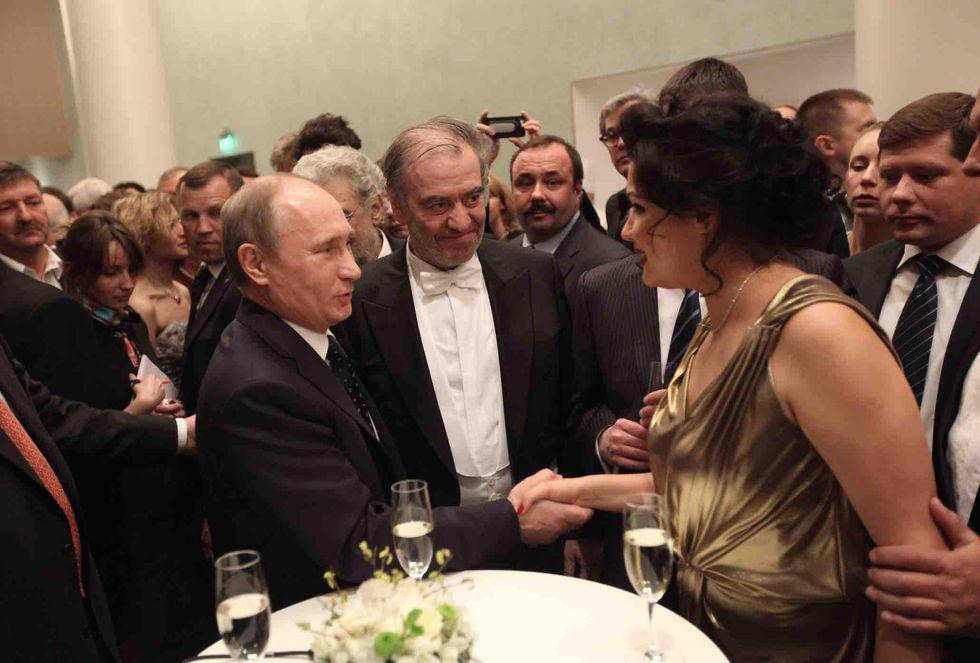 (L-R) Russian President Vladimir Putin, conductor Valery Gergiev, and singer Anna Netrebko at the opening of the new Mariinsky II Theatre in St. Petersburg, Russia, May 2, 2013. Photo by Sasha Mordovets/Getty Images
Russia's invasion has resulted in a striking show of solidarity with Ukraine among members of the arts and culture world, as well as those in the sports world; it also has resulted in backlash against Russia and those who won't denounce Putin, the AP said.
Netrebko, who hails from Krasnodar, received the People's Artist of Russia honor from Putin in 2008, the outlet noted.
Anything else?
Netrebko withdrew from all her upcoming performances, the AP said, adding that her next listed performance was April 3 at Barcelona's Gran Teatre del Liceu followed by three concerts with her husband — Azerbaijani tenor Yusif Eyvazov — and an April 13 concert with the Berlin Philharmonic Orchestra.
"I am opposed to this senseless war of aggression, and I am calling on Russia to end this war right now, to save all of us. We need peace right now," Netrebko said, according to the AP. "This is not a time for me to make music and perform. I have therefore decided to take a step back from performing for the time being. It is an extremely difficult decision for me, but I know that my audience will understand and respect this decision."
The outlet said Netrebko didn't immediately respond to Gelb's announcement.
Russian soprano Anna Netrebko withdraws from Met Opera youtu.be