On May 6, a woman, now 19, told police that Joel Koskan, a Republican running for the state Senate seat for District 26, began molesting her when she was just 12. The abuse continued off and on for years until she turned 17, when he began raping her, she alleged.
"She explained that ever since she was young, Joel [Koskan] would give her very long hugs, kiss her and have her sit on his lap," a retired agent with the South Dakota Division of Criminal Investigation wrote in a probable cause statement filed with the courts. "[The woman] thought that it was 'normal things' that families were supposed to do."
Koskan also owned the property where she lived, so he installed cameras to watch her in her home, she said, and tracked her movements through GPS monitors on her phone and in her vehicle.
When she was 14, the girl attended a faith-based summer camp, where she learned about inappropriate physical contact with adults. At that moment, something "clicked," she said, and she began to question what she had experienced. She reported the alleged molestation to camp officials, who then reported the allegations to the Department of Social Services. However, she later refused to participate in an investigation by a social worker, and the case was dropped.
The visit from a social worker did curtail Koskan's behavior temporarily, she told police. However, after a few years, he began assaulting her once again, she said. After she took a shower, Koskan would allegedly "require" her to straddle him wearing only a nightgown, no underwear. He then began penetrating her with his fingers and eventually began forcing himself on her when she was 17.
After that, she claimed, Koskan initiated intercourse with her "many times" in many different locations throughout the state.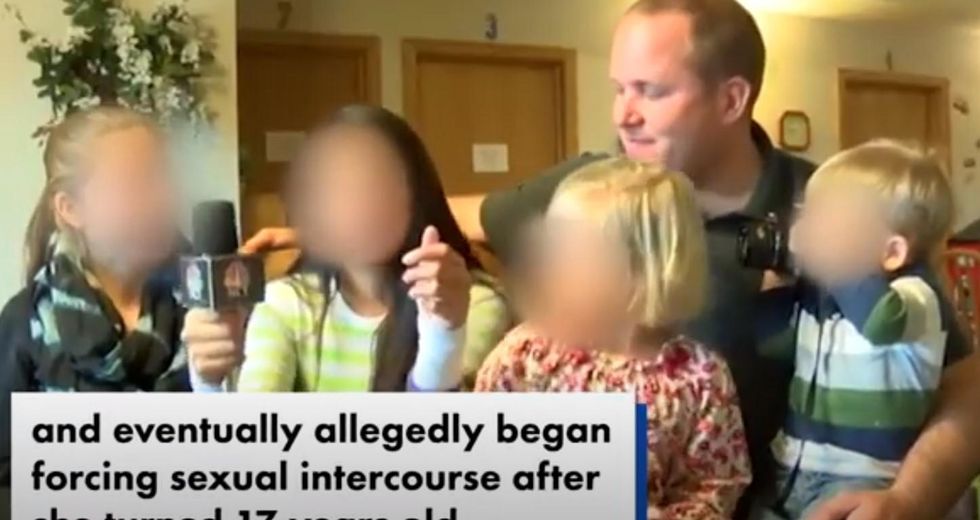 Koskan, interviewed with childrenScreen shot of New York Post video
During their investigation, police discovered a series of text messages that seem to corroborate the woman's story. One text message is particularly disturbing. When Koskan allegedly discovered, through GPS monitoring, that she had driven herself to the sheriff's office on May 6, he texted, "You promised you'd never do this. I'm begging you, you don't want to do this."
On Thursday, Koskan, a farmer from Wood, South Dakota — located in the south central region of the state — was arrested and charged with a single count of exposing a minor to foreseeable harm, a class 4 felony that carries a sentence of up to 10 years in prison. He could also be charged with rape, sexual contact with a child under the age of 16, and aggravated incest-related child abuse, according to the New York Post.
He has a hearing scheduled for Nov. 7.
In light of the allegations, the Democratic Party of South Dakota has called for Koskan to "end his campaign."
"These allegations concerning Joel Koskan are deeply disturbing, and he should immediately end his campaign," party chairman Randy Seiler said in a statement. "While he will still appear on the ballot, the choice for the voters of District 26 couldn't be clearer. Partisan politics aside, Joel Koskan should not be voting in the legislature on issues that affect South Dakota kids — or any issues at all."
The state Republican Party likewise released a statement, though stopped short of calling for Koskan to drop out of the race.
"The allegation against Joel Koskan is very serious, and the South Dakota Republican Party unequivocally opposes child abuse in all forms," South Dakota GOP Chairman Dan Lederman said. "The South Dakota Republican Party trusts the justice system to work through the allegation."
Koskan has not ended his campaign but has disabled his Twitter account and taken his campaign website private. This is his third attempt for the state Senate seat.