After hearing the news Monday that multibillionaire Elon Musk purchased Twitter, Brian Stelter — CNN's chief media correspondent — wondered on air if folks will want to use Twitter if it offers them too much freedom, as Musk has made it clear he wants Twitter to open the free speech floodgates.
What are the details?
"If you get invited to something where there are no rules, where there is total freedom for everybody, do you actually want to go to that party, or are you going to decide to stay home?" Stelter asked. "And that's a question for Twitter users."
At that point the camera was trained on the larger group behind the big desk, and the expressions on the faces of CNN Newsroom hosts Alisyn Camerota and Victor Blackwell were priceless: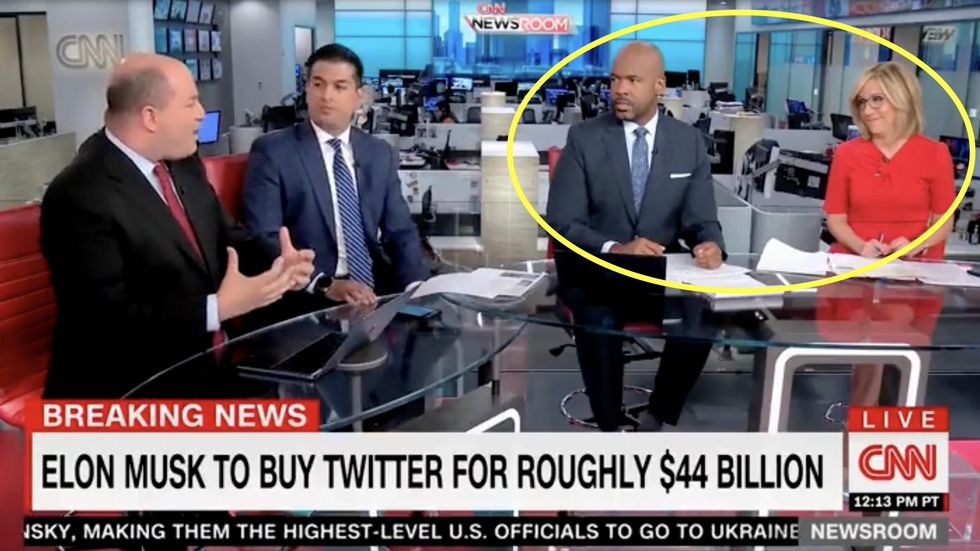 Image source: Twitter video screenshot via @FreeBeacon
Stelter continued: "Some Twitter users [would] love the idea that there's gonna be absolutely no moderation and no rules at all. Others might not want to be anywhere near that. Am I crazy, Matt?"
With that, Stelter turned in his own rather telling expression as he let loose with a pained chuckle: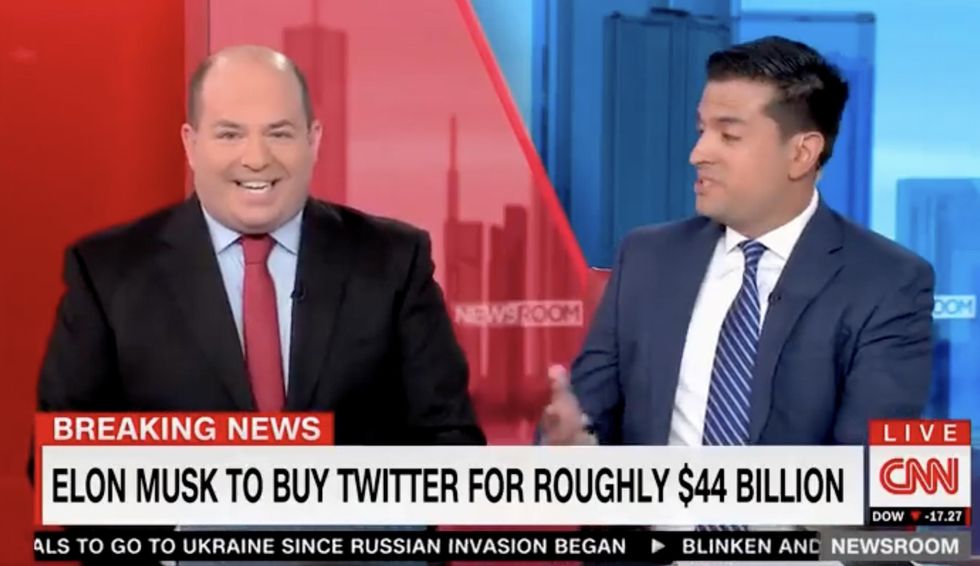 Image source: Twitter video screenshot via @FreeBeacon
CNN reporter Matt Egan agreed with Stelter and added that little to no moderation on Twitter also could scare away advertisers.
Here's the clip:
How did viewers react?
Commenters had no mercy on Stelter:
Anything else?
Stelter hasn't had an easy time of it lately. Just days ago he got wickedly mocked over the demise of CNN+, and about week ago Twitter's former CEO Jack Dorsey ripped Stelter and said he's seen CNN promoting falsified news reports. Not to mention the college freshman who challenged Stelter on mainstream media bias at a "Disinformation" conference earlier this month.