In the wake of a June viral video from a woman outraged that a "naked" man was allowed to enter a female-only section of Wi Spa in Los Angeles, the LAPD said Thursday they launched an investigation into the allegations.
Police said five people issued complaints about the incident, detectives corroborated the allegations of indecent exposure and identified the suspect as Darren Merager, 52, of Riverside County.
What happened next?
Police added in a news release that the Los Angeles County District Attorney's Office on Monday charged Merager with five felony counts of indecent exposure and issued an arrest warrant. Police added that the suspect has been a registered sex offender since 2006 due to indecent exposure incidents in 2002 and 2003.
Conservative writer Andy Ngo — reporting for the New York Post — broke the story Thursday prior to the LAPD issuing the news release, noting that "charges of indecent exposure were discretely filed against a serial sex offender" in connection with the incident. Ngo also reported that he spoke exclusively with Merager.
4 women & a minor girl, all people of color, came forward to identify themselves as victims at Wi Spa. Merager, the… https://t.co/dH2YrLBtCC

— Andy Ngô (@Andy Ngô)1630600297.0
What are the details?
The Post article details quite a bit more than police revealed, saying "sources with knowledge of the case but not authorized to speak publicly say four women and a minor girl came forward to allege that Darren Agee Merager was partially erect in the women's section of Wi Spa. Besides being a suspect in this case, Merager is facing multiple felony charges of indecent exposure over a separate incident in Los Angeles."
Merager denied the Wi Spa allegations to the Post and claimed being the victim of transphobic harassment — but also was "in contact with the Los Angeles County District Attorney's Office since learning of the warrant and plans to turn herself in."
More from the paper:
Law-enforcement sources revealed that Merager is a tier-one registered sex offender with two prior convictions of indecent exposure stemming from incidents in 2002 and 2003 in California. She declined to comment on the convictions. In 2008, she was convicted for failing to register as a sex offender. [...]

In addition to Merager's new felony charges of indecent exposure, she is also facing six felony counts of indecent exposure over a separate locker room incident in December 2018. Los Angeles County prosecutors accuse Merager of indecent exposure to women and children in a changing area at a swimming pool in West Hollywood Park.
The paper's story also included an image of what it said is a 2018 Los Angeles County Sheriff's Department flyer sent to southern California authorities saying "Merager claims to identify as female so he can access women's locker rooms and showers."
Merager has pleaded not guilty to all six counts stemming from the 2018 locker room incident, the paper said, adding that Merager's next court date in relation to it is Sept. 8.
The Post added that Merager's bail in relation to the incident was set at $150,000 in early 2019, which was paid.
What's the background on the Wi Spa incident?
Instagram user cubanaangel — who claimed the June cellphone video is hers — wrote the following caption: "NAKED MAN ALLOWED WOMEN DAY SPA. Los Angeles, California. Wi Spa allows a man into women's wet spa section where all the women are naked, mothers with there young daughters and teens. The Wi Spa allowed the man access just because he calls himself a woman. This man was naked [exposing] his testicles and penis slinging left to right in front of young girls, teens, and grown women. What is our world coming to[?]"
The woman recording the clip blasted a Wi Spa employee over what she said she saw.
"It's OK for a man to go into the women's section, show his penis around the other women — young little girls, underage?" the woman asks the employee. "Wi Spa condones that — is that what you're saying?"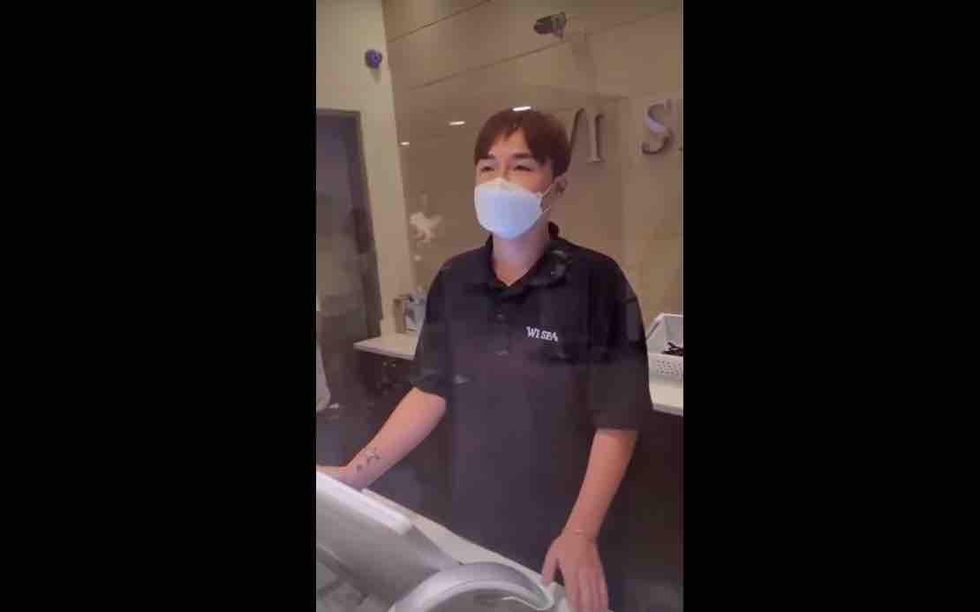 Image source: YouTube screenshot
When the employee made reference to the man's "sexual orientation," the woman replied, "What sexual orientation? I see a d**k! It lets me know he's a man … he is not a female!"
She added that women there were "highly offended for what they just saw, and you did absolutely nothing. In fact, you sided with him!" The woman also asked, "So, Wi Spa is in agreement with men that just say they are women, and they can go down there with their penis, and get into the women's section? Is that what you're saying?"
Another woman at the counter who overheard the dustup requested a refund, and at the end of the clip, another woman — presumably a spa employee — noted that the naked man should not have been allowed in the female section.
Wi Spa Allows Man into Female Spa causing a Traumatized Reaction from Customers youtu.be
The Post said "cubanaangel" and her attorney, Marc Little, declined to comment for its story.
Following the incident, Los Angeles Magazine said Wi Spa issued a statement pointing to state law prohibiting businesses from discriminating against trans and other gender non-conforming people.
"Like many other metropolitan areas, Los Angeles contains a transgender population, some of whom enjoy visiting a spa," the statement added, according to the magazine. "Wi Spa strives to meet the needs of all its customers."
What did Merager have to say to the Post?
The paper said that as of Thursday Merager has not been arrested in connection to the Wi Spa incident, but the suspect — who claimed to be legally female in California — told the Post that "everything about the Wi Spa was a bunch of garbage and lies."
Merager also claimed to be in a jacuzzi in the women's section when confronted by "cubanaangel" who "never saw me naked," the paper reported. Merager added to the Post that "I was underwater with water all the way up to my chest."
The paper also said Merager denied ever being erect or around children at the spa and claimed being the victim of sexual harassment by transphobic women there.
More from the Post:
A law passed by California Democrats that went into effect this year replaced the state's lifetime registration requirement to a tiered system. The law allows lower-tiered sex offenders to petition to be removed from the list. However, Merager is not eligible due to ongoing criminal charges. She also has a long criminal history in California that includes nearly a dozen felony convictions for crimes ranging from sex offenses to burglary and escape.
But Merager told the paper that the multiple accusations and charges demonstrate a "pattern of abuse" from a state and society that punishes transgender people: "You allow [trans women] to go in [women's spaces] and then people simply claim indecent exposure, and you're arrested."
Merager also claimed to the Post of speaking to progressive California lawmakers such as state Sen. Scott Wiener in the hopes they change state law to better protect trans people: "If you go into an area where you're expected to be nude, there has to be an indecent exposure exemption."
Anything else?
The Wi Spa exposure allegations led to a pair of violent clashes in July between protesters angry at the spa and far-left counter-protesters led by — you guessed it — Antifa.
A July 6 Los Angeles Times editorial asserted that Wi Spa "did the right thing" defending a "transgender customer" being "nude in the women's area."
Finally, Slate ran a July 9 piece on the Wi Spa controversy with the following headline: "Violence Over an Alleged Transphobic Hoax Shows the Danger of Underestimating Anti-Trans Hate." But now Ngo's findings detailed in his Post piece are noted at the very top of an updated version of the Slate story.
What's more, the author of the Slate story, Evan Urquhart — who identifies as a "trans journo" — noted in what appears to be a now-deleted Thursday tweet that "it is with great annoyance that I must report I'm talking with my editor about an update to my piece on the transphobic Wi Spa riots, to reflect the fact that the New York Post is reporting charges have been brought against someone alleged to have been there."
Urquhart — whose tweets are now protected — apparently added that "anyone who follows me, or who read my piece, will know that I've never said the video that caused the riots was a hoax — I've said it was more likely a hoax than not."
Looks like it's turning out to be one big "not."